Miami Heat's 3-point shooting is encouraging so far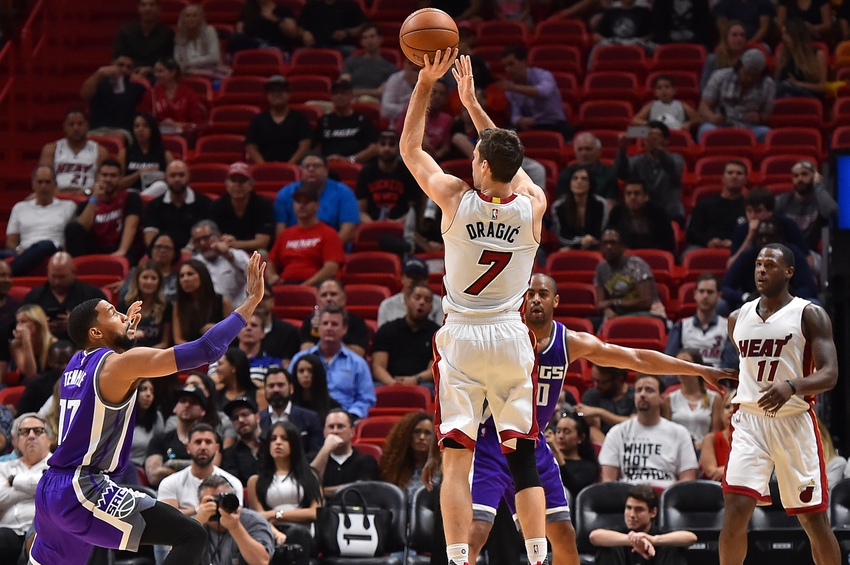 An early look at the Miami Heat's progress from downtown.
The Miami Heat had a major re-tooling this offseason, with an enormous amount of experience walking out the door. Therefore, with a new look roster, the Heat have clearly made a point of emphasis in their style of play. Run, attack, moving the ball, spreading the floor and shooting the three has been their calling card so far on offence. The new additions to the Heat reflect this new approach. Wayne Ellington and Luke Babbitt are outside specialists. Dion Waiters and Derrick Williams are certainly suited to an uptempo style of play.
This run and gun style, the new trend throughout the league, was evident for the Heat in the preseason. Having not attempted 30 or more three-pointers in a single game last season, the Heat achieved this four times in the preseason, including one game with 41 attempts. Through three games this season, the Heat are averaging 24.8 three-point attempts per game, including 34 attempts in a loss to Charlotte. As a team they are hitting at a 38.4 percent clip from downtown.
The starting lineup over the first three games has represented the highest return for three-pointers made, despite averaging just 12. 5 minutes per game as a unit, per NBA.com. The lineup of Goran Dragic, Waiters, Hassan Whiteside, Babbitt and Justice Winslow have averaged 4.0 three pointers made (3PM) at a 59.3 percent clip. Babbitt playing just 22 minutes per night is the obvious reason for this unit playing such a small amount together. Babbitt leads the team in volume, averaging 6.0 three-point attempts (3PA) per game.
As a team, 94.7 percent of the teams 3PM's have been assisted, per NBA.com. In other words, there's no Stephen Curry on the Heat roster. Ball movement, attack and playing within the offence will be Heat's modus operandi for 3PM. The corner three is certainly the most dangerous shot for any team. The corner three-point line is 1.75 feet shorter than the three-point line at the top of the key. And as they are almost always a spot up shot, this makes for a much easier release.
A good sign for the Heat so far this is that they have been averaging five 3PA's per game from the right corner, per NBA.com. And although they have converted on just 35 percent of these attempts, it's encouraging nonetheless.
Also encouraging is that the Heat's starting backcourt have led the way in the teams three-point field goal percentages. Dragic is hitting on 2.8 3PM's per game at an outstanding 52.4 percent, whereas Waiters is chiming in with 1.5 3PM's per game at a 42.9 percent clip. Another heartening aspect of the Heat's three-point shooting is the imminent return of shooting guards Josh Richardson and Wayne Ellington.
Richardson finished last season with a bang, converting on 52 percent of 3PA's over the last 29 games. Meanwhile, Ellington is entering his eight season as a career 38 percent shooter. With head coach Erik Spoelstra showing a liking for three-guard lineups, the three could be become a deadly weapon in the coming weeks.
One player though who hasn't held his own from downtown is Justise Winslow. The second-year small forward has hit just 3-of-16 from behind three, of which several of the attempts having connected on nothing but air. After shooting at just 27.6 percent as a rookie, the Heat were certainly hoping for a significant improvement this season. While it is early days, these numbers are clearly a concern.
Like any period of transaction, things are going to time to perfect and gel. The early signs for the Heat though this season from beyond three have been encouraging. With the return of some key personnel in the near future, the Heat still have ample time this season to surprise some people.
This article originally appeared on