Miami Heat Roundtable: Reviewing the first 10 games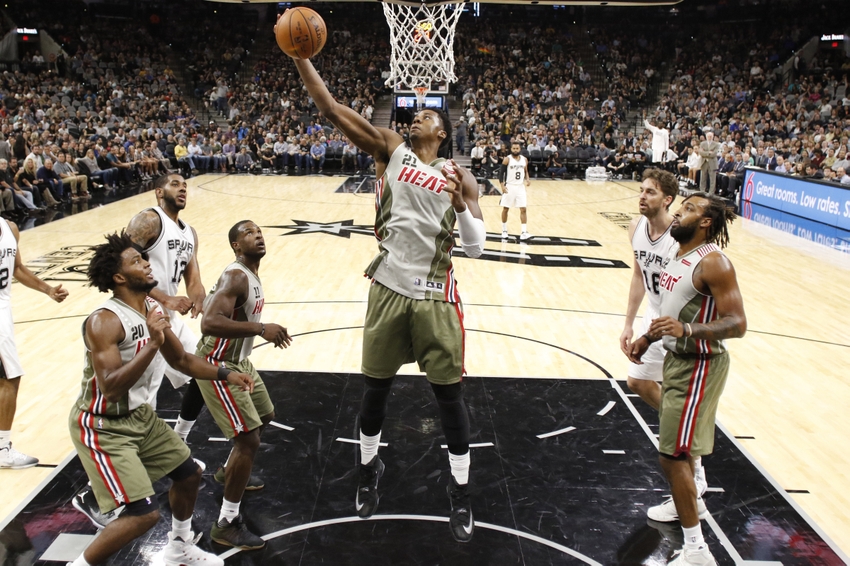 The Miami Heat are 10 games into the season, and it hasn't been pretty. The team is 2-8, people are frustrated and the team has already gone through multiple starting lineups and dealt with injuries to three of five starters. Still, even in a small sample size the All U Can Heat staff has learned a lot about this team.
What is the main reason for the Miami Heat's struggles so far?
Frank Urbina (@frankurbina_): Gotta be the offense. I've harped on it before, but when you look at the numbers, they're pretty jarring. As I'm sure most Heat fans have noticed, the team really struggles to make layups (particularly Justise Winslow and Dion Waiters). Via synergy, Miami is now shooting 52.5% from within five feet of the basket, which ranks dead-last in the NBA. Further, the Heat only draw 19.7 FT's per game, which is the 3rd lowest total league-wide. Sure, you could choose to blame the refs to a certain extent, but Miami's lack of star power could also be at fault. When Miami gets to the foul line, they shoot 68%, another number that is worst in the league. You can't be that bad at two vital areas and expect to have a respectable offense. Shouldn't be too surprising Miami averages 94.4 points per contest, a number that is second-worst in the NBA. Not good enough.  
Simon Smith (@SimonABenedict): Clearly it's the team's offence, which currently ranks 29th in the league in points per game and 27th for field goal percentage. Breaking that down, starters Justise Winslow and Dion Waiters are shooting 33.1 and 34.8 percent from the field respectively. Further, the Heat are 29th in the league for offensive rating (points per 100 possessions). No matter which way you break it down, the Heat's offence has been completely unproductive, with poor shooters taking far too many shots.
Allana Tachauer (@AllanaTachauer): You mean besides the fact that they lost Dwyane Wade and Chris Bosh? Look, the Heat have had to completely restructure their strategies this offseason. And something like that takes time. At the very core, they're still trying to play Miami Heat Basketball, but it's a little harder to do when up until this point, that's been synonymous with Wade period. So that's it, first and foremost. But aside from that, our shooting has been questionable. Justise Winslow and Dion Waiters, both of which who start, may be finishing games with decent stat-lines, but the number of shots it takes to get there…yikes. Guys in general, haven't been consistent. The Heat were missing Josh Richardson up until a few games ago. Now they're without Goran Dragic. Our offense is rough. Plain and simple.
Cory Sanning (@sanningnba): I think it's quite clear it's the offense, and crunch time scoring has been a tremendous issue. Miami has yet to find a "go-to" guy in the fourth and if it's not going to be either of the players currently earning max pay on the roster, Pat Riley may need to look elsewhere.
Ivan Mora (@moraivan): They aren't on the same page.  So many rotation changes and they are still lacking that chemistry.  Offensively they are missing easy shots.  I see so many missed layups, horrible passing, and even worse play calling.  You have to remember this is a completely different team than last year in the sense that they ran their whole offense through Wade.  They don't have that reliable closer this year.  It's too early to start judging them because regardless of their 2-8 record, I see a lot of potential individually.  Young athletic talent that need to mesh together.  They will get it together, but it might take them longer than we'd like.  Injuries aren't helping either.  
After six-straight losses, do you see things turning around anytime soon?
Frank Urbina: It depends on the health of the team. Miami has yet to have all their players available this season, with Josh Richardson just recently returning from injury, Wayne Ellington still sitting out with a thigh bruise, Goran Dragic twisting his ankle, and now Winslow hurting his wrist. Ellington's return could really help the team with their 3-point shooting, Dragic is the only true point guard on the team, and Winslow is the best option at SF and probably at PF too. These last two games against San Antonio and Atlanta were promising; Miami fought hard and used their stingy defense to keep them in close games against two really good teams. Maybe a clean bill of health can help the team start translating some of these moral victories into real ones.
Simon Smith: They can, but it doesn't look promising. The Heat have yet to win on the road, and face an upcoming four-game road trip against Washington, Philadelphia, Detroit and Memphis. Although they have been competitive in most game,  the lack of real starpower has been evident. Pat Riley has generally used the first 20 games as a measuring stick to determine the state of the team. If the first 10 games haven't made up his mind, the next 10 certainly will.
Allana Tachauer: It has to, doesn't it? As easy as it might be to say, the truth of the matter is it is still early. Wait till Richardson totally gets his groove back. Wait till Dragic returns. Wait till Winslow and Waiters start being more efficient. Plus there are still plenty of opponents out there who are worse than us, that we have yet to face up against. Not to mention that if the loss to the San Antonio Spurs proved anything, it's that Miami is scrappy as all hell.
Cory Sanning: Anything can happen, but as of now, I wouldn't bank on it. Yes, the Heat have the firepower and talent to be, at the minimum, average offensively, but do they have the will and the experience? Wait until Dragic returns and everybody is in tip-top shape to come to such a conclusion, however I would agree it doesn't look promising.
Ivan Mora: Unfortunately no.  Not until mid season at least.  Their latest games have actually been close and hard fought but they are still struggling offensively.  They need to find their identity as a team and a clear leader needs to step up.  Whiteside, honestly, can only do so much.  I feel It will have to fall on Winslow or Waiters to motivate their team and get them back to winning.  The talents there, they just have to find that right rotation to make it work.  Things will get better when Dragic comes back.  Dragic, Richardson, Winslow, J. Johnson, and Whiteside should be their lineup moving forward.  
Once everyone is healthy, what do you think the starting lineup should be?
Frank Urbina: After ten games of Luke Babbitt and Derrick Williams starting at PF, I think it best to take the lineup in a different direction. I say, go with Dragic-Richardson-Ellington-Winslow-Whiteside to open games. That lineup gives you good three-point shooting which opposing teams will be forced to respect, thus opening up the lane for Dragic and Winslow drives, and Whiteside post-ups. Winslow may be a little undersized as a 4, but he's got a big frame that can take a lot of contact, and his ability as a ball-handler can be a big advantage against opposing PF's. Sure, Winslow has started the year poorly on offense, but he's become one heck of a playmaker: his 3.9 assists/game would rank 7th best amongst PF's. Finally, Waiters coming off the bench with the second unit gives him the freedom to look for his own offense instead of worrying so much about getting everyone else involved. Waiters is at his best when he attacks.
Simon Smith: Dragic – Richardson – Winslow – Williams – Whiteside.
Dragic and Whiteside are the only outright certainties at this stage. Granted Winslow is a terrific defender who should be given ample opportunity to develop, his shooting has simply been abysmal. His recent wrist injury could be a legitimate reason to explain his struggles, and hopefully his shooting form can improve upon return. Having played just three minutes over the first seven games. Derrick Williams should be given some legitimate playing time. But for some reason, he has played just 15 and 18 minutes respectively as a starter these past two games, and that includes the last game which Winslow missed through injury. With the team struggling enough as it is, it can't hurt to give Williams 4-5 games of 25-30 minutes to prove his worth. And having now played six games after returning from injury, Josh Richardson should soon slot into the starting 2-guard spot.
Allana Tachauer: Sigh. That's a loaded one. Dragic-Richardson-Winslow-Whiteside, obviously. But as for the 4… maybe Derrick Williams? I know it seems like head coach Erik Spoelstra isn't his biggest fan at the moment, but things haven't been working out too well with Babbitt as a starter. Which honestly makes sense, given he's a bit of a one-trick pony offensively, and isn't too strong on the other end either. There's no guarantee that things will be any better with Williams taking over but it's worth a try for a bit.
Cory Sanning: After the dreadful experience that was Luke Babbitt, many thought the Heat were getting an upgrade in Derrick Williams. Couldn't have been more off, and by a considerable margin. Yes, Dragic and Whiteside will man the 1 and 5 positions respectively. Winslow will fill the void at Small Forward, and Josh Richardson and Dion Waiters are both capable starters on the wing. The one weakness has been lack of consistent production from the 4, and until that role is filled, it's going to be difficult for Miami moving forward.
Ivan Mora: Dragic, Richardson, Winslow, J. Johnson, and Whiteside.  With Tyler, Waiters, Babbitt, Williams, and Reed as second unit.  They need to make that lineup work.  James Johnson has honestly surprised me after I had counted him out last month.  He reminds me of Boris Diaw with the Spurs.  A versatile player that can spread the floor.  With that being his primary role, Dragic and Richardson can handle the corners to take threes or pick and roll to Winslow and ultimately Whiteside.  Like I said, they can make it work, they just can't give up.  
What has been your favorite moment through the first 10 games?
Frank Urbina: Kind of tough to answer with anything that has happened on the court since the team is struggling, so I'm gonna go with the Homestrong campaign.
Awesome way for the team to honor fallen veterans.
Simon Smith: Not one favourite moment, but the continued improvement of Tyler Johnson has been most impressive. Despite the pressures of a new $50 million contract, Johnson has demonstrated that he will be able to repay the faith he has shown in him. Coming off the bench, Johnson is contributing 13.1 points per game on 47.5 shooting along with 4.5 rebounds and 1.1 steals per game. He has certainly been a bright spot amidst a bleak start to the season.
Allana Tachauer: I may be alone in this, but I've actually had plenty of fun watching this team… regardless of the 2-8 start. We're young, energetic, and full of life. A win (or more) would be great, but I haven't really had any complaints in regards to pure entertainment. Whiteside palming the ball in mid-air several times has been fantastic though.
Cory Sanning: Don't necessarily have a favorite, the lack of excitement through these first 10 games has disappointed many. For me, 25 monster rebounds for Whiteside against a hot Atlanta team may take the cake, even in a losing effort. Dion Waiters against the Spurs ranks up there, too.
Ivan Mora: Whitesides blocks.  I can watch highlights of him doing that all day.  When he skipped the block and just palmed the ball versus the Raptors.  That was amazing.  He has so much talent and potential.  I'm also enjoying the evolution of Tyler Johnson as a player.  You can see he is constantly improving every season and at 24, I can see a bright future for Tyler.   
Who is the MVP of the team so far?
Frank Urbina: People love to nitpick at every time Hassan Whiteside doesn't dive for a loose ball, but he's still easily my team MVP. His numbers are quite frankly absurd, with averages of 18 points, 15.9 rebounds, and 2.3 blocks per game. He's also so close to averaging an assist (at 0.9/G currently), which is a huge change from the guy who last season said, "It's hard to get assists when I'm always the one dunking."
He may be blocking shots at a lower clip than last year, but that's because he's become a smarter defender — he's taking less bad gambles trying to block every single shot. Opposing teams are shooting 50.9% around the basket against Miami (lowest mark in the NBA), and that has almost all to do with Whiteside's defensive prowess. Josh McRoberts and Willie Reed certainly aren't deterring teams from attacking the paint (no offense, guys). Whiteside could be playing better, but he's been Miami's healthiest and most effective player by far this season.
Simon Smith: Whiteside. Aside from being still frustrating at times during games in terms of concentration and poor body language, Whiteside has been outstanding. He continues to improve in all aspects of his games, although his improved free-throw shooting has regressed a little to commence the season. Leading the league in rebounding is just one example of the dominance he has displayed.
Allana Tachauer: I have to go with Whiteside here. I mean, he's averaging 18.2 points and 15.9 rebounds right now. If that doesn't make your eyes bulge out of your head, I don't know what will. He is also developing into more of a playmaker, which is something I'm not sure anyone really expected. And he does seem to be taking over the role of a leader quite nicely.
Cory Sanning: It's quite obvious the MVP has been none other than Whiteside. 18.2 points and 15.9 rebounds per game is insane, and definitely warrants respect. He's also grown into the leader role quite nicely, and it should pay dividends down the road, especially if he finds a way to add additional post moves to his back-to-the-basket game.
Ivan Mora:  Whiteside, without a doubt.  He is averaging double doubles and is constantly pulling through after basically being harassed under the rim.  His frustration is a concern, but can you blame him.  Every game, they're just so close.  He is on another level in that position and the whole league is taking notice.  He is easily the favorite Heat MVP so far and I think he's just getting started.  
This article originally appeared on