Miami Heat Roundtable: Gathering our feelings after Dwyane Wade's return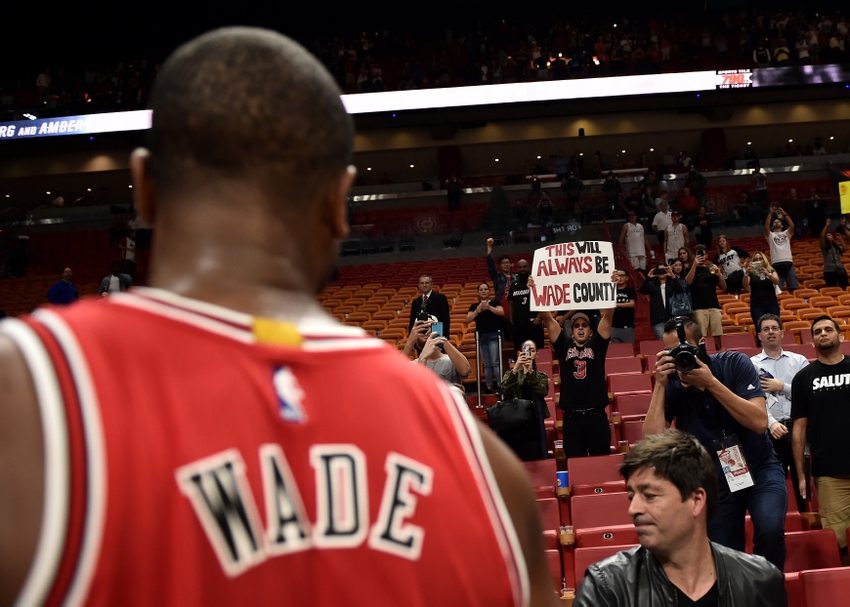 Dwyane Wade made his return to South Beach to play the Miami Heat for the first time since shocking the NBA and signing with the Chicago Bulls this summer. The Heat lost 98-95, but there is plenty to sift through. Here's what the All U Can Heat staff had to say about the game.
What GIF describes your feelings when watching Dwyane Wade's tribute video?
Frank Urbina (@frankurbina_): 
Ivan Mora (@moraivan):   
Allana Tachauer (@AllanaTachauer): 
Wes Goldberg (@wcgoldberg): 
What was your favorite Wade-related moment of the game?
Frank Urbina: The chippy exchange between Wade and Winslow. You could tell those two went at it often last year in practice, and it must have been nice for them to go at each other in a real game. It seemed to get Winslow going as he hit a couple threes afterwards, so that was fun to see outta him.
Ivan Mora: Honestly, besides the video tribute thanking Wade for 13 unforgettable years, his hug with Haslem.  You can tell they're super close.  They treat each other like brothers.  That's awesome!  I also loved the hugs after every game.  It does show they respect him as a player. They learned a lot from him.  
Allana Tachauer: To be honest, this whole game felt… off. I went from tearing up during Wade's introduction and then of course the tribute video, to yelling at my television for his outburst towards Winslow, to losing my voice over the foul at the end. I was never really/still am not mad at Wade for leaving, but it felt wrong seeing him in another jersey. With that said, I loved the interactions between him and Udonis Haslem, him and Hassan Whiteside, even him and Erik Spoelstra. You can still very much see the love is still there.
Simon Smith: I thought it was him turning back the clock with his baseline spin-move on Winslow, culminating in him finishing with the up-and-under layup and the three-point play. His combination of skill and athleticism will go down in history, and that was just another reminder of what he has produced.
Do you buy that Pat Riley regrets not giving Wade the max in 2014?
Ivan Mora:  Not for one second.  I know Riley was confident that Wade was going to resign, so he focused on other priorities.  Yeah, he is looking out for the Heat's future, but Wade felt disrespected.  I know later on he will regret that decision.  But not now.  
Frank Urbina: Not really. If Riley did regret it, he would have made Wade a priority in the 2016 offseason, and Wade would still be a member of the Heat. Now, I'm not saying I blame Riley for taking this approach. As much as I value Wade as a player for what he's done for Miami, I didn't want to be stuck in a Kobe situation either (paying a player well past his prime a max contract). Riley deciding to pull the plug earlier than he had to, and tanking on a year that he actually has a 1st round pick, is what's best for the future of the team.
Allana Tachauer: Hindsight is 20/20. So do I think Riley regrets it now? Definitely. I mean, that's what indirectly set Wade leaving in motion after all. But if he really felt some type of way about it then, he would have first prioritized Wade this offseason, as well as offered him a greater contract.
Simon Smith: No, he's way too savvy to not know what he's doing. He could see the writing on the wall, and handing Wade an excessive contract was definitely not in his plans.
What do the Heat miss the most about Wade?
Frank Urbina: Wade's ability to close out games. Even though he struggled tonight overall (5/17 shooting), Wade is still a guy you can pass the ball to and tell him to get you a good look. Whether it be a smooth mid-range jumper or setting up Hassan Whiteside for a lob, Wade was a player Miami could trust late in tight games. It was even more obvious tonight; Miami had a hard time finding good offense once Goran Dragic went down with injury in the 4th quarter. The young guys are still learning how to be closers, and Dion Waiters is Dion Waiters. Would have been nice to have that Wade guy down the stretch.
Ivan Mora:  They missed Wade as a closer.  He was always the guy to close out games.  With the current Heat team, they seem lost in late game situations.  They don't know who to turn to.  That's what Wade was for.  His ability to play the clock down and drive in or take that last second shot was amazing.  Confident playmaking skills.  This team will eventually find that identity, but again not now.  
Allana Tachauer: Do I have to pick just one thing? Okay fine. Probably clutch plays. The current roster certainly has some beautiful shooters on it (Goran Dragic, Tyler Johnson, Josh Richardson, even Justise Winslow found his stroke tonight) but none of them are experienced in closing out games. For some reason, Dion Waiters has found himself in that position… and obviously that hasn't worked out as of yet. And while I have a feeling Johnson could certainly grow into that role, it'll take time. Nor will he probably ever be as efficient as Wade was, and still is.
Simon Smith: His closing ability down the stretch of tight games, and most of all, the knowledge and wisdom he could pass onto the likes of Winslow, Richardson etc. His crunch-time play in the playoff series last season against Charlotte was exceptional, and the Heat have yet to find that replacement.
What is one non-Wade-related thing that stuck out to you tonight?
Frank Urbina: It looks like Josh Richardson is finally getting his legs back. He struggled in his first two games returning from injury, but tonight he looked like his old self. 16 points, 4 three-pointers and tenacious defense, it is going to be important for Miami going forward to get that kind of effort every night from the second-year shooting guard. His ability to stretch the floor and defend is going to pay major dividends for the starting lineup eventually.
Ivan Mora (@moraivan): Josh Richardson.  I loved his hustle out there.  Those 3 pointers were key.  I hope he keeps on practicing them.  Winslow needs to toughen up and take more shots.  I want to see a rotation with Tyler, Richardson, and Winslow out there.  I feel there's definitely something there.  They compliment each other so well.  They just need to keep that up.  Tyler playmaking ability, taking it down like a true PG.  Richardson 3 pointers and spacing the floor.  Winslow attacking the rim and hustling defensively.  That's a great combination there.  
Allana Tachauer: Sophs 1 and 2. After hearing criticism over his shot for the last few weeks and then Wade unexpectedly shoving him, Winslow had enough tonight and finished with 15 points on 6-of-12 shooting (including going 3-for-5 from downtown), 5 rebounds and 6 assists. In essence, he finally showed Heat Nation a glimpse of what they have been expecting from him all along. As for Richardson, although he's still not 100 percent… he totaled 16 points, going 6-of-13 and 4-for-7. The youth movement is in full effect.
Simon Smith: With Winslow and Richardson already covered, I would say the starting 4-spot is still a massive hole. Babbitt is certainly not the answer, and James Johnson is ideally an adequate backup. Which leaves Derrick Williams, who has unbelievably played just 3 minutes in seven games. There has to be something more to this, as it defies all logic. The Heat want to play more uptempo, with coach Spoelstra hard to miss on the sidelines during tonight's game, imploring the team to push at every opportunity. With the team now at 2-5, a change to the rotation is surely on the agenda.
This article originally appeared on