Miami Heat preseason: Most impressive things so far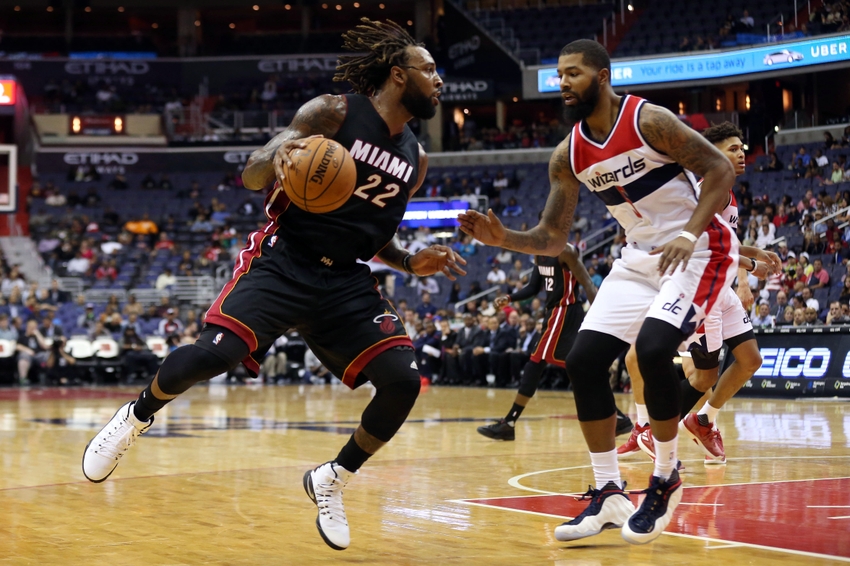 Dion Waiters may be a distributor, Hassan Whiteside may be a leader, and Derrick Williams could be the best option at power forward.
The Miami Heat are 1-1 through the preseason and will face the Brooklyn Nets Tuesday night in their third game. With so many changes to the team, we here at All U Can Heat are watching preseason very closely. Here are some of the things that have stood out and impressed us so far.
Dion Waiters is playing ball distributor
Rich Nurse: The most impressive thing for me, so far, has been the use of Dion Waiters. When he was signed this offseason everyone accepted the fact that the 13 point per game scorer would be coming in to make up for the loss of Dwyane Wade's 19 point 2015-16 average. His tendency for isolation basketball also made him an obvious candidate for the designated offense-in-bunches role as the Miami Heat's new sixth man. However being a facilitator for the bench has come as a surprise.
Over the previous four years of his career, Waiters only averaged 2.5 assists per game and the word on him was that he was a selfish, ball dominant player with bad body language.
According to last year's stats people were probably right, seeing as he only assisted on 10 percent of his Oklahoma City Thunder teammate's baskets. But through two preseason games for the Heat he is responsible for 52 percent of their scores–averaging seven assists and coming in tied as the fourth leading distributor in the league.
Whether it's simply early preseason success or trying to be on his best behavior to cash in on the second year on his player option, Waiters moving the ball looks good for Miami.
Hassan Whiteside May Be a Capable Leader After all
Cory Sanning: I was very critical of Whiteside in my recent piece. I didn't believe his maturity was at the level needed to possibly carry a franchise. I still don't believe it is, but of the recent flashes I've seen over the past two games, there's a slightly greater chance I could be proven wrong than I initially thought.
Over the course of 50 minutes logged this preseason, Whiteside has put up a combined 37 points, 25 rebounds and 6 blocks. What's even more impressive? He's shooting a combined 72 percent (16-for-22) from the floor, even going against the likes of Karl Anthony-Towns and Marcin Gortat, who are no slouches.
Past attitude issues aside, it appears the 27-year-old may be more prepared to take reigns of a franchise than I originally thought. At a price tag of 4 years and roughly $98 million, he better be.
A big night for @YoungWhiteside in Washington D.C. pic.twitter.com/0NKWEIEmCo

— Miami HEAT (@MiamiHEAT) October 5, 2016
Derrick Williams has quickly shown glimpses of his talent
Simon Smith: The preseason could very well be an audition period for the starting spot made vacant by Chris Bosh's departure. Newcomer Derrick Williams is definitely keen to impress, and has done himself no harm so far.
His debut against Washington saw him play 23 minutes and contribute seven points, three rebounds and a steal. He followed this up against Minnesota with 14 points, six rebounds, three assists and two steals whilst hitting 2-of-5 from downtown.
With a vast array of skills, and terrific athleticism, Williams' ability to play as a small-ball 4 could fit very well alongside Hassan Whiteside and Justise Winslow. His two three-pointers last game were a great sign. Of all the candidates for the starting spot, Williams appears to have the most versatility and talent to warrant this opportunity.
Although he has come off the bench in his first two games of the pre-season, don't be surprised to see him in the starting lineup sooner rather than later.
The Heat Can Run
🖐 ➡️ ⚖ pic.twitter.com/FEqLwfAgKz

— Miami HEAT (@MiamiHEAT) October 4, 2016
Wes Goldberg: [Extreme Stefon voice]
This play has everything: An Hassan Whiteside block to a teammate, that teammate being Goran Dragic, Dragic finding Justise Winslow in transition for a fancy dunk.
This is the sort of thing Heat fans can look forward to this season. We already knew Whiteside could block shots, and has a specific knack at keeping those swatted shots in bounds and directing them to teammates. Dragic knows it, too, which is why he was in position to grab the loose ball and look up the court.
And look at how quickly Justise Winslow gets down the court. Erik Spoelstra says it all the time: Winslow just makes winning plays. He recognized the opportunity and got in the right the lane quickly.
Dragic could have found Tyler Johnson, too, though Winslow was slightly more open. If the defender had closed in on Winslow harder, Johnson was open under the rim for a dump off.
This is a team playing together–working together–to create points. Without the singular talent of Dwyane Wade or Chris Bosh, who can each create their own shots somewhat at will, the Heat will need more plays like this. This is the sort of thing I'm watching for this preseason.
The Miami Heat will play the Brooklyn Nets Tuesday night at 4:30 PM ET on NBA TV. Come back to All U Can Heat for post-game grades and analysis.
This article originally appeared on