Miami Heat: NBA Scout isn't high on Justise Winslow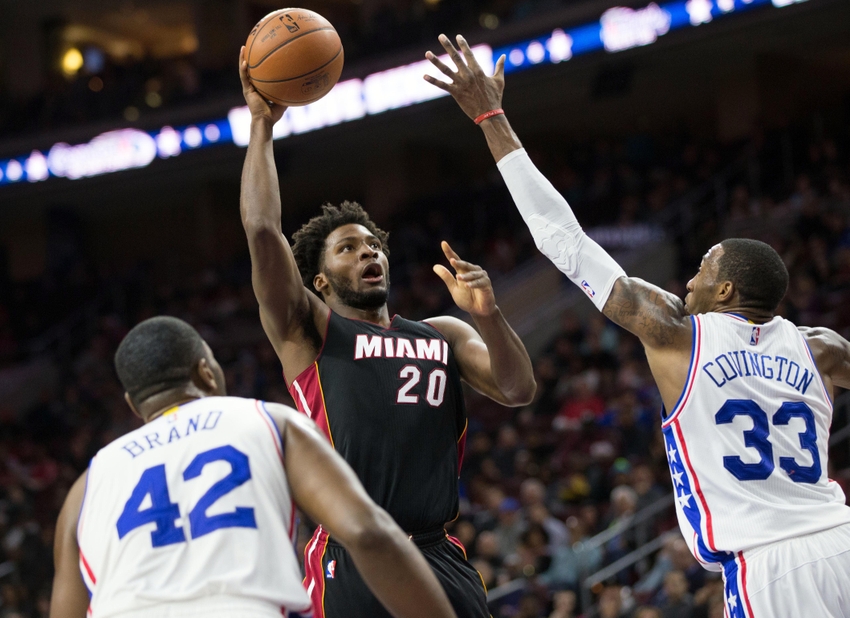 Anonymous NBA scouts previewed the Eastern Conference via Sports Illustrated's new basketball vertical 'The Crossover', and had some opinions on the Miami Heat.
While you and I are talking about what the Miami Heat can do this season, NBA types are doing the same thing. Front offices use the preseason to evaluate opponents just as much as their own team. Recently, Sports Illustrated's new basketball vertical 'The Crossover' talked with scouts from around the league to get their honest opinion on every team.
When it came to the Heat, they started with the obvious.
"They got hit pretty hard with [the loss of] Chris Bosh [to blood clots] and Dwyane Wade [to the Bulls]. They do have, I think, one of the best coaches in Erik Spoelstra. He'll keep them focused and playing really good defense.
The scout then went on to talk about Goran Dragic's new role. He thinks he has talent but questions if he can apply it consistently.
But can they score enough? I don't think so. . . . Their two primary options are Goran Dragic and Hassan Whiteside. Talentwise, Dragic is as good as there is in the division. He's got great size, he can shoot from the outside, he can take it to the rim. He's got to have a breakout season for them to even be competitive.
I'll admit I have the same concerns. With Wade and Bosh gone, the Heat don't have a guy who they can throw the ball to and know he'll at least create a good shot. Dragic will have to be relied on to not only create more for himself, but also for teammates. So far in the preseason he's done that, averaging 12.8 points and 6.4 assists in 25.8 minutes per game.
But here's the hot take. The scout doesn't like Justise Winslow. At all.
I'm not real high on Justise Winslow. His only strength is taking it to the basket, and then transition. He's not a good shooter at all. He lacks confidence, he lacks technique, he lacks a lot of things.
I have to strongly disagree with the scout here (not that I'm qualified to do that job but, you know, whatever). The only thing he does well is get to the rim? Uh, has this person ever watched Winslow play defense?
And the whole "lacks a lot of things" idea flies right in the face of everything Spoelstra and the coaching staff thinks of Winslow. He has great instincts, high basketball IQ and makes what Spoelstra calls "winning plays." Does he lack a consistent outside jumper? Sure, but that's not exactly breaking news around here.
The scout goes on to talk about some of Miami's other players, including some choice words that he can only hope Udonis Haslem doesn't read.
Their roster is so thin. Udonis Haslem is more of a cheerleader now. Derrick Williams—ehhh, I don't really care. Josh McRoberts can spread the floor, make threes and he's a smart player. But he's a backup who'll be pushed into Bosh's role
And seems more impressed by Josh Richardson and Tyler Johnson (and seems fine with the four year, $50 million contract) than probably any other player on the Heat roster.
Josh Richardson was a great pickup. He can play the one or the two, he's got size [6' 6″], he's athletic. He and Tyler Johnson are two-way players. Both will be on the floor for them a lot.
So there it is. That's what one NBA scout thinks of the Heat. Some of the concerns are valid–about Dragic and Whiteside, and the Heat will need to get a lot of possessions to score enough points to win consistently. During the preseason, the Heat have done that, but it's just the preseason.
The team isn't very deep and it'll have to be one of those whole-is-greater-than-the-sum-of-its-parts deals if the Heat are going to win games. But this season isn't really about winning so much as it's about development.
This article originally appeared on