Miami Heat: Josh Richardson calls Chris Bosh a 'mentor'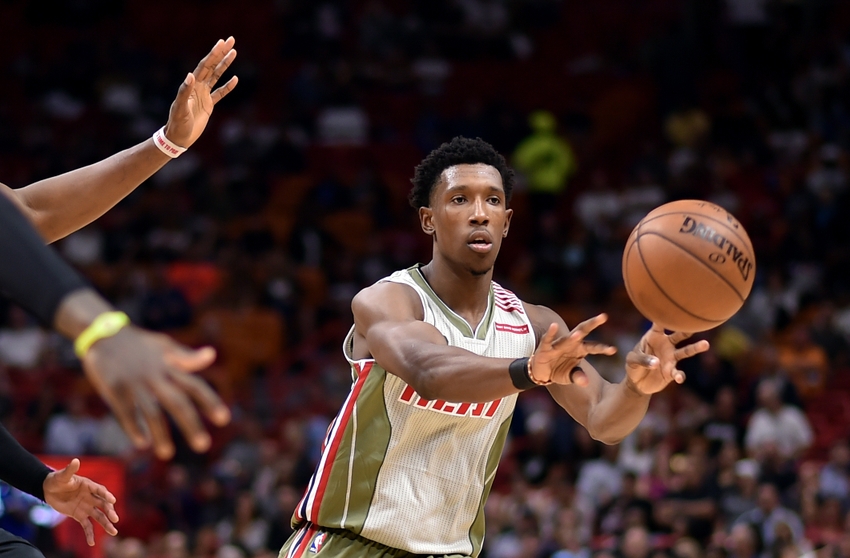 Josh Richardson has experienced his fair share of ups-and-downs since returning from a partially torn MCL in his right knee. Somewhat surprisingly, he revealed that Chris Bosh has been one person he's been able to talk to about the process. 
As most Miami Heat fans know by now, Chris Bosh's time with the team is more than likely over. In fact, just this week, a new report was published which stated that the Heat and Bosh are still at odds regarding his future. It's an ugly situation, and both sides are at least partially to blame.
That's why it came as a shock when Josh Richardson recently opened up about Bosh being the guy who has helped him the most during his struggles returning from injury:
"[Chris has] just been a good mentor for me. I talk to him about every week. It's in-house stuff. I don't really want to put it out there. He's been good."
It's no secret that the young guard hasn't been himself after missing training camp and the early portion of the season. He's shooting 38 percent from the field, and just 33 percent from deep. This is a far cry from the guy who became a revelation for the Heat late last year, making 54 percent of his threes after February 24th. It's important for Richardson's confidence that he have a veteran to talk to about what he's going through.
Richardson chose to be dismissive about what he and Bosh typically discuss, which is understandable considering the circumstances. However, he did give a little more detail when pressed. The second-year shooting guard told Anthony Chiang of the Palm Beach Post, "[Bosh has] kind of helped me be patient and not rush it."
That's valuable advice coming from a 13-year veteran. Bosh knows the grind of an NBA season, and what it's like to come back from injury. Heat fans have to look no further than the 2012 playoffs for a reminder.
By being someone that Richardson can talk to as he goes through a difficult stretch early in his career, Bosh continues to prove the kind of person he is. He may harbor ill will towards the organization, but that doesn't stop him from helping out a teammate in need. Placed in his position, a lot of other players would cut off communication with the team entirely. Not Bosh, though.
No one knows what the future holds for the Heat and their star big man. All that matters is that he get healthy. If Bosh can find a way to resume his playing career however, it's unfortunate that it won't be in Miami.
Besides his ability to score 20 a night, his value as a teammate cannot be overstated. The 4-9 Miami Heat, full of young players and first-time starters, need all the help they can get. Even if that help comes in the form of just someone to talk to.
This article originally appeared on