Miami Heat: Goran Dragic and the youth movement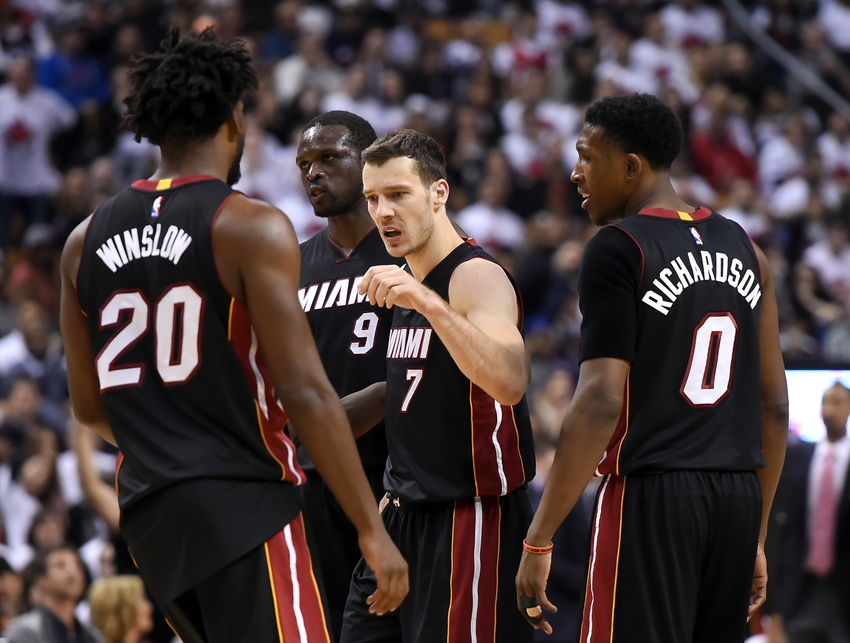 With the 2016-17 season slowly creeping up, it is time for the Miami Heat to stop dwelling on their failures this offseason, and start looking at how to be successful moving forward.
There is no denying it: the Miami Heat certainly took a hit this offseason.
They were unable to sign a "whale." They lost Dwyane Wade. And things with Chris Bosh are still very much up in the air.
However, with the start of the 2016-17 season just around the corner, it is time to move on from the perils of this summer and focus on the future of the franchise. It does not matter that the odds are against them. Or that some fans have lost all hope. There is still plenty to look forward to. And success is possible, as long as the organization prioritizes the right things.
Like Goran Dragic, for example.
Having signed a 5-year, $90 million contract last year, Dragic has left Heat Nation to scratch its head. While on paper, he certainly looks as though he could be a standout star for Miami, so far he has seemingly underwhelmed.
Although the guard averaged 14.1 points, 3.8 rebounds and 5.8 assists a game last season, it was his worst year to date since 2011 when he played for the Houston Rockets. He was much more productive during his return to the Phoenix Suns in 2012, and was actually stronger his first year with the Heat.
However, he definitely had some awe-worthy moments.
For example, during the playoffs in Game 6 against the Toronto Raptors. Dragic ended the night with 30 points, 7 rebounds and 4 assists.
So there is no question of whether or not Dragic is indeed capable of breakout performances. It is more a matter of what the team can do to get him going on a consistent basis.
And the answer to that involves playing at a faster pace.
Dragic has never been shy in stating that his best work happens when he can control the tempo of the game. And because for the last two seasons he has had to settle for whatever rhythm Wade was going at, he has not played to his full potential.
Now that Wade is gone though, this can change. And should, if the organization wants to see more out of the 30-year-old. In order to be dominant in the East this year, head coach Erik Spoelstra needs to adapt his plays for Dragic. And make sure the rest of the team follows suit, too.
Which brings up the point of Miami embracing its youth.
Running a faster offense is easier said than done. But it helps that the Heat have so much young talent to rely on; say Hassan Whiteside, Tyler Johnson, Justise Winslow and Josh Richardson.
Obviously, guys like Dragic, Bosh (if he indeed returns) and Udonis Haslem have to lend the team their veteran leadership, both on and off of the court. However, there is a definite youth movement happening in Miami. And there is absolutely no sense in fighting it, especially when it could very well work in the organization's favor.
Besides falling in line nicely with Dragic's need to run the floor, a young team means room for growth. The best part being that if anyone knows how to shape players, it is president Pat Riley.
Although Whiteside has been around the game for quite some time now, it is under the Heat's wing that he has developed into such monstrous talent, on both sides of the court. And he has not yet reached the ceiling of his potential either. Last year was Whiteside's first taste at stardom, becoming a sensation around the league for his triple-doubles (with blocks, of course). But after signing a 4-year, maximum contract, the center is about to explode.
Similarly, Johnson experienced the surprise of his life this offseason when he was given a 4-year, $50 deal. The 24-year-old may have already become a fan favorite during his surprise double-digit spree in March of 2015, but the best is only yet to come. After sustaining a broken jaw and shoulder injury, Heat Nation is ready to see a healthy Johnson blossom in South Beach.
Then of course are Winslow and Richardson, who both had strong rookie seasons. While Winslow was highly regarded right off of the bat, Richardson made a name for himself by stunning the team and fans with his three-point shooting. The duo has worked hard all summer to further improve their strengths and turn around their weaknesses, preparing for an even better sophomore run.
Losing Wade hurts, and the Bosh saga is unsettling. But there is no reason to believe Miami will not bounce back and make things work this upcoming year.
This article originally appeared on