LeBron won't take talents back to South Beach, judging by what Heat fans chanted at him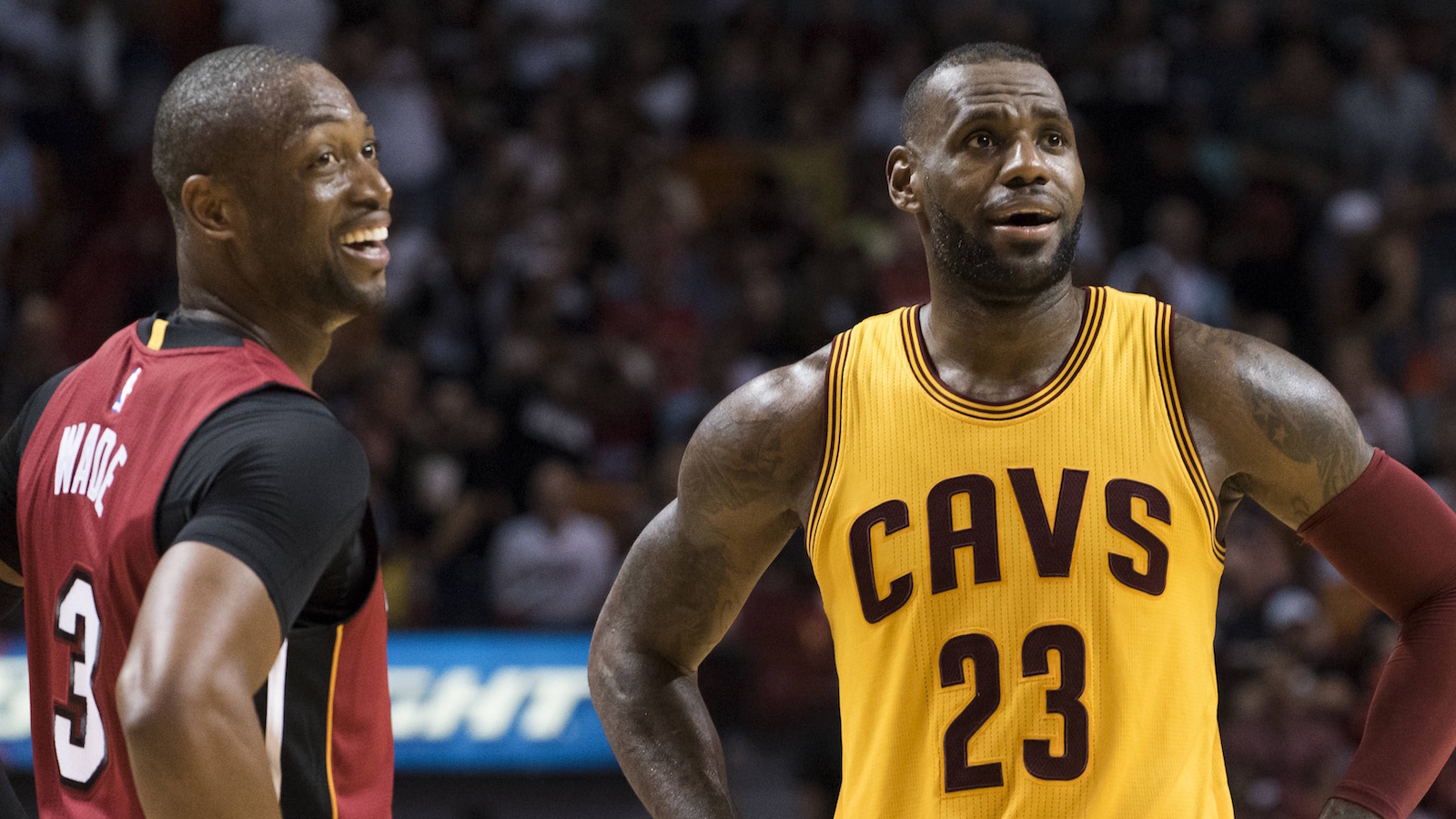 If seeing LeBron returning to Miami to work out with Dwyane Wade, and gushing over him on Instagram and in the media, made you think James just might leave Cleveland and take his talents back to South Beach, don't hold your breath.
Judging by what Heat fans chanted at him Saturday night, they're not trying to win his heart.
"LeBron needs Riley" now being chanted.

— Tim Reynolds (@ByTimReynolds) March 20, 2016
It's not the first time Heat fans have let LeBron have it since he left. When he sat out the Cavs' trip to Miami in December, fans chanted "LeBron is tired!"
Which led James to flash four fingers (for times he took Heat to the Finals) and two rings (titles he won).
You couldn't blame James if he's been missing Miami and maybe wanting to rekindle the flame with the Heat.
Saturday was the third time in as many tries that LeBron has failed to win in Miami since leaving. The Heat got a solid game by Joe Johnson, who spurned James and Cleveland. In fact since signing him, the Heat are No. 1 in the league in field goal percentage (up from 7) and 3-pointers (last), and No. 2 in points per game (up from 29). They're also getting good play from the veteran stars all the way down to rookie Josh Richardson.
It's a good thing LeBron didn't tell the Heat to select a different point guard in June. Josh Richardson > Shabazz Napier (just sayin').

— Ira Winderman (@IraHeatBeat) March 19, 2016
LeBron returned Saturday with hugs for Wade, Udonis Haslem, assistant David Fizdale —€" even Erik Spoelstra.
LeBron walks over to Heat bench, to hug Haslem, Fizdale and Spoelstra. Last one, I haven't seen before.

— Ethan J. Skolnick (@EthanJSkolnick) March 19, 2016
LeBron greets his former teammates and coaches before the @cavs take on the @MiamiHEAT.

Via @FOXSportsHEAThttps://t.co/KAESEIEOmO

— FOX Sports (@FOXSports) March 20, 2016
Maybe he has one for Pat Riley, too. But he and the Heat fans don't seem ready to hug it out.
Doesn't mean he won't play for them again. Just means they don't seem to care too much if he does or not.
.@ColinCowherd: LeBron left stability in Miami for losers in Cleveland. #HerdHere https://t.co/MTMK4KpN5j

— Herd w/Colin Cowherd (@TheHerd) March 20, 2016