Miami Heat banking on the development of its core four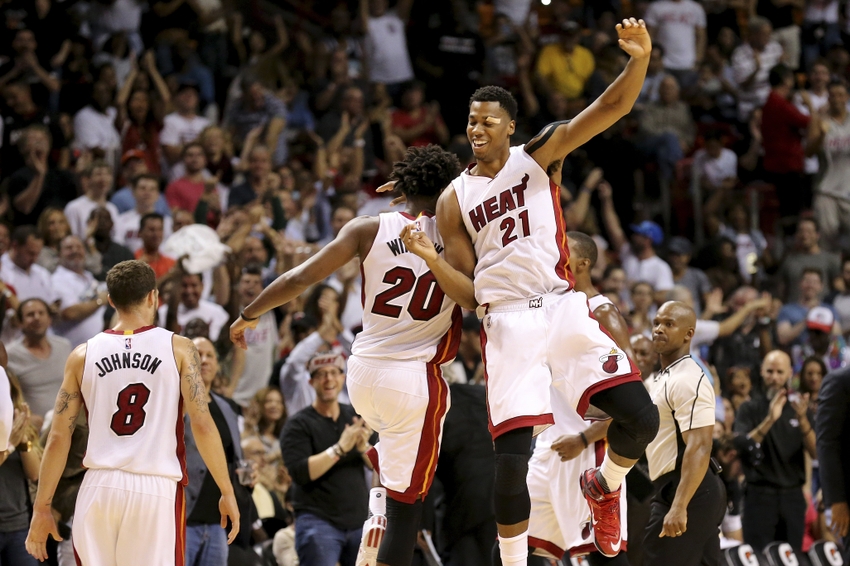 The Miami Heat's immediate future is predicated on the growth of Hassan Whiteside, Josh Richardson, Justise Winslow and Tyler Johnson.
Snapping a six-game skid with a 23-point win is the type of thing that builds hope. Unfortunately for Miami Heat fans this season is more about development than adding numbers to the win column.
Which is a reality that Pat Riley tried to brace everyone for during the offseason.
It may have been hard to believe when the team president spoke about this year in terms of a rebuild rather than a retool. Especially when including the expectation to still win. The premise seemed like enough of a contradiction to make an onlooker lean towards Riley's tendency to swing for the fences–even if it took a season or two before he could flip his space and assets like he did with the Lamar Odom and Michael Beasley teams of 2003 and 2008.
Read More: It's time for Spoelstra to show some faith in Derrick Williams
Riley reinforced those feelings in his conversation with TNT's David Aldridge:
"We have a pick this year. I have intentions, if it's possible, to try and get another pick. And then we will have room. And so from that standpoint, you start making a plan and formulating what it looks like down the road, but you're going to have to get some breakthroughs — from Hassan, from Justise, from Tyler, from Josh. And then you'll see where you go from there."
In other words, Riley is looking at this season as a chance to develop the Heat's future. Regardless of trade and tank talk or sporting the third worst offense in the NBA, the organization is focused on shining light on what it considers their core nucleus.
For Hassan Whiteside, that means being able to move the needle as more than just a rebounder and help defender.
Despite leading the league in rebounds with 16 per game, and being No. 2 in blocks, with 2.7 a game, the young center has too many lapses in effort. For example, letting a career 8.5 point scorer, like Robin Lopez, feel comfortable enough in the paint to put up 20 shots and look dominate with only 16 points and nine rebounds.
Offensively, it could be said that the $98 million man would average more than 18 points per game if he focused, stayed out of foul trouble and actually fought for better positioning more often. But on a positive note, Whiteside's assist percentage is up from 2.2 to 4.6. The slight rise in the percent of teammates' field goals that he assists on means he is more willing to move the ball than his previous two seasons.
On the other hand, Justise Winslow seems to be regressing.
While the second-year player has nearly tripled his assist totals, his field goal percentage, rebounds and three-point ratio have taken a considerable tumble. These are all things that could be attributed to an ongoing wrist injury. However it does not account for the adverse rise–from negative 1.5 to plus six–in the difference between the normal field goal percentage of a shooter and that of the shooter when Winslow is defending him.
As for Tyler Johnson and Josh Richardson, both have stepped up their production as combo guards in the wake of Dwyane Wade's departure. Johnson's three-point and assist percentages have elevated as he has gotten assimilated to the point guard position, while Richardson works to get his shooting percentages back above last year's 45 percent mark.
All four players have shown flashes in the past, but growing pains are expected with such a young core. They will account for plenty of bad basketball disguised as moral victories. Nonetheless, when the frustration boils over–from the fans to the players–everyone will have to have patience and put faith in Riley's vision. There is no other choice.
This article originally appeared on