Miami Heat 2016-17 player preview: Dion Waiters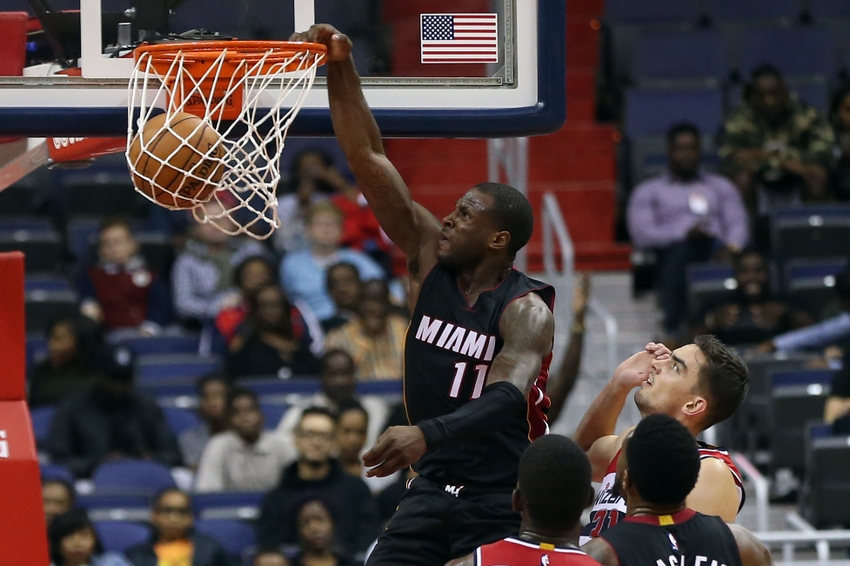 Dion Waiters has yet to find a landing spot in the league. We look at whether he may have found that place in Miami.
Despite being the last of the free-agents to sign with the Miami Heat this off-season, Dion Waiters is certainly the most high-profile. And whilst his reviews have not always been positive, one thing has never been questioned – his talent. Waiters didn't start at all in his two seasons with Syracuse, yet he still managed to become the No.4 overall pick of his draft. Still just 24, Waiters has shown a vast array of his talents over the past five seasons in the league.
His challenge in Miami will be putting his talents together on a much more consistent basis. Early indications are he is determined to make Miami his home. As was reported recently, Waiters lost 12 pounds and 3.5 percent body fat in the three weeks leading up to the Heat's training camp. Head coach Erik Spoelstra pointed out after the Heat's first pre-season game, "He's been consistently finding the open man and making the right play."
That quote from Spoelstra is certainly in contrast to Waiters' reputation to date in the league. Poor body language, immaturity and selfishness are some of the descriptions thrown his way. With both the coach and his teammates impressed so far with Waiters, the Heat will undoubtedly be hoping this is just the start of things to come.
Last season and breakout game
Waiters spent last season in Oklahoma City, finding himself playing largely in the background. Flanked by superstars in Kevin Durant and Russell Westbrook, it was always going to be tough to express himself and display his true talents. For the season, Waiters averaged 9.8 points per game and 2.6 rebounds per game in 27.6 minutes per game. He started 15 games and had an average usage rate of just 17.7, by far the lowest in his career. Despite posting the lowest averages of his career, it was a credit to Waiters that he reigned in his game for the betterment of the team.
Waiters' best performance last season came on November 10 against the Washington Wizards. In just 23 minutes of court time, Waiters posted 25 points which included 4-of-5 from the three-point line and 7-of-10 overall. He hit all seven free throws and had a usage rate of 27.9. As can be seen on the video above, Waiters displayed some impressive moves.
These include the ability to break down a man finish at the rim for an and-1. Enter a pick-and-roll situation and have the ability to pull up hit a mid range jumper. Hit the spot-up three. Getting into the lane and to the free-throw line.
What Waiters does well
Waiters does a number of things well. However, putting these together on a consistent basis has been the challenge. Just viewing the video on the previous page gives you an insight. He can score in a variety of ways – at the rim, mid range and three-point range. Last season, per Basketball Reference, 33.8 percent of his total field goal attempts were at the rim. His conversion rate of 50.8 percent of these shots was more than respectable. Having a player who get to the rim like Waiters can cause a number of issues for a team.
First, if Waiters misses his shot, the chance for an offensive rebound will be high due to the defence converging on him driving to the rim. Also, if the defence does converge, Waiters has shown the ability to dish and find the open teammate. Waiters also last season hit on just under 36 percent of his three-point shots. Making up 42.1 percent of his total shots, this was a positive sign with the Heat hoping he can continue this upward trend (he hit 32 percent the previous season).
Also of note was that Waiters completed 47.9 percent of his field goals assisted. Having stated how adept he is at getting his own shot and getting to the rim, Waiters is also able to work within the structures of the offence to produce on the scoreboard.
What Waiters doesn't do well
Per NBA.com, last season Waiters' jump shot consisted of 68.6 percent of his total shot attempts. Converting on just 34.7 percent of these was clearly far from ideal. Although his three-point jump shots were respectable, those from the mid-range and other areas on the floor can certainly use some refinement.
Over his career to date, Waiters has not exactly represented an efficient player. Shooting 41 percent from the field and 33 percent from downtown is just illustration of this point. When you combine these percentages with a career usage rate of 23.2, finding the best fit for Waiters and his talents has proven to be difficult.
But it's not just the numbers that have been the knock on Waiters. The criticism has been directed more towards his overall maturity and body language. The following clip is just one example of the posturing that Waiters has been mocked and criticized.
As you may notice, it's LeBron James with the ball in his hands. Yet Waiters is gesturing and complaining about not getting the ball. It's a prime example of what his critics have been badgering – a real lack of awareness. In this case, the best player in the world has the ball yet he feels he should have it instead.
The 2016-17 Season
Early signs in the pre-season have been highly encouraging for Waiters and the Heat. The first player off the bench in both hit-outs, Waiters has impressed as not only a scorer but also a facilitator.
Over two games, Waiters has averaged 13 points per game and seven assists in 24.5 minutes per game. He has shot 50 percent from the field and had an average usage rate of 29. The usage rate is obviously extremely high. However it must be noted that with Tyler Johnson starting at the two, Waiters has been the primary ball handler coming off the bench.
Until Josh Richardson returns from injury, we probably won't know exactly the role Waiters will have moving forward. He can certainly rotate between the 2 and 3 spots, and as shown in the past two games, handle the point in spurts if needed. Until Richardson does return, playing 25-30 minutes per game, whether coming off the bench or starting, is very realistic.
The next handful of pre-season games will be a great opportunity for Waiters to both acclimatize to the Heat's structure and also prove his worth to the coaching staff. With much to prove to both himself and the league as a whole, it will be an interesting story to follow.
This article originally appeared on