Metta World Peace claims an interesting ghostly encounter in Oklahoma City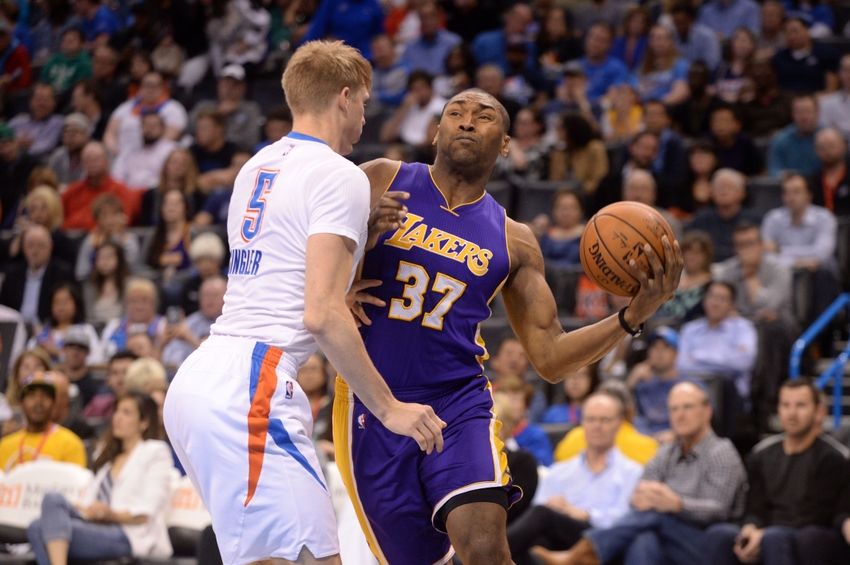 Metta World Peace claimed to have an interesting ghostly encounter at Oklahoma City's famed Skirvin Hotel as the Los Angeles Lakers played the Thunder.
The Los Angeles Lakers lost to the Oklahoma City Thunder 113-96 to a Russell Westbrook triple-double, and it seems like they could not wait to get out of there.
Now midway through a four-game road trip, the Lakers traveled to Oklahoma City from Utah after Friday's game and spent two days staying in Oklahoma City. That meant two days at the famously haunted Skirvin Hotel.
There, Lakers forward Metta World Peace apparently had an uncomfortable encounter:
Metta World Peace said a ghost touched him inappropriately at the famously haunted Skirvin Hotel, where the Lakers stayed the past 2 nights.

— Tania Ganguli (@taniaganguli) October 31, 2016
NBA players have long reported spectral encounters at the Skirvin Hotel. In April 2014, The New York Times wrote about the Thunder's Sixth Man.
As The New York Times related two years ago, the story is the hotel is haunted by the mistress of the hotel's former owner. After she was discovered, she was locked away and went mad, killing herself and her child. The story is the ghost is a prankster around the hotel.
Most of the stories though have to do with creaks and groans with the floor or doors mysteriously opening and slamming shut or bathtubs mysteriously getting filled with water. Metta World Peace might be the first to report a physical encounter though.
Then again, the ghost apparently does have a playful side with men, according to The New York Times.
These days, Effie is considered a playful prankster, knocking on doors, opening drawers and causing commotion in the halls. She propositions men with her voice or appears alongside them in the shower. Sometimes, she pushes a baby carriage in the hallways. Most haunting, perhaps, is the sound of the baby, heard but not seen, crying in the night.
Of course, that is just the story. No one knows if it is really true. And not everyone believes in ghosts. NBA players certainly do. Multiple players from multiple teams have reported similar experiences.
But nothing like the always interesting Metta World Peace. This is something new for the Skirvin Hotel and the NBA, and only adds to the stories for the hotel and the league.
More on FanSided:
If something did happen, it is really not funny. Then again, everything Metta World Peace says has to be taken with grains of salt. He is not always the most serious in his postgame interviews, especially when he plays only three minutes in said game.
The Lakers return to Oklahoma City to face the Thunder on Feb. 24 — the first game after the All-Star Break. We will see if Metta World Peace and the Lakers return to face the Skirvin again.
This article originally appeared on