Memphis Grizzlies vs. Houston Rockets overview: Marc Gasol is OK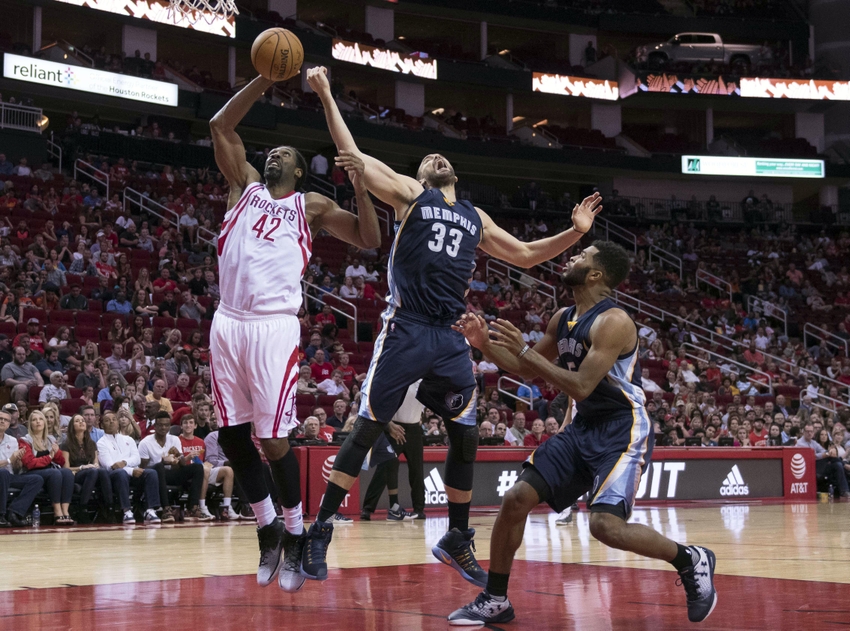 The Memphis Grizzlies outlasted the Houston Rockets 134-125 in this double overtime exhibition contest. More importantly, Marc Gasol will be OK!
In tonight's exhibition game, the Memphis Grizzlies and Houston Rockets did something every basketball fan wants to see: a double overtime preseason basketball. Most fans don't really consider preseason basketball important, but tonight should be promising for the Memphis Grizzlies.
Memphis Grizzlies hit 17 3-pointers
Seventeen 3-pointers in a game is incredible for a lot of basketball teams. For the Memphis Grizzlies, it is otherworldly. Of their 17 3-point makes, training camp invitee Troy Williams nailed five of them, including numerous clutch shots.
If the Memphis Grizzlies continue at their scorching 3-point pace, they'll force teams to adjust their gameplan against them.
Marc Gasol is all good
Yes, the Grizzlies making it rain from downtown is fun, but let's not forget that it's preseason. Marc Gasol left the game with foot issues, the same one that sidelined him for the rest of the 2015-2016 season.
Grizz fans, there is no need to fear about their All-Star center. He should be back and ready to go as soon as possible.
It would have been the Grizzlies' luck to lose their franchise player after seeing him add a scary 3-point shot to his game. But hey, at least it's all good.
Quick hits
Andrew Harrison is making this backup point guard spot a hard decision for Fizdale. After strong outings by Wade Baldwin (and mediocre ones from Harrison), he turned in a 14-point and  six-rebound contest. His roster spot may be up for grabs, but nice performances like this helps his case.
A 4/5 combo of JaMychal Green and Marc Gasol shooting 3s is incredible for the starting lineup. Both combined for four made 3-pointers on six attempts. As a result, this spacing should open up the court for Tony Allen cuts, Mike Conley drives and Chandler Parsons 3 balls.
D.J. Stephens and Troy Williams both deserve a roster spot. These two guys could be Fizdale's biggest projects. His speciality going into his head coaching job was his player development. If he can nab both Stephens and Williams, they could turn out to be major keys to the Memphis Grizzlies' present and future.
When will Troy Daniels hit some 3s????
Highlights
SIGN THE MAN…
Tonight might have been just a preseason game; however, if I'm the Memphis Grizzlies, I'd keep letting it fly from downtown.
This article originally appeared on