Memphis Grizzlies: Outside Shot Helping Early Success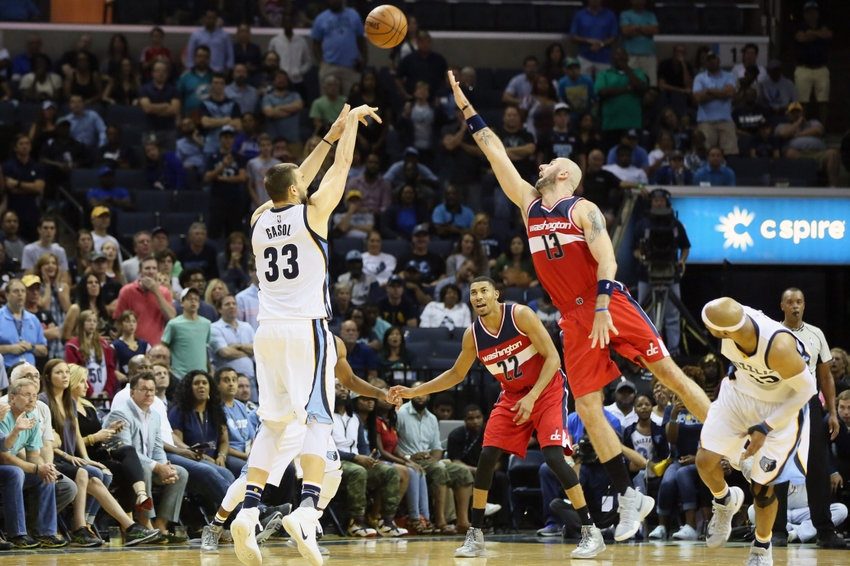 The Memphis Grizzlies are 2-1 under new coach David Fizdale. The early success can partly be credited to a facet of the offense that most Grizzlies teams weren't known for.
The Memphis Grizzlies are looking a little different as of late.
Memphis was able to notch its second win of the season with a 112-103 overtime home win over the Washington Wizards. Tied at 100 after regulation, the Grizzlies reeled off a 12-3 run to get the W.
The key to victory? Outside shooting.
Memphis made 15 three-pointers on a season-high 31 attempts in Sunday's win. That's the most the franchise has made since they hit as many in a 2008 win over the New York Knicks. That is also one short of the team record.
Their 31 attempts are the most in a game since they put up 32 at the Los Angeles Lakers last February.
Sunday was an early peak to an uncharacteristic season. Memphis is second in the NBA in three-point percentage at 43.8 percent and averaging 26.7 three-point attempts per game.
The only other time the franchise has averaged more than 20 in a year was when they averaged 21.7 and shot 34.9 percent in 2007-08.
By comparison, Memphis averaged 13.9 attempts and shot 34.1 percent in the eight years between that season and this year.
The interesting thing about this start is that the leader in attempts isn't who you would expect it to be. Big offseason acquisition Chandler Parsons hasn't played yet as he finishes up his rehab from knee surgery.
Fellow summer addition Troy Daniels has only played one game due to a knee sprain and has yet to make a three.
Mike Conley (63.6 percent), and Vince Carter (54.5), and James Ennis (41.7) have all been efficient while averaging at least three attempts per game. Carter joined Derek Fisher (two) and Jason Kidd (five) as the only players 39 or older to have at least five three-pointers in a game more than once.
Carter also turned the trick Feb. 26 against the Los Angeles Lakers.
However, none of them currently hold the mantle for total or average attempts.
Instead, it's big man Marc Gasol. Gasol is shooting 46.2 percent from outside on a team-high 4.3 attempts per game. His 13 attempts are just short of his career high for a season of 17. Marc's six made treys surpass the most he's ever had in a single season.
Head coach David Fizdale is unlocking a new dimension of Marc Gasol's offensive repertoire. The coach has imposed a quota of at least four attempts a game. He fell short in the season opener when he went 1-for-3, but has hit the mark in the last two games.
Gasol went 4-of-6 on Sunday against Washington. One of those threes sent the game into overtime. Two more bombs helped Memphis pull away for the win.
Ronald Tillery's report in the Commercial Appeal indicates Marc wasn't surprised by his output from outside.
"I don't see anything that extraordinary," Gasol said. "I couldn't get myself going inside like I would like. My two pointers weren't going and eventually I got going from the three-point line and helped the team win."
While the Grizzlies have done well shooting from outside, they've also kept opponents from scoring on the perimeter. The Grizzlies have held their three opponents to 26.6 percent. They're sporting the sixth-staunchest three-point defense in the league.
Gasol indicated in the above quote that he couldn't find his shot from two. It hasn't just been him. The two-pointer has been a team issue. The Grizzlies have shot 44.3 percent within the arc, good for 28th in the league.
This is down from 47.1 percent last season, and that number still had them tied for 27th in the NBA. We'll see if Fizdale can figure out how to get his team to perform better inside.
The Grizzlies have done well with their new offensive identity through three games. They're also doing it without a couple of the players you'd expect to lead the way. There are, however, a few questions for the team moving forward.
Will the team continue to shoot as many attempts? Or will they regress to the post-centric style as the season wears on? If they keep shooting all of these threes, will they continue to go in at such a torrid clip?
The marathon of the season will provide the answers. The Memphis Grizzlies will gear up next for a rematch at the Minnesota Timberwolves on Tuesday. At this early juncture, it seems that David Fizdale is giving this "Grit n' Grind" franchise a new look on offense.
This article originally appeared on