Memphis Grizzlies' Mike Conley out indefinitely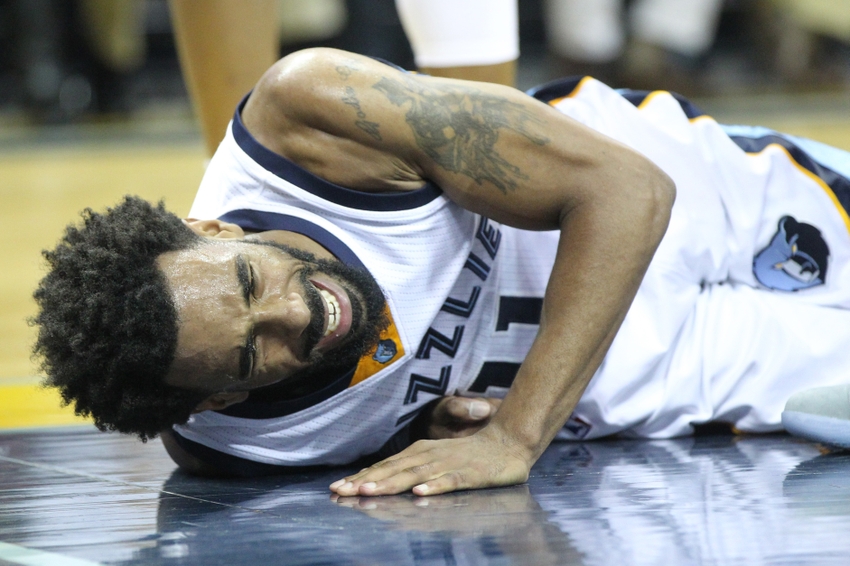 Memphis Grizzlies guard Mike Conley was getting off to a strong start this season. A back injury has him out indefinitely and stops the team in its tracks.
The Memphis Grizzlies this summer gave Mike Conley the richest contract in NBA history — five years, $153 million. Conley has been a near-All-Star for several years and part of the heartbeat for one of the most consistent teams in the league in Memphis.
Conley was living up to his contract and the Grizzlies seemed set for another gritty Playoff berth.
The momentum has suddenly stopped. Conley is out at least six weeks and likely indefinitely after suffering a transverse process fracture in the vertebrae, according to Adrian Wojnarowski of The Vertical and Michael Wallace of Grind City Media. Conley essentially has broken a bone in his back.
Sources: Grizzlies guard Mike Conley suffered a transverse process fracture in the vertebrae. He will miss an indefinite period of time.

— Adrian Wojnarowski (@WojVerticalNBA) November 29, 2016
Conley expected to miss 6 weeks with fractures in lower back. Will be reevaluated in a month. Conley suffered injury in Mon loss to Hornets.

— Michael Wallace (@MyMikeCheck) November 29, 2016
Conley suffered the injury during Monday's 104-85 loss to the Charlotte Hornets.
He was putting in perhaps his best season, making good on that large contract he signed this summer. Conley was averaging a career-high 19.2 points per game and 5.7 assists per game. He was shooting 46.7 percent from beyond the arc.
Memphis has gotten off to an 11-7 start and is again in the thick of things in the Western Conference.
The Grizzlies last year struggled with injuries, entering the Playoffs with an extremely depleted roster. Conley, himself, played only 56 games last year. He missed the final two months of the regular season and the entire Playoffs with an Achilles injury he suffered in March.
It was a disappointing way for Conley to end his season and left the Grizzlies in a major lurch. They limped into the Playoffs and got quickly defeated.
Without Conley, the Grizzlies will likely rely on youngsters Andrew Harrison, Troy Daniels or Wade Baldwin. It is a major step down from Conley, one of the best players in the league not to make an All-Star team.
Memphis still has Marc Gasol to anchor the team. But Conley and Gasol were the only two players on the Grizzlies averaging more than 10 points per game. Memphis will need another player to step up in the 20-or-so games Conley will miss. And that could end up being a whole lot more. Back injuries are not anything to take lightly.
After getting off to such a strong start and validating the massive contract he received this summer, this is a disappointing way for Conley's season to turn.
More from FanSided
This article originally appeared on