Memphis Grizzlies: James Ennis A Major Key To Their Success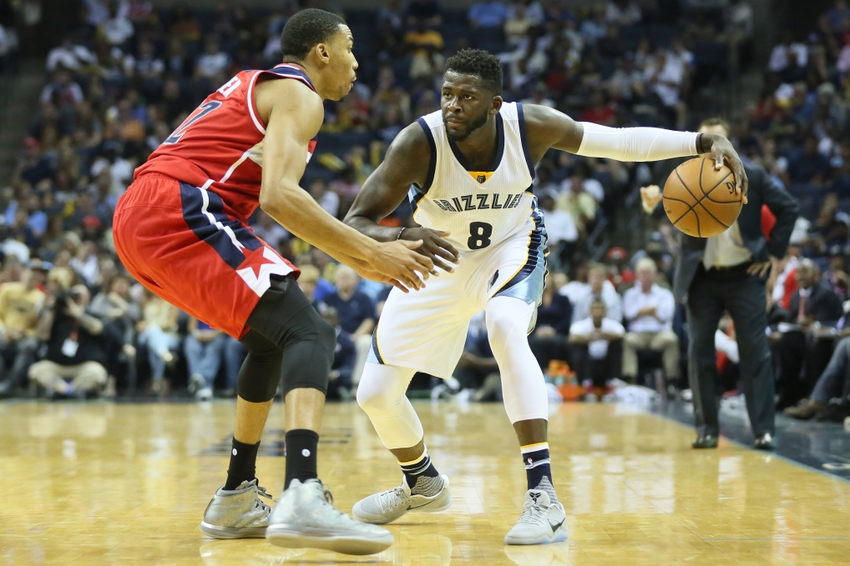 The Memphis Grizzlies are 3-4 in large part due to their inefficient offense and slow pace. Making James Ennis a featured player should change their fortunes immensely.
At the start of the season, Memphis Grizzlies head coach David Fizdale said he wanted their big-splash free agent signing Chandler Parsons to play a role similar to the one that LeBron James played with the Miami Heat.
To some, that may not have seemed plausible but to others the idea is ingenious. Playing Parsons in a James-like role will allow him to be an all-around playmaker for the team and puts him in a role that helps his teammates thrive individually.
Ultimately, being in that role means Parsons will have the ball in his hands a lot. Not as much as James, who is a natural point-forward, but enough to let him function of a fulcrum of the offense.
While being able to make plays from the perimeter, Parsons should be working on excelling with his back to the basket as well.
Whether he's trying to back a smaller defender down at 6-foot-10 and 230 pounds, or shoot over the top of them with a post fadeaway, Parsons should be able to score.
This will also be an area for him to generate assists as he kicks it back out to shooters or finds a teammate cutting towards the rim.
With that being said, making Zach Randolph the team's sixth man was a shrewd move on the part of Fizdale. Randolph, though an able low post scorer, is simply not a fit in the starting lineup between Parsons and Marc Gasol.
Parsons will  take a high number of threes off-the-ball in catch-and-shoot situations, however, the combination of frontcourt unit of Parsons, Randolph and Gasol doesn't give the Grizzlies enough space for it to enhance into a modern offense.
For that transformation to take place, the relatively unknown James Ennis should round out the frontcourt unit. Ennis, who shoots 37.5 percent from three-point range for his career, hails from Long Beach State and was selected 50th overall by the Miami Heat in the 2013 NBA Draft.
There was a time he was supposed to be the young and athletic legs many said LeBron James needed behind him. Instead, James Ennis took his talents to Australia as he had to take care of his family financially.
In his lone season for the Perth Wildcats, Ennis nearly won the NBL MVP award after averaging 21.2 points, 7.2 rebounds, 2.1 assists and 1.4 steals per game and leading his team to a league-best 21-7 record.
He shot 35.5 percent from the three-point line and 46.6 percent from the field.
Once he wrapped up his season playing for Australia's NBL, Ennis had an eye-opening performance in the 2014 Summer League circuit as he showed the Miami Heat that their plan to let him develop in Australia for one year paid dividends.
In six Summer League contests, Ennis averaged 15.5 points per game on 48.1 percent shooting from deep. This shooting clip wasn't a small sample-size either, as he took 4.5 threes per game.
Ennis, who has a good stroke on his shot, the speed to blow by defenders and the explosiveness to leaped over them opens up the offense for Parsons to be an all-around presence and Gasol to dominate in the post as both a scorer and facilitator.
Where Ennis could improve is using his footwork to create shots and keeping his head up as he drives to make the pass to open shooters. However, if given free rein within the offense, Ennis will show that he's a natural scorer.
Since coming into the league, Ennis has played in 88 games, not including 24 games he played for the NBA D-League's Iowa energy where he averaged 18.8 points per game. Ennis did show his talent in South Beach, scoring in double figures in eight games of the 2014-15 season.
That same season Ennis earned himself a nomination for Dunk of the Year after this poster of Rasual Butler.
The next season, after going from the Heat to the Memphis Grizzlies (who seemed dead set on running their old guard into the ground), Ennis only received significant playing time in New Orleans and 15.9 points per game in 31.3 minutes.
This is no small part due to the fact that a myriad of injuries forced the Pelicans to play their bench as their starters. Still, in the final two games of the season, Ennis scored a total of 57 points and went 11-for-19 from three-point range in the final two contests.
On April 11, Ennis put on a masterful 29-point (career-high), five-rebound and four-assist performance against the Chicago Bulls while being guarded by Jimmy Butler.
While featuring Ennis in the offense, the Grizzlies would also be wise to start veteran Vince Carter beside him on the wing in order to get Carter better looks from three, prevent Ennis from getting overburdened as the three-point threat by drawing defenders, and to help facilitate the ball movement with smart passes.
In addition, Carter is a veteran presence on the wing that can switch off on bigger and stronger small forwards on the defensive end.
Ennis should, however, be able to be superb defender when matched up with the top flight wings. His length and explosiveness enable him to jump out into the passing lanes as opposing point guards try to get the ball to their best scorer or recover if initially beaten on the perimeter.
With this space, Mike Conley will be able to attack the rim at will and have plenty of options to kick out to. The $153 million man will use the pick-and-roll to near perfection with the Grizzlies main bigs: Gasol, Randolph and JaMychal Green.
What the Grizzlies have behind this balanced starting lineup is a talented frontcourt unit that won't work in a platoon swap but individually provide skills that complement Gasol and Parsons.
At times, the spacing won't ideal, but those instances will won't be as frequent if they sit Green and start Carter alongside Ennis on the wing.
Taking the Day Off: Why David Fizdale resting players is the right move
While Wade Baldwin IV and Andrew Harrison have potential as combo guards, and shooting guard Tony Allen is one of the Grizzlies best defenders, Ennis and Conley will always have to be on-the-court with them there because of their subpar shooting from deep.
When Baldwin or Harrison are on the court, it would likely mean that Conley is off and Ennis should be in the backcourt beside them.
When Allen is on the court, Conley should be right there.
Soon though, the Grizzlies will see Baldwin and Harrison will get their shot going from deep as both were above-average three-point shooters in college.
They, like Carter, just need more space. Ennis can provide that as defenders gravitate towards him and he looks to move the ball around the court.
This should be the framework for the Memphis Grizzlies master plan to win an NBA championship, this setup. They're a talented two-way team that could be elite on both sides of the court. They have a coach that knows what it takes to win it all.
It all starts with Ennis being a featured player.
While being an elite three-point shooter, a dangerous threat in transition with his suberb athleticism and a force on boards, Ennis' role as the primary three-point threat will be enough to make the Grizzlies a formidable offensive team.
In addition, defensively, Ennis will be able to be an outstanding individual, team and help defender.
He has the athleticism and length to make the impact physically and a great defensive teacher in Allen, who will have to go from "Grindfather" to grandfather as he takes a step back to the young talent and helps teach Ennis how to maximize his defensive ability.
While Gasol will anchor the defense with communication, rim-protection and surprising agility, Conley will be solid guarding the ball-handler with his own athleticism, effort and defensive fundamentals.
Parsons will have the occasional mismatch at power forward defensively, however, so will the player that defends him.
The four-headed monster of Conley, Gasol, Parsons and Ennis will be a tremendous unit that excels on both sides of the court.
As long as Ennis is featured on both ends of the court.
This article originally appeared on