Memphis Grizzlies at Dallas Mavericks: Preview, how to watch, betting odds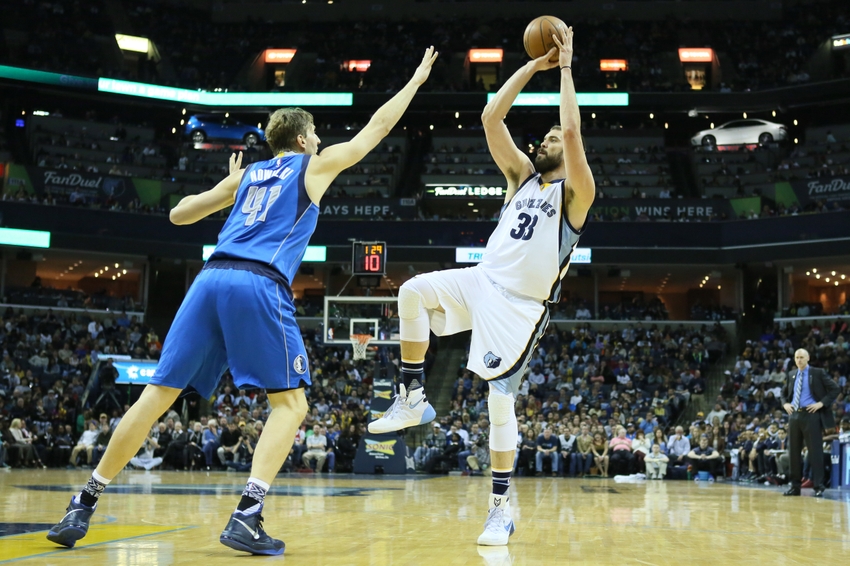 The Memphis Grizzlies 4-game road stretch ends tonight in Dallas as the Mavericks await the first return of Chandler Parsons since his departure from the Lone Star State this past summer.
WHO:  Memphis Grizzlies vs. Dallas Mavericks
WHEN:  Friday, Nov 18 – 7:30 p.m. CST
WHERE:  American Airlines Arena – Dallas, T.X.
HOW TO WATCH:  Fox Sports Southeast (or one of those streaming sites, but you didn't hear that from me)
HOW TO LISTEN:  92.9 ESPN Radio – WMFS Memphis
BETTING ODDS:  Memphis (-2.5); o/u 185.5
In a Friday night Western Conference contest, the Memphis Grizzlies travel to Dallas, where the Mavericks and their fans will enjoy an evening of New versus Old, as newcomer Harrison Barnes and former Maverick Chandler Parsons assume the spotlight.
About the Mavericks
Tonight is an interesting night for the Dallas Mavericks.  One one end of the spectrum, Chandler Parsons is making his first appearance at American Airlines Arena since his decision to team up with Mike Conley and Coach David Fizdale in Memphis.  On the other, the 2-8 Mavs are officially in crisis mode.
Current injury woes: J.J. Barea will miss the next six weeks following an injury Wednesday.  Dirk Nowitzki and Deron Williams will also be sidelined tonight.
Injuries aside, the Mavericks schedule has been less than ideal so far this season – 10 of their first 15 games have been on the road.  Tonight's Western Conference match-up with the Grizzlies is the first leg of a Mavericks back-to-back, as they travel to Orlando tomorrow to face the Magic.
With Chandler Parsons returning, however, you can expect the atmosphere in Dallas to be electric.
About the Grizzlies
Memphis will look to continue its momentum following an impressive win Wednesday night against the (very good) Clippers in Los Angeles.  With a home game tomorrow against the Minnesota Timberwolves (again), we can expect to see some combination of Grizzlies resting tonight.  Apparently, Chandler Parsons will not be one of them.
Shootaround (Dallas) – Chandler Parsons said Griz gave him an option of playing a little bit against Clippers in order to play more vs Mavs

— Ronald Tillery (@CAGrizBeat) November 18, 2016
To state the obvious, Chandler Parsons' return to Dallas is the headline of tonight's game. Dallas' injuries and Fizdale resting philosophies produce a nice opportunity for a Parsons breakout game. Only playing 14 minutes Wednesday, there's a high probability that the 6-foot-10 playmaker will see a significant uptick in minutes tonight.
The former Maverick forward has seen approximately 20 minutes and in the neighborhood of 10 field-goal-attempts.  As long as his minutes trend upward, production should follow suit.
Keys to win
Attack from the perimeter.  The Dallas back-court is in shambles.  The Mavericks' guard ensemble will be young, and Memphis must take advantage.
Make the Mavericks' play at the Grizzlies pace.  Quickness is a term that fails to describe the Dallas roster.  If the Grizz can push the ball, transition buckets should come fairly easy.
Shut down Harrison Barnes.  With Nowitzki ruled out, Barnes' usage rate will be off the charts tonight.  Contain him, and the Grizzlies will return home Saturday with three tough road wins.
Parsons must contribute.  All eyes will be on Parsons as he makes his first trip back to Dallas since his breakup with owner Mark Cuban. With more minutes, the big man must score.
Prediction
The Grizzlies have yet to break the habit of 14+ turnovers a game.  It will be much closer than it should be, but the Grizz will grind their way to another road win, covering the 2.5 point spread.
More from Beale Street Bears
This article originally appeared on