Memphis Grizzlies: 2016-17 season outlook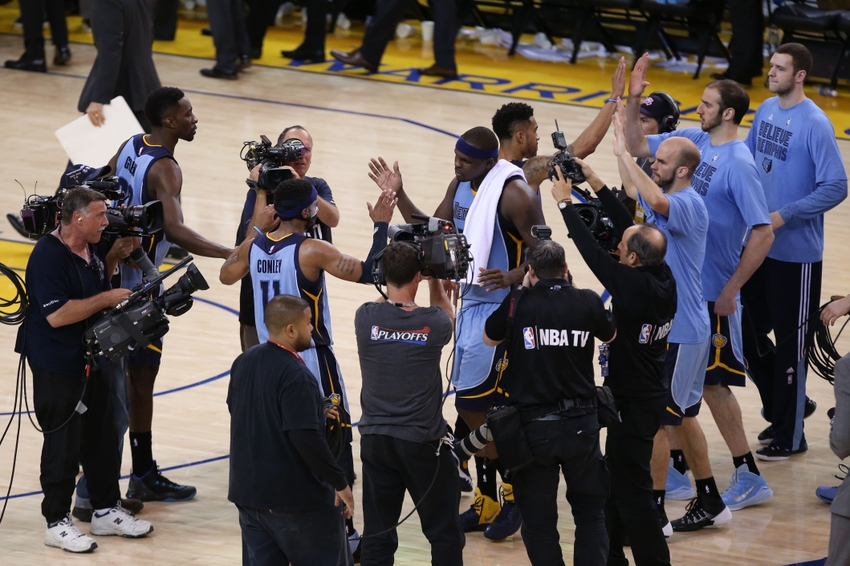 With our favorite time of year quickly approaching–the start of the NBA season–we take a look at the Memphis Grizzlies. How will they fair in a weakened conference? Can they stay healthy? Did they really pay Conley that much?
Roster Changes.
Lets go ahead and get the boring stuff out of the way.
Additions:
Wade Baldwin (Vanderbilt), Troy Daniels (CHA), Deyonta Davis (Michigan State), James Ennis (NOP), Andrew Harrison (Iowa Energy), Chandler Parsons (DAL), Wayne Selden (Kansas), D.J. Stephens (Iowa Energy) and Troy Williams (Indiana University).
Subtractions:
Chris Anderson (CLE), Matt Barnes (SAC), Bryce Cotton, Jordan Farmar (SAC), PJ Hairston, Xavier Munford and Lance Stephenson (NOP).
Biggest Strengths.
Continuity is a big thing in todays NBA. Playing together and being used to playing with each other helps a lot when you are trying to build a winning team. This season, the Memphis Grizzlies get to roll out their core players for yet another season. That's part of the reason Memphis forked over $153 million to Mike Conley. Playing together for the past several years will allow these guys to instill the "Grit 'n' Grind" mentality to the new comers.
Defense has been one of the Grizzlies' strengths over the past several season, thanks in large part to defensive studs Marc Gasol and Tony Allen. With Gasol anchoring the paint and the two talented guards, Conley and Allen, roaming the perimeter, scoring on this team will be a tough task for most opponents. Before injury plagued Memphis last season they were one of the top teams on the defensive end. Look for them to return to form with a healthy core again this year.
Biggest Weakness.
Tell me if you've heard this before—Staying healthy is the key to [Insert your team's name here] success. The Memphis Grizzlies know this more than anybody. If this team can stay healthy for the majority of the season, the sky is the limit. On the other hand though, if they get hit with the Injury bug, like they did last season, they won't fair as well. There are not many teams that can really withstand multiple key injuries and with the age of key players on the roster, health could be their downfall.
Most important player
This is one of the harder things to answer. Do you go with the big offseason acquisition, Chandler Parson? Or the best center in the game, Marc Gasol? In my opinion, though, Mike Conley is the most important player on this team.
Fresh off signing his record setting contract, Conley has to have more pressure than ever to perform. He will be challenged with leading and grooming talented back up, Wade Baldwin IV. Fizdale also has a new offense Conley will be expected to run, and run well. Keeping everyone happy falls on Conley's shoulders too. He has to make sure Parsons and Gasol get the amount of touches they need, while keeping JaMychal Green and Tony Allen involved as well. Conley is in for a pressure filled season.
All those reason are why Mike Conley is the most important player for Memphis this season. Should he stay healthy, Conley will have no problem leading this team. Memphis wouldn't have broken the bank if it thought different. Look for Conley to have a breakout season — sounds weird saying that for a guy making $30.5mil on average, but hey –because he will have to if the Memphis Grizzlies wants to do much this season.
What does a successful season look like?
I know you guys get tired of hearing it, but Memphis has to stay healthy. A lot of that responsibility falls to David Fizdale, he has to properly manage his rotations to help keep the older players healthy. Its no secret that the Grizzlies overachieved last season after they were eaten up by the injury bug. To make any sort of noise next season and come playoff time, the first step is to stay healthy.
Barring any key injuries, Memphis should easily lock up a 4-6 seed in the weakened Western Conference. It quite obvious that the Grizzlies aren't quite there talent wise to challenge the Clippers, Spurs and Warriors for the top 3 seeds. But they should have no problem hanging with Portland, Utah and New Orleans.
Prediction: Memphis finishes the season 47-35. Good for the 5th seed come playoff time. Ultimately they lose in the 2nd round to the Clippers, 4-2.
This article originally appeared on