Mario Hezonja's next step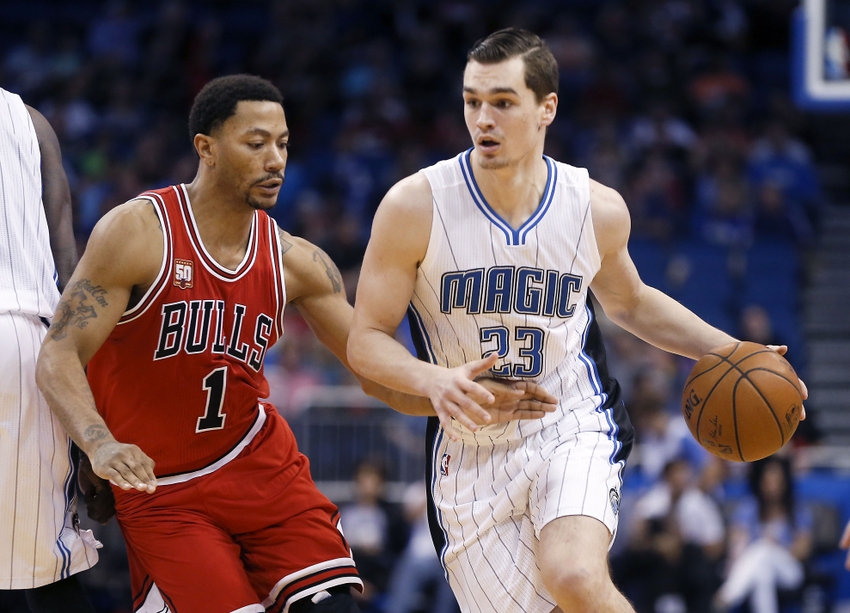 Mario Hezonja is no longer the bright-eyed rookie. He aims to make meaningful contributions to the Orlando Magic this year. And they will ned him.
Mario Hezonja is used to change.
Hezonja has played professionally since he was a teenager and more than any of the Orlando Magic's young players has seen a constant shifting of teammates and coaches that characterizes the professional game.
He traveled across the Atlantic Ocean now to ply his trade. And, as he reminded the media throughout his rookie season, everything was new to him in the NBA and in America. Each experience — from Summer League to preseason to the regular season — was a completely new feeling and experience. He could only get better getting tested each night in games and each day in practice.
Things have changed again for Hezonja.
He has a new coach again. Several new teammates. Even a new number (or a return to an old one).
Hezonja had a lot to learn after his rookie year. And he hopes to make a jump from his rookie year to his sophomore year.
"I want to do that [make a jump]," Hezonja said. "We'll see. I worked a lot. I didn't stop since I came back to Croatia. I started to work on individually. Worked during the national team. Basically I worked on basketball and then a lot of individual work on ball handling in the gym."
Hezonja averaged a meager 6.1 points per game and shot 34.9 percent from beyond the arc. That number went up as the season went on — 7.2 points per game after the All-Star Break with an increase in field goal attempts per game and minutes per game too.
It was still hard to say the Magic got a full sense of who Hezonja was. And with other rookies playing strong, the pressure was increased on the fifth overall pick of the 2015 NBA Draft.
Hezonja spent most of his summer playing for the Croatia National Team as they began Olympic preparations with the Olympic Qualifying Tournament in Italy in early July and then the Olympics in early August.
Hezonja was up and down throughout the entire summer with his national team, but he came through in the end. He averaged 9.0 points per game and shot a 64.9 percent effective field goal percentage during the Olympic tournament.
It felt like Hezonja regained his shooting confidence throughout the summer and would return to Orlando with the same confidence advertised from his pre-draft profiles. That was not quite the Hezonja everyone saw his rookie year. He was a confident player, but one who knew he had a lot to learn.
The most important thing he has now is a new role. A much more expanded role than the one he had his rookie year where the team eased him in some and kept a tight reign on the sometimes braggadocios wing player.
This will be the year where playing in the NBA will lose its newness and Hezonja will begin to settle into a role. Any improvements he has made will have to shine through.
"Same person. Different player," Hezonja said in describing how his second year will be different. "As a player, I told you probably the first time we met last year that regardless of what you do when you step on a NBA court, you will get better. I think we had ups and downs throughout the whole season. Pretty much the whole year improves you from every standpoint."
Hezonja said he feels his second year will bring a lot more calmness to his game. He knows what he is facing, the speed of the game and now what his team will ask of him.
Hezonja knows as much as anyone, there is a lot for him to improve on. Especially on the defensive end.
More from Orlando Magic Daily
Coach Frank Vogel said Hezonja has the ability on the defensive end. But he still has to learn how to negotiate screens better and be in the right spot in weakside rotations. He still has a tendency to gamble, a trait Hezonja said he picked up in Europe where he could use his athleticism to get steals from behind the play.
Hezonja's defensive development will be a big part of his story this season. Vogel said he is confident Hezonja will get up to speed and improve in these areas. All he has to do is be able to fulfill his responsibilities within the defense and stay sound.
If he does, that will help unlock his offensive ability.
And ultimately that is what Hezonja brings to the table for the Magic. They need his shooting and his offensive ability.
He has great vision and can be a valuable player in transition. That skill should fit the Magic. And there is that shooting still.
Hezonja has a place in the NBA if he can gain the confidence and freedom to play.
"Just to be out there, it is why you play," Hezonja said. "To be on the court and to win. Help your teammates and bring your organization to a spot where they deserve because they put a lot of work in order for us to step on the court. If I'm on the court that's the best way to give to everyone else who give themselves for us."
His first two preseason games were a bit of a struggle. He had difficulty handling defensive pressure at times and started picking up points when the starters went out. Once he found his rhythm and got out in transition, it was clear to see what Hezonja can be this year.
Like any young player, consistency will remain his biggest hurdle.
But so much has changed for Hezonja going from his rookie year to his sophomore year. So much will still change for him.
Hezonja though will have to take his next step for the Magic to be successful this year. That more than anything will have to change.
This article originally appeared on