Mario Hezonja has his first moment of the 2016-2017 season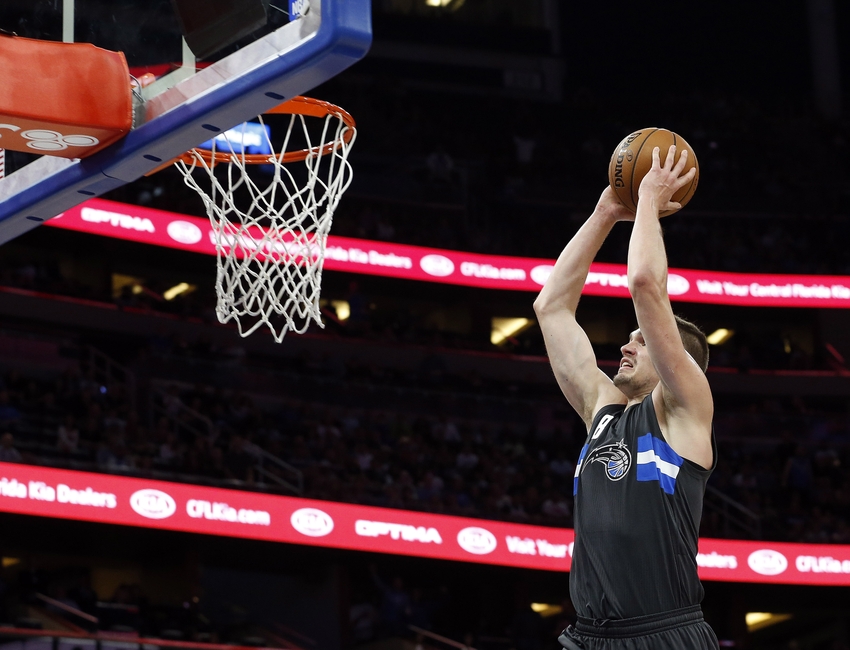 Mario Hezonja sparked the Orlando Magic to a comeback against the Washington Wizards, jump-starting his sophomore season in the process.

86

88
Life can be pretty miserable in the midst of a shooting slump. Especially one to start the season.
Doubt can creep in some. It leaves a player searching for an answer. It leaves a player down. Perhaps not depressed or upset, but just down on himself.
Life is miserable, as Evan Fournier put it.
It is no secret Mario Hezonja's sophomore campaign with the Orlando Magic has started off a bit slowly. Last year's lottery prize had scored three or fewer points in four of the team's first five games, with the outlier being a 13-point outing against the Detroit Pistons in which the game was non-competitive starting about midway through the second quarter.
Through the first five games, we were still looking for Hezonja's first moment of 2017.
Coach Frank Vogel and the Magic remained confident in Hezonja. He would get his opportunity to break through. His team would need him.
On Saturday night Hezonja finally had his first moment of the season, delivering an 88-86 win over the Washington Wizards at Amway Center. His play was instrumental to the win and the confident Hezonja, making shots and highlight plays, was finally back.
"It was tough," Hezonja said. "I was trying to find a rhythm. It's just a different team, trying to find your way whatever it is. At the end of the day, you have to do what you do best and help your team win. I'm trying to find a way, but it will get better."
Through the first three quarters Saturday, the Magic offense was relatively stagnant, particularly in the halfcourt. Open looks were few and far between. And the Magic did not make an earnest effort to post up Nikola Vucevic.
Orlando was down nine heading into the final frame and looking as though the team would let a golden opportunity against a division rival slip away.
The offense needed a jolt.
Vogel returned to his second unit, the one that energized the Magic back into the game in the second quarter. And he opted to lean on one of the players who had struggled the most, but someone he had a lot of confidence in.
Serge Ibaka leads 4 Orlando Magic players ESPN's NBA Rank
On the first possession of the fourth quarter, he drew up a play to get Hezonja open. Hezonja rewarded him, knocking down a 20-foot jumper curling off a screen. Two minutes later, the Magic called Hezonja's number again, and he drained another jump shot.
The Wizards called timeout with their lead down to four at this point, and Hezonja's confidence, which does not take much to get going in the first place, was starting to ooze.
"He's staying confident and believing in himself," Vogel said. "I am asking him more importantly the other ways to impact the game other than his scoring. He is a work in progress on defense and the habits of taking care of the basketball and being in the right spot on the defensive end. He has to get that down tight for his minutes to go up. When his minutes go up, the ball will start going in for him."
In a high-pressure situation, the Magic were calling Hezonja's number. And he was delivering. In more than just his shooting and scoring.
The exclamation point on Hezonja's fourth quarter outburst came midway through the fourth quarter when he stole a pass from Tomas Satoransky and dribbled the length of the floor for a dunk, outracing everyone to the rim.
Some of the qualities that made him the fifth overall pick last year shone through on that play: His elite athleticism, and the cockiness stemming from said athleticism. Hezonja was getting into a zone for the first time all season.
He was not going to squander the opportunity, so he forced the issue on that play. That play was not necessarily there when he stole the ball, and he could have pulled back to set up the offense with D.J. Augustin. But he took the chance and made it happen.
It was the kind of confidence play Hezonja was not playing with through the first five games.
Hezonja, for the first time all season, was just playing. Something Bismack Biyombo advised him to do before the game.
"I would just say today, it's really great to see all those things," Bismack Biyombo said. "He played with confidence today. He played to have fun. I think that's what it is all about. You play to have fun. If you work too hard, then the game is a game. You get out there and do what you do and be the best at it."
Upcoming

Schedule

11/7

at

Chicago Bulls
11/9

Minnesota Timberwolves
11/11

Utah Jazz
11/13
at

Oklahoma City Thunder
11/14
at

Indiana Pacers
Sure, the season is not even two weeks old yet. This game probably should not have been this close considering John Wall's absence. And Hezonja's final box score stats do not even really jump out: nine points (four for nine field goals), two rebounds, two assists and one steal.
But every game against a division opponent is important, if only for the cold mathematics of the season standings (and not letting winnable games go to waste).
In an important game, Hezonja sparked the Magic to a comeback victory and perhaps regained some confidence in the process.
"Mario knocked down some shots," Vogel said. "We told him to remain patient and confident and we tried to get him some looks. I called his number a few more times tonight than I have in the past to get him going a little bit. He knocked down some big shots and got out on the break one time."
It wasn't all Hezonja, of course: Jeff Green played a huge role in co-leading the fourth-quarter charge with Hezonja, scoring 10 points in the fourth (part of a game-high 18 points). But Jeff Green has been a pleasant surprise already early in the season, and we know what he's capable of.
We cannot say the same about Hezonja, which makes this performance much more important.
If Hezonja goes on to have a good season and get his swagger back, we might look back at this game and say that it started here.
One thing is for sure, the team needed this from him to secure Saturday's win. And Hezonja needed it to get his joy back.
"This teams needs this from me, especially on the defensive side," Hezonja said. "And I played free on the offensive side. I need to keep doing that."
Philip Rossman-Reich contributed to this report.
More from Orlando Magic Daily
This article originally appeared on