Making the case for Kentavious Caldwell-Pope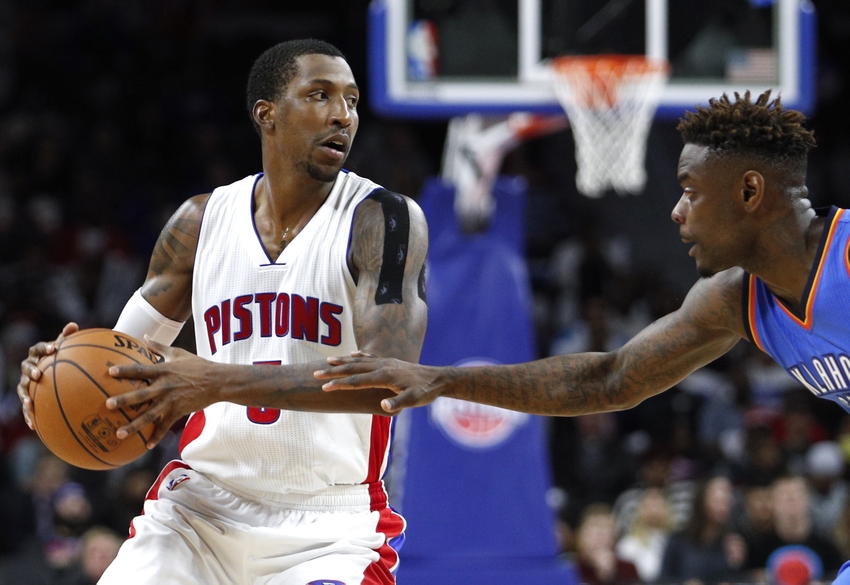 Kentavious Caldwell-Pope has been a topic of division for fans of the Detroit Pistons since his contract expectations came out in October. Should the Pistons pay him what he is expected to seek or not?
Kentavious Caldwell-Pope caused waves when rumors arose in October that he was seeking a contract worth $20 million per season. As far as numbers go, it's a daunting one for fans of the Detroit Pistons. After all, the Pistons have only paid one player that much in the history of the franchise, and that's star big man Andre Drummond.
While $20 million seems like a number that should be reserved for guys like LeBron James and Kevin Durant, we've entered a new era in the NBA. Thanks to an unprecedented salary cap explosion (from $64 million in 2014-15 to $70 million in 2015-16 to $94 million in 2016-17 and a projected $102 million in 2016-17), the new norm in NBA salaries is currently in flux.
In essence, under the $102 million cap, thanks to the 60% jump between 2014-15 and this coming offseason, a $20 million salary next season is the equivalent of a $12.6 million contract in 2014-15. To take this a step further, Kyle Lowry signed a four-year $48 million contract  and Zach Randolph and Luol Deng both signed contracts for two years and $20 million.
It's a daunting number, but the parallel we need to find appropriate value isn't $20 million in today's NBA, but $12 million in 2014-15 or $15 million in 2015-16.
In 2015-16, DeMarre Carroll signed a four-year, $60 million contract, Goran Dragic signed a five-year $86 million contract and Brandon Knight signed a contract worth $70 million over five seasons. Wesley Matthews signed a four-year $70 million contract, and current Detroit Pistons' forward Tobias Harris signed a four-year $64 million contract with the Orlando Magic.
While none of these players are a direct comp to KCP (Carroll might be the closest, and he was coming off a knee injury following a career year), you can see where we're going with this. $20 million is no longer exclusively superstar money, in fact in the new climate NO superstars will be making just $20 million per season once they hit free agency in the market as the cap explodes.
In addition, if the Pistons were to let KCP walk, there would be no way to replace him. The Pistons are over the cap, with $103 million currently on the books. That means that they can sign players for the mid-level exception (expected to be in the $8 million range) and for the minimum salary, but they cannot go above the salary cap to sign somebody to suitably replace him.
The Pistons will enter next offseason with 11 players under contract (plus the $5.4 million they'll be paying Josh Smith annually until 2020 and one final payment of $452,059 to Aaron Gray), and Kentavious Caldwell-Pope and Reggie Bullock will both be restricted free agents. The Pistons will have matching rights thanks to KCP's RFA status, which means that all they have to do to retain him will be to match any offer sheet presented to him by other teams.
If they do not match his offer sheets or opt not to offer him a contract and he goes elsewhere, the Pistons have no way of replacing him adequately using cap space. In addition, the Pistons would be limited in their ability to sign-and-trade KCP by the fact that in the current CBA (which may still be in effect) that they cannot sign-and-trade any player who has signed an offer sheet with another team. That means that they have to sign him before any other teams get to him if they intend to get him off the market with the intention of moving him.
There's also no internal option to replace KCP. Stanley Johnson appears to be in the midst of a sophomore slump and may not be close to being a regular rotational player, let alone a starting (out of position) shooting guard on a playoff team. Reggie Bullock hasn't even played this season and is no lock to be resigned next season as the Pistons will be aware of extra salary as they're almost certainly going to be near the luxury tax threshold of $122 million. Darrun Hilliard is not a rotational player at this point and is not poised to be a starting two on a playoff contender.
All that said, we don't need to be looking for an alternative. Kentavious Caldwell-Pope should be the shooting guard of the future for the Detroit Pistons. After getting off to a dreadful start, scoring nine points in the first two games of the season and getting torched by DeMar DeRozan for 40 points in the opener (DeRozan has done that to everybody this season), KCP has been playing some of the best basketball of his NBA career.
Over the last ten games, KCP has scored 17 points or more five times and 21 points or more three times. He's averaging 15.8 points per game over those ten games, shooting just 40.4 percent from the floor but an impressive 39.7 percent from three-point range. He has also been an effective spot up shooter with an effective field goal percentage of 52 percent.
He's also been featured as the primary ball-handler more than ever and has 2.5 assists per game to show for it. In addition, Kentavious Caldwell-Pope has been among the most efficient pick-and-roll ball handlers on the team, on par with Tobias Harris in efficiency but with much higher volume. The Pistons are scoring 1.071 points per possession when KCP runs the pick-and-roll which is in the 88th percentile.
His defense has struggled in relation to his offense, but that's largely due to the detonations against DeMar DeRozan and the Los Angeles Clippers, and the Clippers have done that to everybody this season as well. Even so, he's respectably in the 60th percentile on defense when he is the primary defender.
His offense has heated up, and his defense will come around. If this is the Kentavious Caldwell-Pope that presents himself at the end of the season, he's worth an average of $18-20 million per season.
Pay him.
This article originally appeared on