Making Ben Wallace's case for the Hall of Fame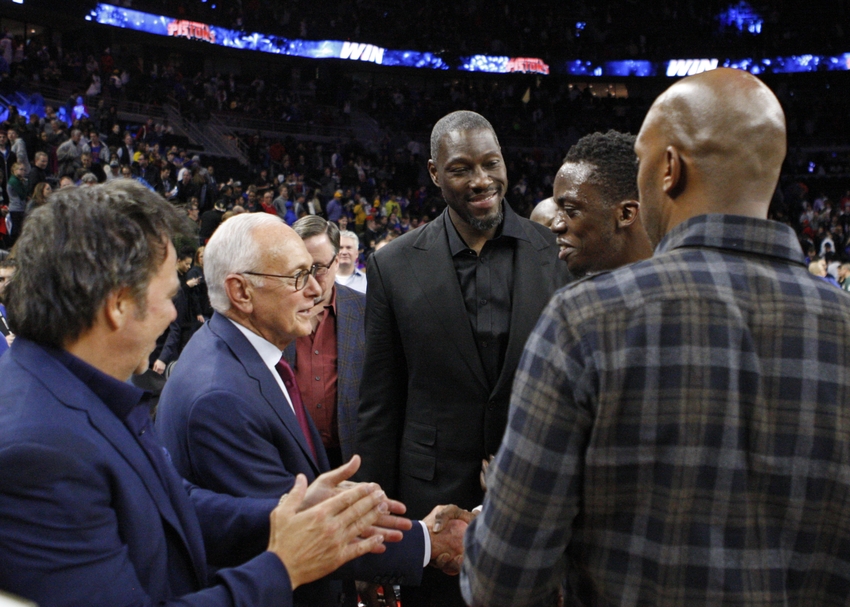 Ben Wallace will be eligible for consideration in the Pro Basketball Hall of Fame next year. Does he have a case for induction to the Hall of Fame?
Ben Wallace was inducted into the Michigan Sports Hall of Fame this past weekend. Wallace was joined by fellow former Detroit Piston John Long as well as former Detroit Red Wings Brendan Shanahan and Chris Osgood.
It's certainly a great honor, there may remain a greater Hall of Fame in Wallace's future. Ben Wallace will be five years removed from his playing career this time next year, making him eligible for the Pro Basketball Hall of Fame.
On Monday, The Sporting News made the case that the inclusion of Yao Ming in this year's HOF class weakens the requirements for centers to get into the Hall.
Major foot injuries limited the the 7-6 former Rockets center to only 486 regular-season games over eight seasons. He only made it out of the first round of the playoffs once, making for one of the skimpiest hall resumes of all time. The argument is that he should have made the Hall as a contributor — a fine designation bestowed on pioneers — not a player.
By any reasonable metric, Wallace should make any Hall of Fame that includes a center like Yao Ming. While Yao was an imposing figure, his statistical impact was minimal.
He averaged respectable numbers, posting 19 points and 9.2 rebounds per game over the course of his career. He never averaged more than 10.8 rebounds per game in any season, and while he averaged a career high scoring 25 points per game in 2006-07, he only played in 48 games.
As stated by TSN, he also only made it out of the first round one time in his career.
Now, this isn't an article that aims to diminish Yao's contributions to the NBA or his worthiness for the Hall. This article aims to lay out Ben Wallace's case for the Hall of Fame regardless of any kind of weakening at the center position. It's my assertion that Wallace is worthy of induction purely on his own merits, unaffected by the inclusion of other players.
The case for Ben Wallace
Most NBA players make their name on the offensive side of the ball, and support it with a passable effort on defense. It's common knowledge that offense is the more important element in basketball. That's particularly true at the professional level where everybody can score, it's simply a matter of how efficiently.
It's rare when a player is such a force on defense that a lack of any production whatsoever on offense doesn't keep them off the floor. Rarer still when that player is such a destructive force on the defensive side that offensive contribution is not even needed in order to give value.
Ben Wallace was such a player for the Detroit Pistons, particularly between 2000 and 2006.
Wallace made four straight All Star games between 2003 and 2006 entirely as a defensive force. He made five straight All-Defense First Teams between 2001-02 and 2005-06 and an All-Defense Second Team in 2006-07.
Wallace also won an NBA-record four Defensive Player of the Year Awards in five years between 2002 and 2006. He led the NBA in rebounds in 2002 and 2003 (with 13 and 15.4 respectively) and is the Pistons' all-time leader in blocks with 1486.
In 2001-02 he led the NBA in blocks with 3.5 per game. All of this while standing (allegedly) a couple inches shorter than his listed height of 6'9″, already an undersized height for a center.
The individual stats and accomplishments are great, but the most important items on the resume are yet to come. In 2004 Wallace and Chauncey Billups led the Detroit Pistons to an NBA championship, devastating the heavily favored Los Angeles Lakers of Kobe Bryant, Shaquille O'Neal and Phil Jackson in a so-called five-game sweep.
Wallace was also one of the two most important pieces to a Pistons' team that went to the Eastern Conference Finals four straight times (the Pistons went to two more after he left via free agency for the Chicago Bulls in 2006).
Ben Wallace was a young journeyman who came to Detroit from the Orlando Magic as a throw-in on a trade that sent away the great Grant Hill. There were minimal expectations on Wallace, but he built himself into a force to be reckoned with, an NBA champion.
Wallace was a player who the Pistons' organization modeled themselves after from top to bottom. The Going to Work Pistons were going to work because that's what Ben Wallace did and what he demanded of his teammates.
It doesn't matter that Yao Ming got into the Hall of Fame. Ben Wallace doesn't need a hand to get in. Ben Wallace is a Hall of Famer on his own merits. Hopefully in a year's time he'll get the recognition he richly deserves.
More from PistonPowered
This article originally appeared on