Magic Wands: Orlando Magic at Charlotte Hornets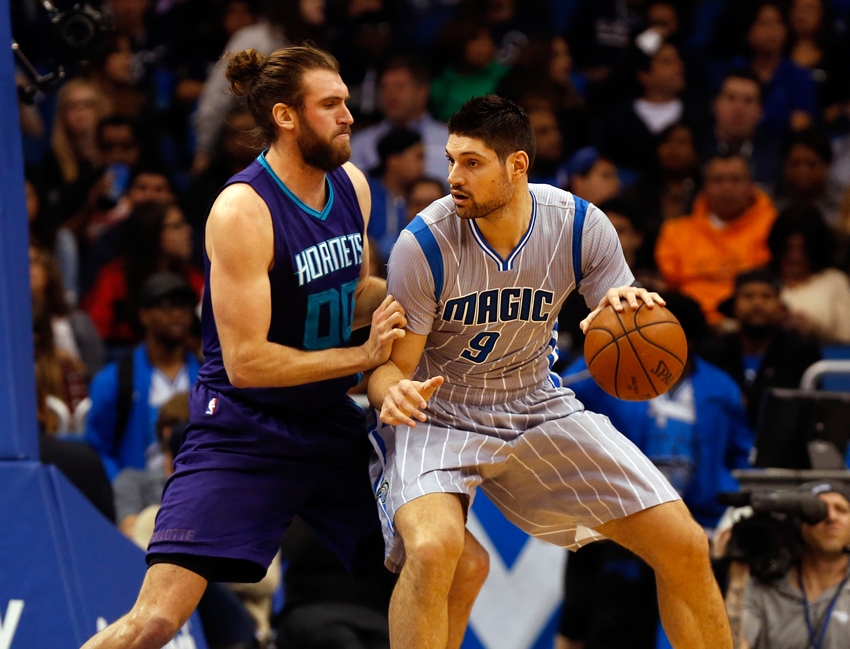 10-13

13-9
Time/TV: 7 p.m./FSFlorida
Line: Hornets by 7
Tickets: $17-$720 on SeatGeek
Season Series: Tonight in Charlotte; Dec. 28 in Orlando; March 10 in Charlotte; March 22 in Orlando
| | Pace | Off. Rtg. | Def. Rtg. | eFG% | O.Reb.% | TO% | FTR |
| --- | --- | --- | --- | --- | --- | --- | --- |
| Orlando | 96.7 | 97.5 | 102.1 | 47.2 | 22.3 | 14.0 | 25.4 |
| Charlotte | 99.3 | 104.0 | 100.9 | 49.4 | 18.9 | 11.5 | 31.2 |
1) The Orlando Magic are trying to follow the Charlotte Hornets' rebuild model, Sean Guest explores.
2) Frank Vogel told Brian Schmitz of the Orlando Sentinel the team has considered sending Mario Hezonja to the D-League:
Magic coach Frank Vogel said the club has discussed sending swingman Mario Hezonja to D-League. Will monitor his situation.

— Brian K. Schmitz (@MagicInsider) December 9, 2016
3) Nikola Vucevic is filling his bench role well. . . for now, our Kyle Williams writes.
4) The Orlando Magic are still fighting to make their defense consistent as the schedule stiffens up.
5) The Charlotte Hornets' secret to success has been at the foul line, Rick Bonnell of the Charlotte Observer writes.
6) The Orlando Magic are working to make sure fatigue is not a factor as they complete this difficult stretch in the schedule, John Denton of OrlandoMagic.com writes. The team is working to keep itself rested. But the Magic would not point to the schedule as a reason for Wednesday's loss.
7) Kemba Walker has given fans a reason to watch the Charlotte Hornets, Jerry Stephens of Swarm and Sting writes.
8) The Charlotte Hornets are more dangerous than ever because of their passing, Adam McGee of HoopsHabit writes.
9) The Orlando Magic's big men will present the biggest challenge to the Charlotte Hornets, John Griebel of Swarm and Sting writes.
10) Bismack Biyombo considers his return to Charlotte, where he first played, a business trip, Josh Robbins of the Orlando Sentinel writes.
11) The Charlotte Hornets may be looking to resolve their backup point guard position, Andrew Snyder of HoopsHabit writes.
12) The Charlotte Hornets did lots of work in the community this week — including serving a holiday dinner and going on a shopping spree — for the holiday season.
13) The Orlando Magic have secured the last piece of property needed to begin construction on the new entertainment complex, according to WESH.
More from Orlando Magic Daily
This article originally appeared on