Los Angeles Lakers: Nick Young's Preseason Defense Is Nothing New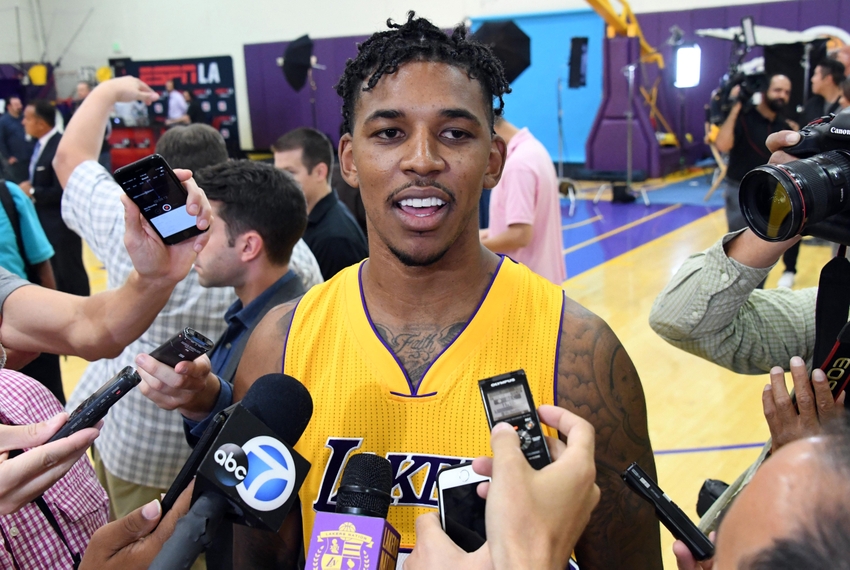 Despite popular belief, Nick Young's defensive prowess that he's shown in preseason is nothing new. Can the Lakers embrace Swaggy D?
Over the last two seasons Nick Young has quietly made improvements on the defensive end of the court, but because of his offensive talents that portion of his game has often been overshadowed.
Unless you're watching the Los Angeles Lakers play every game (not something most people did, unless you wanted to see tanking at its finest) it was hard to tell that he was becoming a better player on that end of the floor.
Nick Young's role has always been to score the ball, but sometimes that can be a bad thing as his sole focus becomes relying on scoring to produce for the team.
More from Sir Charles In Charge
However, new head coach Luke Walton is bringing the same style that worked for with the Golden State Warriors to the Los Angeles Lakers, and that's defending, playing at a high pace, and moving the ball.
So if Swaggy P is going to get his career back on track, Walton seems to be his best shot in doing that.
Already only six games into the preseason, and coach Luke Walton has been impressed with Swaggy's defense.
[via insidesocal.com]

"Obviously he's going to make shots here or there," Walton said. "But defensively, he's fighting over screens, making one-on-one (stops) and getting in and mixing it up."
Having a coach like Walton is really going to help Young and the younger players because he's someone that can relate to them. And he's also someone that is going to get the best out of them with his defensive approach, and allowing them to play with more freedom offensively as long as they play hard on the less glamorous end of the floor.
Last year, despite not getting consistent playing time Nick Young was one of the best pick-and-roll defenders in the league giving up only 0.64 points per possession to ball-handlers, placing him in the 90.6 percentile.
In post up situations, he also faired well holding opponents to 0.70 points per possession, putting him in the 84.7 percentile.
Moreover, the Lakers had a defensive rating of 108.5 (not great, but the Lakers were terrible in general) when he was on the court, compared to 109.6 when he sat.
Believe it or not, his efforts on that end even got him a complement out of then head coach Byron Scott (For those that know B. Scott, he doesn't complement players usually, instead he more or less throws them under the bus.)
Scott said Nick Young "did all the little things" defensively tonight, a reason he stayed on the floor in crunch time.

— Mike Trudell (@LakersReporter) November 16, 2015
Now this isn't to say Nick Young is some sort of defensive savant. But it does show that he has been giving more effort on that end of the floor and it shouldn't go unnoticed. His shooting is going to be a contributor in getting himself minutes this season, but ultimately defense is what the coaching staff wants to from him.
Swaggy P has shown himself to be a fine shooter when given the minutes, so now it's about showing consistent effort on the other end of the court. If he can do just that, the upcoming season will be one of redemption for him and the Los Angeles Lakers
This article originally appeared on