Los Angeles Lakers: Nick Young Has Finally Found His Place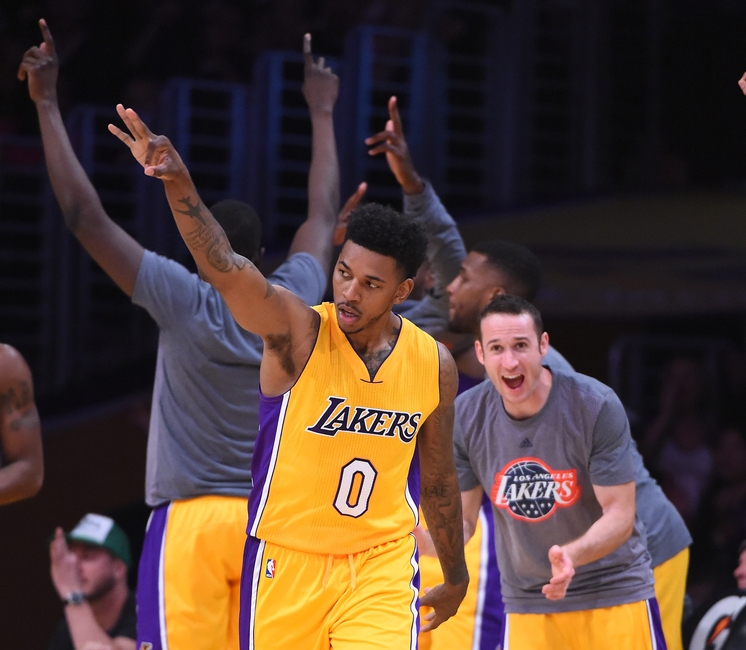 Derided as a virtual punchline last season, Nick Young is experiencing a renaissance with the Los Angeles Lakers under new head coach Luke Walton.
People were actually laughing at Nick Young last year during the worst season in Los Angeles Lakers' history. He was a punchline along with a dysfunctional roster led by an arguably incompetent coach, Byron Scott, and they struggled en route to an ugly 17-65 record. Last season was all about Kobe Bryant's interminable retirement tour for the Lakers, and the rest of the team suffered.
Fast forward to 2016-17, and the young Lakers have no Kobe, no Scott, and have replaced those missing pieces with a new young coach, Luke Walton, to go with a shiny young roster.
Suddenly and incredibly, Nick Young is the elder-statesman on the roster, as far as players who play regular minutes. Young started just two of the 54 games he appeared in last year, but this year the starting shooting guard position is all his and he has started all nine games for the Lakers.
Last season Young scored just 7.3 points per game, averaging 19 minutes per game. He shot a staggeringly low 33.9 percent from the floor and 32.5 percent from the three-point line. He scored a career-low 19.1 points per 100 possessions and had a box plus/minus of -4.8, to go along with a -10.8 net rating.
This season his 27.3 minutes per game trail only Julius Randle's 28 per game, and Young is poised for a career season as the upstart Lakers are off to a stunning 5-4 start. He is third on the team with an average of 14.7 points per game, and is shooting a career-high 46.3 percent from the floor and 36.7 percent from three-point range.
His efficiency is through the roof, in relative Nick Young terms. He now has a career-high Player Efficiency Rating of 16.3 (average NBA PER is 15) and his true shooting percentage is a fantastic 63 percent.
For just the third time in his career, he has a positive offensive box plus/minus, checking in at +3.9. Equally impressive, he has a positive box plus/minus of +2.0, which would be the first positive BPM of his career if the season ended today.
Nick Young is better this year, in his age-31 season, than he has been since the heady days of 2010-11 when he started 40 games for the Washington Wizards and averaged 17.4 points per game. So what's different? Why is this season so much better than last?
The addition of head coach Luke Walton and removal of Kobe Bryant and Byron Scott play a big role. Walton introduces a Golden State Warriors-style fast-paced, spread out attack from where drives and shots can come from anywhere and at any time. Conversely, Scott and Bryant combined forces on their way into a stagnant offense focused primarily on Kobe getting his 20 shots off (at a 35.8 percent clip) every game.
In addition, thanks to an improved defense, the Los Angeles Lakers are getting more stops and getting transition buckets out of it. Young is a primary beneficiary of this new paradigm as he's in the 81st percentile in converting in transition (per Synergy), scoring 1.35 points per possession.
Additionally, thanks to actual spacing availed them by Kobe's retirement and modern NBA philosophy, the Lakers' numerous weapons are creating open perimeter shots. Young is capitalizing on this as well, scoring 1.08 points per spot-up possession.
Nick Young isn't the only reason for this improvement, both for him and the Lakers. Neither is he the only beneficiary of the new reality in the organization. Jordan Clarkson, Julius Randle, D'Angelo Russell and Lou Williams are all having excellent seasons, and the young Lakers have jumped up the growing list of up-and-coming teams to keep a close eye on.
On Thursday night, the Los Angeles Lakers rallied back from 19 points down against the Sacramento Kings to win by 10 points on the road, and Nick Young's 13 second half points were a big reason. Young shot 6-of-11 from the floor and 4-of-9 from the three-point line, and he is steadily becoming one of the biggest difference-makers for the Lakers.
This article originally appeared on