Los Angeles Lakers Have Problems Aplenty In Frontcourt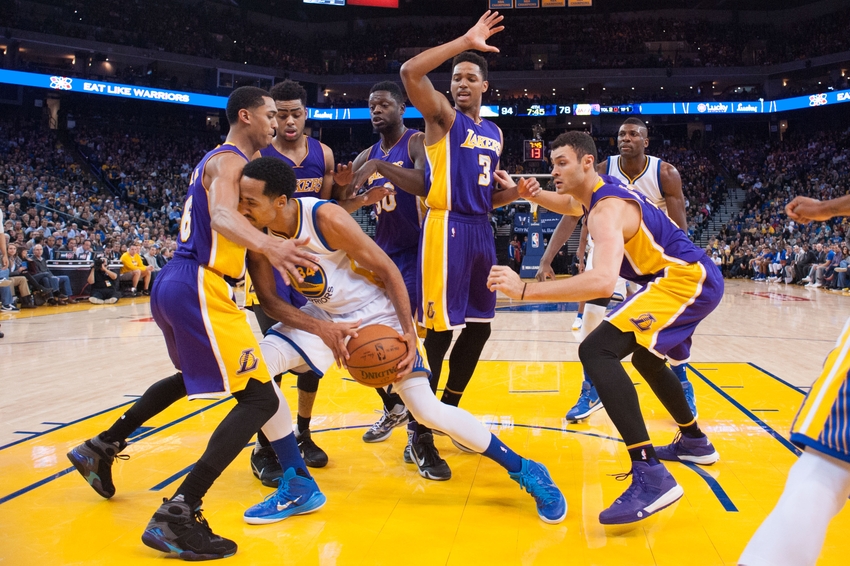 Luke Walton has a vision for the new Los Angeles Lakers. And while the new coach insists he has the personnel to execute a Warriors-type offense, there's reason to believe that L.A. is playing with house money.
The Los Angeles Lakers shored up its frontcourt this offseason with the additions of Timofey Mozgov and Yi Jianlian via free agency besides re-signing Tarik Black and drafting Croatian project Ivica Zubac.
Also, new acquisition Luol Deng, a power forward in the modern NBA, would be joining the likes of Julius Randle and Larry Nance Jr.
The popular verdict seems to be that Mozgov and Randle would form the starting frontcourt. However, coach Luke Walton could go a number of ways.
Seeing as Walton intends to implement a Warriors-esque playbook, he'd look for a few key attributes in his players: 1) the ability to space the floor, 2) switch on defense, guard multiple positions and 3) playmaking skills.
The Warriors are successful due to the versatility of their players, more so than the collective skillset. It's difficult to implement their system without the apt personnel.
In a recent interview, Walton, who coached the Warriors to a 24-0 start last season, revealed that he had Mozgov and Deng on his wish list entering free agency.
"He also allows us to be able to run half court sets through the post and things of that nature. I was huge on pushing to try to get Mozgov and I'm thrilled that we were able to get that done," Walton recently told radio station LA Today on AM 570.
Credit to the front office for paying heed to the new coach's vision. That's the first step towards a solid rebuild. Regardless of the results, Walton deserves a long rope.
Let's analyze the glaring doubts surrounding Walton's frontcourt options.
Mozgov is a proven veteran. However, the Lakers gambled with a four-year, $64 million contract since the Russian went from NBA finals star to bench warmer in the span of a year, besides seeing a major drop off in points, rebounds, minutes and field goal percentage.
According to ESPN's Brian Windhorst, Mozgov underwent an unsuccessful knee surgery in 2015 before nursing a shoulder injury last season. Earlier this month, he suffered a groin injury during an international friendly. If you're Walton, you ought to be worried about Mozgov's health.
Then, there is the curious case of Randle. In 2013, he was ranked the No. 1 high school player in the nation before a one-and-done collegiate career with Kentucky.
After injury setbacks, Randle put in the hard yards last season and averaged the third most double-doubles in the league (34), only behind Anthony Davis and Kevin Love.
That's impressive.
However, it's very difficult to project Randle's career after his second season (theoretically first since he missed 81 games as a rookie).
Julius Randle: Tough to emulate Draymond
The young forward believes he can emulate the Draymond Green role for the Lakers. In fact, even Green opines that Randle will be a force to reckon with in coming years.
Easier said than done.
"Obviously there are a lot of similarities between Draymond and myself. There will be a lot to learn, but especially with the style of play, it'll be fun for us to get up and down. Sharing the ball is going to be big for us this year. Just building that chemistry on both sides of the floor," Randle said earlier in the summer.
Though Randle showed playmaking skills during this triple-double effort, he hasn't shown the ability to stretch the floor or potential to play defense, the two factors that have made Green an all-star.
Randle shot 10/36 from three-point range last season. But the more worrying statistic is he shot 23/109 from the 15-19-foot range. Besides his inefficient jump shot, Randle converted a paltry 34.8 percent from the 5-9-foot range, displaying barely any post moves.
Point-forwards such as Green and Boris Diaw, who play from the top of the key, possess floor instincts which enable them to distribute or roll through screens depending on situations. However, Randle, who intends to become a similar player, suffers from tunnel vision and ISO tendencies.
Last season, Randle made 30 more unassisted baskets than assisted field goals (194 to 164). That is a disturbing stat for a coach who intends to have the ball moving constantly.
In summation, Randle's athleticism will get him his double-doubles. But unless he starts to hit jump shots or learns to read defenses from the top of the key, the Green comparison is irrational.
Yi Jianlian's possible impact
Neither Mozgov nor Randle have shown the ability to space the floor. And that doesn't bode well for Walton's vision.
It's probably why the Lakers signed Chinese forward/center Yi Jianlian, who shot at impressive 47 percent from three-point range during the Rio Olympics. Though Jianlian's rim protection and athleticism are below-average, he could play the Marreese Speights role off the bench.
According to ESPN insider Kevin Pelton, Jianlian has improved leaps-and-bounds since his initial five-year stint in the NBA (2007-2012) and projects him to register a true shooting percentage of .518 upon his return to the league.
However, Pelton wonders how the Lakers intend to feature Jianlian in the offense.
"Though he's 7-foot and has bulked up considerably since he last played in the NBA, Yi isn't quite a good enough shot blocker to play center, where his rebounding would also be a major weakness. And he's not quick enough to guard NBA wings, leaving him effective only at power forward.
"The Lakers already have a pair of young power forwards in Julius Randle and Larry Nance Jr. At 29, Yi doesn't really figure into the Lakers' long-term future like Randle and Nance even if he proves a better player now. So it's tough to see how Yi will carve out regular playing time in L.A."
Nance & Black: The energy guys
Though Larry Nance Jr. showed above-average athleticism as a rookie, the son of The High-Ayatolla of Slamola is projected to be an energy player who comes off the bench and performs a role.
Nance showed signs of a jumper during the Las Vegas Summer League. But it remains to be seen if he can knock down perimeter shots against real NBA defenses. The 23-year-old has also shown some defensive versatility.
The former Wyoming standout believes that he has the requisite skill set that complements Luke Walton's coaching style.
"He's bringing that Golden State type of offense where one through four can grab it off the rim and go and start the fast break,. That's a little bit of what we've been working on this summer and I think I feel very comfortable in it, and I'm going to continue to work on that, but it's definitely something that's going to be in the offense," he told Mike Bresnahan of Time Warner Cable Sportsnet.
Tarik Black, too, is viewed as more an energy center/forward off the bench who can grab a few rebounds and play a role similar to former Laker Brandon Bass.
And then there is Ivica Zubac, the mystery element and dark horse on the roster. Some believe the 7-foot-1 Croatian is the Purple & Gold's long term fix at the 5.
During the Las Vegas Summer League, Zubac displayed polished post moves, a consistent 12-foot jump shot and the ability to block a bunch of shots. The teenager has drawn early comparisons to Memphis Grizzlies star Marc Gasol, who entered the league as a project.
Zubac, however, believes he's not a project and ready for the big time.
"In Europe, I was limited. I didn't have minutes and when I had minutes, it was just, 'Do this. Do this. You gotta listen to the coach.' Here, they want to see how you can help the team. Nobody can push me around," the confident youngster said in an interview, emphasizing that he can bang with real NBA centers due to his 7-foot, 240-found frame.
If Zubac progresses quickly, the Lakers could likely begin looking for suitors for Mozgov by the next trade deadline since the youth movement must take precedence.
On paper, Luke Walton has some intriguing options. Bleacher Report and NBA 2K17 have projected them to roll with an experienced frontcourt of Mozgov and Deng with rookie Brandon Ingram playing the 3 spot.
And while that may seem unfair to Randle and Nance, it could help one the league's worst defensive units stop the bleeding against the powerhouse offenses out West.
The preseason, which begins on October 4 for the 16-time champions, could give us a peek into the offseason improvements made by Randle and possibly determine the Lakers' frontcourt.
The Lakers are not winning more than 30 games. Hence, the youth takes priority.
This article originally appeared on