Los Angeles Lakers: Bench Playing A Major Role In Success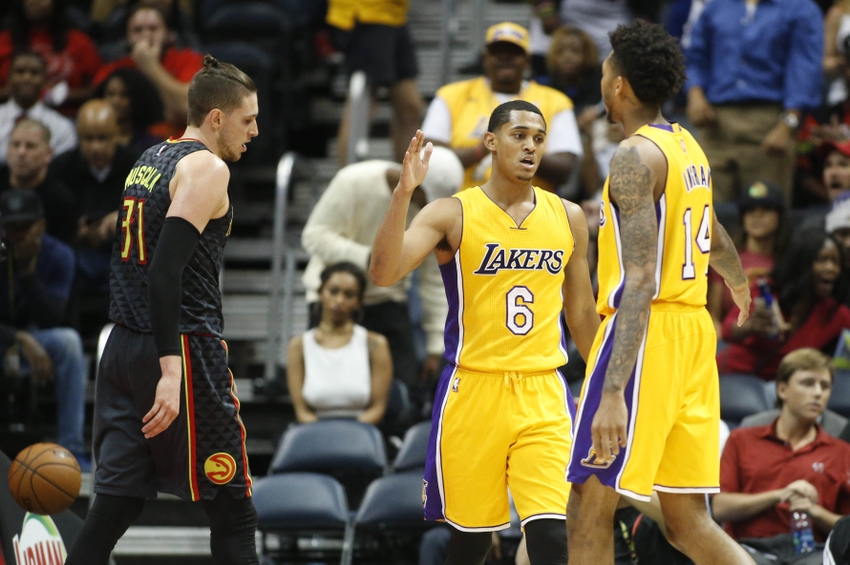 Expectations weren't high for the Los Angeles Lakers this season, but the bench has quickly caught the eye of many around the NBA.
The Los Angeles Lakers are finally able to say they are in the post-Kobe Bryant era. "Finally" may be a harsh way to word it, but after last season's farewell tour that also delayed players such as D'Angelo Russell, Jordan Clarkson and Julius Randle's development, it's somewhat fitting.
The headlines heading into this season were obvious. Russell would take control under new head coach Luke Walton's commands, while Clarkson and Randle would continue to expand their games and become the building blocks of a future contender.
Along the way, the Lakers made a few signings such as Timofey Mozgov and Luol Deng to come in and provide veteran leadership and a winning mindset to the youthful locker room. With their No. 2 overall pick in this year's draft, they selected Duke's Brandon Ingram.
Lofty expectations surrounded the 19-year-old leading up to the draft but the truth is, he still needs time to develop his body and overall game to the NBA level.
It isn't ideal that the No. 2 pick in the draft begin his career by playing spot minutes off the bench, but thus far, he's been a part of a rotation that has played a major factor in the Lakers' 3-3 record.
What's impressive about the three wins is that they all have come against playoff teams from 2015-16 in Houston, Atlanta, and most recently, Golden State.
Everyone is going to pay the most attention to the Golden State win, and rightfully so. The Lakers looked great against the "superteam" of the NBA, as their bench was responsible for 61 of the 117 points.
This was no fluke either. The Lakers bench has been putting up these types of performances since the opener. They rank first in the NBA in bench points per game with 51.2.
The top five scoring benches:

1. Lakers: 51.2
2. Brooklyn: 44.7
3. Atlanta: 42.6
Milwaukee: 42.6
5. Chicago: 40.6

— Colby Giacubeno (@ColbyGiacubeno) November 5, 2016
Lou Williams has been the scoring catalyst for the reserves. He's averaged 15.5 points on 47.6 percent shooting from the field and 41.4 percent from three. His 18- and 20-point performances were key in wins against Houston and Golden State.
For this young roster, a player such as Williams helps provide a swagger and confidence when they go with the full five off the bench.
Moving Jordan Clarkson to the sixth man role has also proven to be a success. It gives him the chance to come into the game and immediately look for his shot unlike last season where he had to first revolve around Bryant, and then pick and choose his spots.
Although his scoring numbers are down slightly from last season (13.5 from 15.5 points per game), he looks more comfortable and his new role adds another capable scorer off the bench.
Larry Nance Jr. has been the guy who people aren't talking about as a key player to this Lakers rotation. That may have changed since he caressed David West's head last night before cramming a huge one-handed dunk:
His energy and toughness have been invaluable so far for this team. Nance Jr. is averaging 8.2 points on 61.1 percent shooting from the field while pulling down 5.2 rebounds per game.
He continues to step into the limelight in his second season and will provide plenty more highlight dunks going forward.
Ingram hasn't had the ideal start to his career, but as it was stated earlier, his development is going to take time. He had his best game last night against the Warriors with 12 points, six rebounds, and three assists.
Ingram has struggled to find his shooting stroke, but that's expected for a player as young as he is in the first week of his career.
It's safe to assume that he'll get more comfortable and the easy looks that he has been missing will start falling, ultimately making this bench squad an even bigger threat.
Having a great bench can do wonders for a team's record when the season is all said and done. Will it lift the Lakers into the playoff picture? It's too early for those predictions, but they'll keep riding the production they've received so far and see where it takes them.
This article originally appeared on