Los Angeles Lakers: Begrudgingly Likeable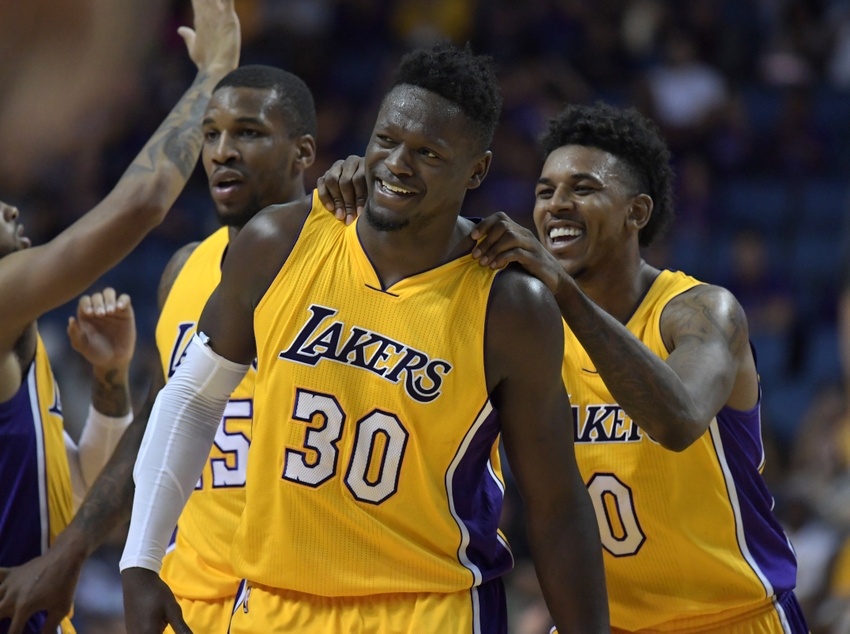 The young Los Angeles Lakers are making some noise in the league already, and they're doing so in a way we all have to appreciate.
Be honest, unless you're a Los Angeles Lakers fan, you really enjoyed the last two years of the Kobe Bryant era.
The team posted the two worst regular season records in their history (17-65 and 21-61), Bryant was a ball hog, D'Angelo Russell was an amateur detective and Nick Young was Nick Young.
Julius Randle also missed his entire rookie season with a leg break as well. While mocking the misfortune of others is not cool, it added to the depression the team had sunk into and that was funny.
But while Bryant was hoisting some of the most questionable shots seen this decade, the Lakers were quietly stockpiling young talent.
With Russell, Randle and Brandon Ingram, the makings of a solid core was formed. The team went one better however, by unearthing Larry Nance Jr. (late first round) and Jordan Clarkson (second round) in the draft.
This summer they made probably the best managerial move they could by adding former player Luke Walton as head coach. During his career, he was an afterthought on some title-winning teams.
As a head coach however? He was the hottest available commodity in the league, a guy who was second in command of the all-conquering Golden State Warriors who took the NBA by storm.
Many, myself included, thought it would take them some time to figure things out and nobody would have begrudged them that either.
Of the players listed above, that core group, Clarkson is the oldest at 24. Yet here we are, with the Lakers the surprise package of the season so far, with a 7-5 record.
Will they finish above .500? Will they make the playoffs? That doesn't even matter, right now this team has some buzz around it once more.
Crucially, they are also fun to watch, and are playing with a style and tempo that has some similarities to that title-winning Warriors team.
They're taking 27.3 three-point attempts per game, good for 10th in the league right now. They're also giving their young players ample time on the court to perform.
Randle leads the Lakers in minutes per game (28.3), with Russell close behind (27.2). Do you know what the worst part about all of this is?
You can't help but like and respect them. These are words I never thought I'd utter, but the Lakers have handled their business in a manner they never have before and their perception has changed in the process.
Whereas in the past the Lakers would reload year after year after year, taking the best players from smaller markets, they took the harder road this time, although this was largely due to circumstance as well.
Previously players like Shaquille O'Neal or Pau Gasol were nabbed to put them back in contention.
Call me crazy, but I think the Lakers have a better shot at making the playoffs than the Grizzlies. Think they'll get the 8th seed.

— Nate Jones (@JonesOnTheNBA) November 15, 2016
But with the introduction of the most recent collective bargaining agreement, the financial muscle of the Lakers was diminished.
So they went to the draft and … they did really well. They added players who, early on at least, look like they can be long-term, viable contributors to this team.
We can't predict the future, but if you're asking me, there's at least one future All-Star in that group, potentially two.
Now that they're back on their feet somewhat, adding a star player down the line seems like a formality more than anything else.
When that finally happens, the Lakers may become vilified by fans of every other team in the league again.
But for now at least, this team is (mostly) harmless to the contenders out there, although they've already beaten the Warriors and Atlanta Hawks.
They still aren't the best team in their own building, and they have young up and coming guys that are easy to root for.
Even Nick Young is bringing it each night, averaging 26.5 minutes a game, compared to 19.1 last season.
This is also the third-highest mark on the team and looks pretty next to his effective field goal percentage of 57 percent, by far a career high.
He's started every game as well so far, with a usage rating of 18.2, the lowest mark of his career.
Talk about a positive turnaround, and with the Lakers getting contributions from sources like this, it's no wonder they're trending upwards.
All of this feeds into the bigger picture, which is that the Lakers were able to successfully rebuild their team, and quickly.
Consider this. As of right now, they are arguably in a better position than the Philadelphia 76ers. Granted they may have players with higher ceilings.
But they also have a logjam of bigs, and many of their potential stars have injuries hanging over them. They also went all the way into the depths of "The Process'"to get that done.
The Lakers have also bounced back from mediocrity quicker than the likes of the Orlando Magic and Brooklyn Nets, and they still haven't pulled off any major move to skip the queue to success like the Boston Celtics.
I used to always hear how the league was better when the Lakers were relevant. Only I completely disagreed.
With traditional powerhouses like the Lakers and Celtics having down years, other teams were able to rise up and become known to the more casual fans.
The Toronto Raptors and Milwaukee Bucks are good examples of this, and in my mind it kept the league more interesting and competitive.
Only now that the Lakers are working their way back to relevance in a way we haven't quite seen them do before, I'm all-in on where this rebuild takes them.
I'd love nothing more than to see a feisty eighth-seed Lakers team take the Warriors, or even better the Los Angeles Clippers, to a tough six-game series before bowing out next spring.
Everything about the Los Angeles Lakers now feels different. They look fresh, exciting and ready to take the next step in the next couple of years.
They've achieved this by outworking their opponents in an area they weren't used to competing, the NBA Draft.
You still may not like this team, although it's becoming increasingly hard not to, but at this point, you've got to respect what they're doing.
This article originally appeared on