Lonzo Ball needs to be on Sixers' radar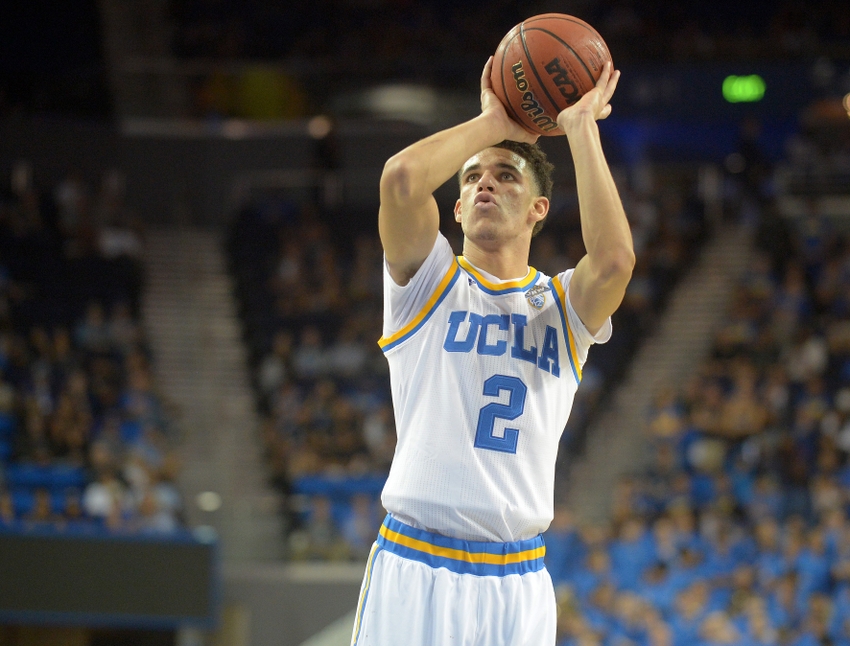 Lonzo Ball has impressed in the early stages of the college basketball season, and he's a player the Philadelphia 76ers should take a look at it in the 2017 Draft.
When Bryan Colangelo and the Philadelphia 76ers make their first selection in the 2017 NBA Draft, it will likely be in the top 5, and the team will likely be targeting a franchise point guard. The Sixers will have several options to choose from with their first pick, and despite college basketball still in its non-conference part of the schedule, you have a already likely heard a few names that the Sixers should target with it its first pick. But one who you may not have heard a lot about, but you will hear more about soon, is Lonzo Ball.
Ball is a 6-6 freshman from UCLA, and is in the early stages of his first (and likely only) college basketball season. Through his first nine games as a Bruin, Ball has certainly looked as if he's got what it takes to be a good player at the next level.
Ball is averaging nearly a double-double so far this season, with just over 14.5 points per game and 9.3 assists per game. Those 9.3 assists per game has him leading not just all freshman in assists, but the entire nation. In his first nine games, Ball has a double-double in over half of them, recording five in the early part of the season. He had a double-double in his first ever collegiate game, tallying 19 points and 11 assists in his team's 119-80 win over Pacific.
UCLA is off to a hot start as they currently sit at 9-0 and lead power 5 schools in scoring, averaging 97 points per game.
Arguably Ball's best game came last Sunday against then No. 1 Kentucky, in which he helped his team take down the top-ranked Wildcats, 97-92.
Last Sunday's upset victory over Kentucky in Rupp Arena was not Ball's best game statistically, but he played a big role during his game-leading 38 minutes. On a nationally televised game on CBS, Ball showed that he was capable of performing on a big-stage and help his team get the job done.
Ball was tasked with guarding another outstanding freshman point guard, Kentucky's De'Aaron Fox. Fox came to play as well, as he contributed 20 points, but most of them came in the first half in which Kentucky controlled the tempo.
Ball contributed 14 points and 7 assists, but came up with some huge buckets at the end of the game, and was the catalyst during his team's huge second half performance.
With his team leading by just six on the road, Ball hit a clutch three-pointer that put his team up nine with just over five minutes to go and put the game just out of reach for one of the best teams in the nation. Ball came up big again with a minute and a half to go, as he went right down the floor in the midst of a Kentucky comeback attempt and blew by everybody on the way to the basket, extending his team's lead back to nine.
Ball's pass-first style of play and efficient scoring would fit perfectly in the type of offense Brett Brown wants his team to run.
Sixers head coach Brett Brown hasn't had a point guard with the type of abilities Ball has since he's arrived in Philly, and he would be more than happy to get a player like Ball on his team.
Ball has shown so far that he has the ability to take over games when he needs to, but is always looking to do what's best to help his team be successful. He has shown he has a knack for finding his teammates, whether its on a drive and kick or just making the extra pass to the open shooter in the corner.
Despite the obvious size difference between the two, Ball and Sixers forward Ben Simmons play with a similar mindset. Ball is a combo-guard who can hit a three in his defender's face, while Simmons can back down smaller players and drive past big men who aren't as quick. Having two pass-first players on the court would only help the team's offensive efficiency.
Ball is a pass-first point guard who shoots 55 percent from the field and 43 percent from beyond the arc, and that alone should put him high on the Sixers' draft board, but watching him play live should put him in the top three.
More from The Sixer Sense
This article originally appeared on