Life After the Derrick Rose and Joakim Noah Era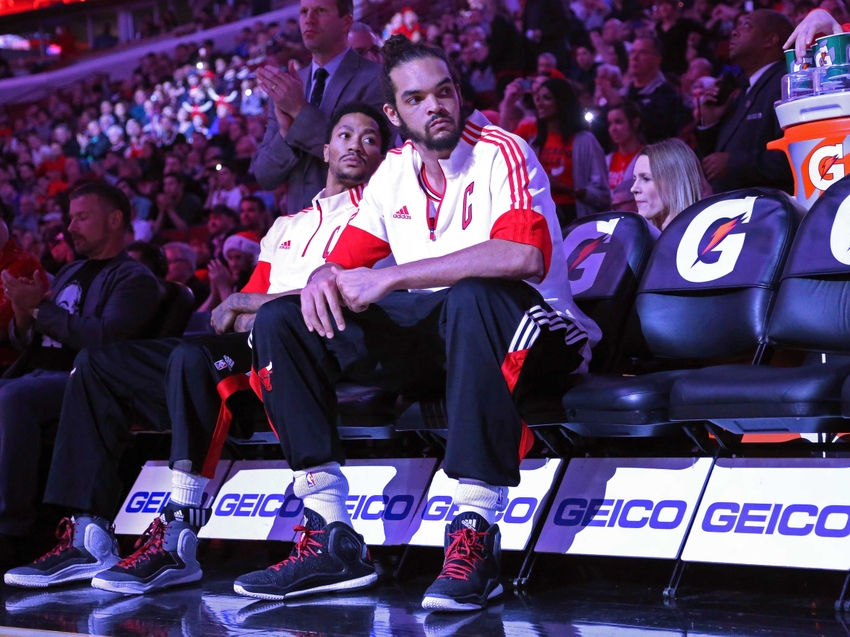 How exactly did the Chicago Bulls win their offseason after trading Derrick Rose and Joakim Noah?
After the emergence of the trade involving Chicago native Derrick Rose and free agency loss of Joakim Noah, some Chicago Bulls fans of the 2008-2012 era continue to question Gar Forman and John Paxson's intentions in regards to building a younger, healthier team.
Let's be honest and say this could have been a "smoke and mirrors" offseason to secure Forman's job for a longer stint. How will these replacements fill the void for this Bulls team in the future?
Rajon Rondo had a much better season with the Sacramento Kings as opposed to the Dallas Mavericks just the year before. In 72 games played, he has posted a career-best 11.7 assists per game (tied with his 2011-12 year in Boston with the Celtics).
Seemingly a better shooter, he also shot a career-high 36.5 percent from behind the arc, ranking 68th in the league. That percentage was better than other key point guards such as Kyrie Irving and Isaiah Thomas. Ranking at No. 10 on the assist-to-turnover ratio list with a 3.0 value, the 30-year-old veteran is still capable of showing flashes of his younger self.
Here comes the real question: Should the Chicago Bulls have kept Derrick Rose at least for his final contract year?
Despite an unfortunate orbital bone fracture during practice prior to the 2015-16 season, he powered through the double vision, logging a reassuring 66 games played on the year. After a very slow start to the season, post All-Star Weekend Rose started to put himself back on the map in the world of point guards.
In the months of January and February, the rose began to bloom again during the 21-game stretch Rose played in. He averaged roughly 19.8 points per game in 31.8 minutes, while shooting a promising 45.5 percent from the field, and accumulating a 90.7 percent success rate from the free throw line.
Rose has proven he can show flashes of his younger, athletic self as well. However, the physical care of his body, which has been through an underwhelming injury-ridden state after just four years in the league, is holding him back from wanting to play like his younger, MVP-caliber self on a consistent basis.
What about Joakim Noah?
He was in the same injury boat during the 2015-16 season that Rose was in for the past few seasons, rehabilitating after a season-ending shoulder surgery and playing just 29 games. Noah took a backseat to Taj Gibson and Pau Gasol in the starting lineup for what was his final year with the team, which was a clear indication to the beginning of the end.
The former NBA Defensive Player of the Year and two-time All-Star was signed by the New York Knicks to complement Rose; a player he was pretty familiar with during their Chicago Bulls tenure.
How does Robin Lopez make up to be a viable replacement?
Well, the grand majority of fans would agree that "he can at least make a layup". Noah's field goal percentages from 0-2 feet away from the basket dropped significantly, averaging 58.1 percent in 2013-14. This was prime Joakim Noah.
Since then, in 2014-15 his percentage dropped to 51.5 percent, and just last season, it was down to a lowly 43.9 percent.
We all know Robin Lopez is not nearly a good passer as Noah is. However, we do know he is capable of playing a full season, having played 82 games in three of his eight NBA years. Lopez comes off one of his better seasons, averaging 10.3 points per game and 7.3 rebounds, while shooting 79.5 percent from the free throw line, as opposed to Noah's declining free throw percentage. A center who can contribute at the line can prove to be a positive factor day in and day out.
Let's not underrate Robin Lopez's rim protection ability either. He also averaged a career-high 1.6 blocks per game just last season. His consistently good health and defensive prowess in eight years has led him into having a pretty solid NBA career, after becoming a dependable starting center as of 2012.
Long term, how are these good moves for the team?
Let's have a conversation about how to spend money, ending the article on that note. Did the Bulls front office utilize their salary cap correctly?
The liability on Derrick Rose's health was becoming a concerning thing for the Bulls. Rose was also criticized for his comments at Bulls Media Day last year regarding his 2017 free agency. Maybe the Bulls were worried about offering too much money, especially after taking the chance of keeping him in his last year of his contract. (He signed a big five-year extension back in 2012.)
Rose sits on a $21.3 million contract this upcoming season. The signing of Rajon Rondo to a two-year, $28.1 million contract in his place allowed the Bulls to sign another player to complement his unselfish play style.
Dumping Jose Calderon's $7.7 million contract of the upcoming season helped highlight the Bulls' offseason, signing Dwyane Wade to a two-year, $47 million contract.
Playing in 74 games last season with all past knee injuries considered, maybe it was not a bad time to add "Father Prime" to the starting lineup.
As for Robin Lopez, he has three years remaining on his four-year contract, which is about $18.5 million cheaper than Noah's. Noah has not been 100 percent healthy since after his breakthrough DPOY season of 2013-14.
Ever since, plantar fasciitis and constant shoulder injuries have kept him from playing at full speed.
A notable date
The Derrick Rose and Joakim Noah "homecoming" game is set in stone for November 4th on the Bulls schedule; a game that will test both reshaped teams in a game for the ages.
More from Pippen Ain't Easy
This article originally appeared on