LeBron's Ascension To Heroism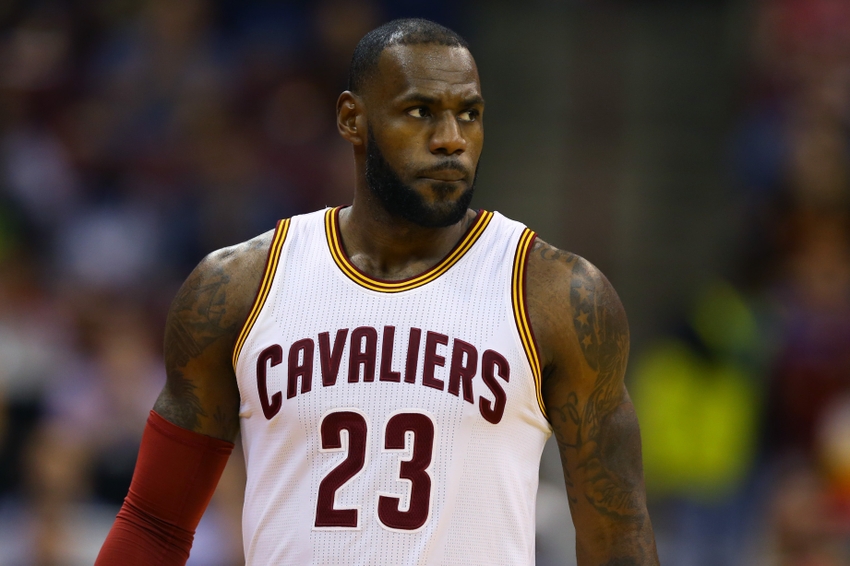 For the first time in 13 years, the collective conscious of the basketball world isn't telling LeBron James to do something. It's asking.  
Over the Boston Celtics' long and storied history, fans have witnessed their beloved franchise come face to face with some of the greatest forces of nature in league history.
For my Dad, it was Kareem Abdul-Jabbar at the height of his powers in the 1974 finals, and of course there was Michael Jordan and his infamous 63 point scoring exhibition, in a double overtime thriller against the 1986 Celtics. Obviously, you can't forget Bill Russell's numerous clashes with Oscar Robertson, and his archrival Wilt Chamberlain either.
For me though, it was Game 6 of the 2012 Eastern Conference Finals, and the emergence of "King" James.
If you watch Michael Jordan's 63 point game against the Celtics, or any great Jordan game really, you can almost feel his killing intent, like the villain of a bad Karate-movie. He was relentless, unwavering, and refused to desist if victory was in sight. Sure, Jordan had the 48 inch vertical, incredible speed and quickness, a strong frame, and inhuman endurance, but it was his killer instinct that paralyzed his contemporaries with fear.
For LeBron James though, it's different. He's been thoroughly criticized for his apparent lack of that serial killer-like obsession with winning that characterized Jordan or Kobe. But, that's because LeBron is a different animal entirely. He doesn't have to drive daggers into his opponent's heart to stand victorious.
He just needs to dominate, and in Game 6, he did just that. 45 points, 15 rebounds, and 5 assists on 73% shooting. Fifteen footers, three pointers, back-to-the-basket, "and-one's", driving layups, and one iconic dunk. He dominated, and needless to say the fear was palpable.
This is "King" James, an unstoppable force of nature that at times seems just that. A force of nature, in an entirely different galaxy than the basketball world he exists in.
What's ultimately impeded LeBron's game though is expectation. LeBron is the most heavily scrutinized athlete in history, and for years now the collective conscious of the basketball world has berated him, and told him what he needs, and more importantly not been unable to attain.
But, now that he's brought two titles to Miami, and finally captured the ever-illusive championship that the city of Cleveland oh-so-desperately needed, we can take a step back and appreciate LeBron's first 13 years.
More from Sir Charles In Charge
Four MVP's, three championships, three Finals MVP's, a handful of All-Defensive team selections, one broken curse, and career averages of 27 points, 7 rebounds and 7 assists. And, I'm no mathemagician, but he's probably going to finish his career as the only player to land top five in scoring, and top 10 in assists.
That's just absurd. Even if we move away from the numbers, LeBron is virtually a perfect player. He's the second best forward-sized passer ever, a supreme leader, a walking-playing GM/coach, a scoring phenom, he can rebound and push the ball, defend any guard or small forward, and at times he's been a pretty good shooter.
To top it all off, LeBron is probably the most socially conscious athlete we've seen in years. Waging wars off the court against racism, nutrition and health, a lack of education in inner cities, and even the Republican party!
And, for some reason this is the athlete we've chosen to vilify for the last six years. Not just scrutinize, or critique, but actually vilify. I think it's fair to say that the majority of the basketball world has wanted LeBron James to fail since he left Cleveland.
We wanted Miami to lose. We wanted Kevin Durant to outperform LeBron. We wanted to give Ray Allen (R.I.P) all the credit for 2013. We wanted to believe Kawhi actually shut LeBron down. We liked making fun of LeBron for his four Finals losses. But, here comes Kevin Durant and the Golden State Warriors…
So let's clear the air – I didn't like LeBron's move to Miami. Obviously in 2008, the Celtics assembled a "pseudo-super team", giving Paul Pierce teammates he could finally win with in Ray Allen and Kevin Garnett. But, that wasn't the result of collusion on the player's part. It was a smart trade to Seattle, and Kevin McHale giving into his old Boston-ties.
So for the first time in LeBron James' 13-year career, basketball fans aren't telling him what he needs to do. We're pleading
We had been hearing about a LeBron, D-Wade, Bosh, and Joe Johnson super-team since the 2008 Olympics, then to see it happen (minus Joe of course) was mind-boggling. Plus announcing his decision as a nationally televised event at a Boy's and Girl's Club didn't help much either. It's just not a very great move for league parity, especially when two of the three guys banning together are two of the three best players in the world. And, that's exactly what LeBron and Wade were in 2011. Two of the three best players in the world.
So fast forward to 2016 – where Golden State has completely taken over the world. They're killing teams left and right, and we all know they're going to break the '96 Bulls wins record. Then, Curry gets injured after an electric 20 minutes in Game 1 of the playoffs, and all hell breaks loose. A 3-1 deficit at the hands of the surprisingly brilliant Oklahoma City Thunder. Luckily the Warriors were able to claw their way back thanks to Klay Thompson's hot hand, and they vanquished the Thunder in a thrilling Game 7. So the finals matchup was set. A battle-hardened, record breaking Golden State Warriors team versus the surging Cavaliers.
We all know how this series ends right? 3-1 lead, Draymond gets suspended, Kyrie Irving becomes unstoppable, the "Block", and lots of copy-and-paste Facebook comments.
Then, Kevin Durant hits free agency, and we're all anxiously waiting for his decision. Could it be Miami with Dwyane Wade, the up-and-coming Celtics, a Clippers super-team, maybe the Spurs? Or maybe he stays in OKC?
ESPN kept pushing this absurd idea that Durant would choose Golden State though, but that's not a viable option. Right? I mean you just lost to Golden State after taking a 3-1 lead. You've outwardly expressed your disdain for the media's love fest with Stephen Curry, and you've chastised LeBron for going to Miami via Twitter.
Oh wait, never mind, scratch all of that. Parity has to take another L.
So for the first time in LeBron James' 13-year career, basketball fans aren't telling him what he needs to do. We're pleading. We're tired of Draymond kicking guys like he's Jean Claude Van Damme. We're tired of Durant whining about Westbrook like they just had a nasty breakup, and he isn't sure if it was the right idea. We're tired of ESPN's nonstop coverage of the Warriors. We're tired of seeing lists where Stephen Curry is somehow ahead of Isiah Thomas.  We're just tired of the Warriors. They've evolved from the NBA's feel good team that plays super-crowd-pleasing basketball, to the most vilified entity in basketball.
Hilarious Bleacherreport animated musicals aside, who in the Western Conference can stop Golden State? The Spurs front court can certainly take advantage of the big's, but can they produce enough to match the Warriors explosive back court? And, the Clippers have practically been neutered by the Warriors over the last couple of seasons.
So who better to stop them than the Cleveland Cavaliers? Manned by the NBA's newly anointed hero, LeBron James. Maybe he doesn't wear a mask or cape, but contrary to the media's perception, he's certainly as infallible as your favorite heroes. A wonderful father, trophy husband, social activist, philanthropist, and as a basketball player he's virtually a demigod.
Complete with his own signature move, the chase-down block. So we're begging you LeBron, please beat the Warriors. You're our only hope. 
This article originally appeared on