Ranking the 10 most valuable players still left in the NBA playoffs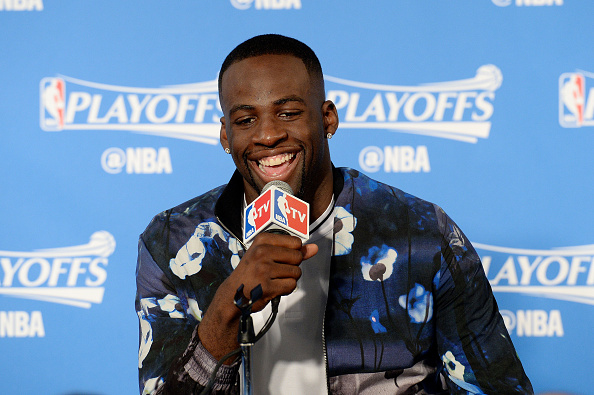 We're officially into the second round of the NBA playoffs, where the league's eight best teams do battle for the right to reach their conference's final showdown. It's exciting. Most of the best players in the world are here, and how they perform will likely decide which teams advance and which go home.
This ranking reflects which players are most valuable to their respective teams right now. Today. Essentially: How difficult is it to replace Player X vs. Player Y? Context is key.
Let's say C.J. McCollum and Dwyane Wade both suffer season-ending injuries tomorrow. Would the Miami Heat or Portland Trail Blazers suffer more? Answering that hypothetical question is what this list is all about.
Without further ado here are the 10 most valuable players still standing in the 2016 NBA playoffs.
There are a few reasons why the Toronto Raptors didn't eliminate the Indiana Pacers in four, five or even six games, as many expected they would. Paul George turning into the most dynamic two-way force in the postseason was a huge factor, as was Dwane Casey's reluctance to give his best players the minutes they deserve.
But arguably nothing stood out more than Kyle Lowry's broken three-point shot. After having fluid drained from his shooting elbow in late March, Lowry made only 16.3 percent of his attempts beyond the arc in the first round.
Tough. https://t.co/3E2VUvVZV1

— NBA on TNT (@NBAonTNT) May 2, 2016
It was hugely disappointing, but worse things happened when Lowry wasn't on the floor at all, unable to impact the game in myriad ways he's capable of even when shots aren't falling. Indiana outscored Toronto by 19.6 points per 100 possessions when Lowry needed a blow. The Raptors would love it if he started making threes, but even if he can't, the next best thing is simply to have him on the floor.
Introducing the most underrated basketball player in the world! Millsap does everything for the Atlanta Haws. He's their top defender (who will likely spend time on LeBron James and Kevin Love in their upcoming matchup against the Cleveland Cavaliers), most versatile scorer and consistent playmaker.
Atlanta has an equal-opportunity offensive system, but Millsap can turn it into a dictatorship whenever necessary. When he does, it's almost always bad news for the other team.
If Steph Curry was never born, would people think Thompson is the best shooter who ever lived? Those who would take that side wouldn't be dismissed.
.@Paulmillsap4 is hosting a block party! https://t.co/r93RmoRlwA

— NBA TV (@NBATV) April 29, 2016
When LaMarcus Aldridge has it going, as he did in a 38-point monster-truck rally over the Oklahoma City Thunder on Saturday night, the Spurs are virtually unstoppable. He's a dominant pick-and-pop presence whose ability to punish defenses that leave him wide open is key to San Antonio's offensive success.
On the other end, he's long, surprisingly mobile and has quick hands. Aldridge is no liability.
The Spurs could plug Boris Diaw or David West in Aldridge's place during the regular season and probably not skip a beat. But during the playoffs, when opposing teams tighten screws and force tough, end-of-the-shot-clock attempts in the closing minutes of a tight ball game, there are few players in the world more capable of consistently lifting his team out of a jam than Aldridge.
.@KlayThompson is the first player in NBA history with 7+ threes in three consecutive playoff games 🔥 #SPLASH pic.twitter.com/0D5XXZ1B4W

— GoldenStateWarriors (@warriors) May 2, 2016
Klay Thompson was feeling it last night, and Steph Curry approved! pic.twitter.com/Zl4ad2ZA0p

— NBA on TNT (@NBAonTNT) April 28, 2016
Lumping these two together only feels natural. On the right night, Durant is the best basketball player alive. He gets whatever shot he wants (whenever he wants), can guard the opposition's best scorer, rebound and go off the dribble to create opportunities for his (mostly sad) teammates.
Westbrook is the relentless torpedo who emotionally wears down every tortured soul who has to guard him—minus Kawhi Leonard. He's a hurricane in transition, and the Thunder has no secondary scoring option to replace either of these guys in a pinch.
As the Warriors have showed (in a brief sample size against some relatively flimsy postseason competition): No Curry, no problem. Draymond is the single biggest reason why. He makes threes, creates off the dribble, scores at the rim, rebounds, shuts down whoever goes at him one-on-one and stands in as the most imposing help defender in the league.
Pop on LaMarcus Aldridge's 38-point performance… https://t.co/l9fkQCQ6rw

— NBA on TNT (@NBAonTNT) May 1, 2016
Seriously, what are this dude's flaws? His post game was once viewed as a weakness—which allowed defenses to switch the Curry-Green pick-and-roll without fear of their smaller guy getting punished on the block—but that's no longer the case.
Very few players can picture what's about to happen before it actually does on both ends of the floor, night after night, player after play. Green can, and he's a bonafide superstar.
Why isn't Curry number one? If 100 percent healthy and on a team that showed the slightest bit of a letdown in his absence, he would be. It doesn't mean he isn't the most electrifying player in the world and the greatest shooter who ever lived. The Warriors reach another level when Curry is on the floor. But when he isn't, even on this stage, they're still one of the best teams around.
Would the Spurs sustain their greatness without Kawhi Leonard as their primary offensive option, someone able to score efficiently from literally every spot on the floor at a moment's notice? Would their defense be as historically dominant without his tentacles suctioning up the ball every other time it hits the floor? Would they be one of the best rebounding teams in the league if Leonard didn't crash the paint whenever an opponent's shot goes up?
Um, no, no, no. In this specific second-round matchup against Oklahoma City, Danny Green would be the Spurs' best perimeter defender, impossibly tasked with locking down either Westbrook or Durant, while the other one devoured Tony Parker, Kyle Anderson or whoever else Gregg Popovich decided to sacrifice.
Leonard is the best two-way player in the league, and, above Aldridge, Popovich, Tim Duncan, Parker or Manu Ginobili, the primary reason why they're well-positioned to win their sixth championship in franchise history.
The stats you're about to read cast a wide, noisy net. Deeper analysis is necessary to figure out what they truly mean (if anything), given the small sample size. But, at the same time, they also hint at some of the assumptions that can be made by anyone who's watched the Cavs play all year long.
In the first round, Cleveland outscored the Detroit Pistons by 0.5 points per 100 possessions with Kyrie Irving on the floor, and 39.7 (not a misprint) points per 100 possessions with Irving on the bench.
They outscored Detroit by 2.0 points per 100 possessions with Kevin Love on the floor, and 25.2 points per 100 possessions with Love on the bench.
Again, these numbers don't mean everything and come from one series against one team. Irving is averaging and the Pistons had no answer for Love whenever Tyronne Lue plugged him at center. They are two very good players who went above and beyond in the first round. Still, the Cavaliers were fine with them on the floor and better with them on the bench.
Now, let's look at LeBron's on/off splits, shall we? When he played, the Cavaliers outscored the Pistons by 14.5 points per 100 possessions. Standard. But in the 27 minutes he sat, Cleveland's offense evaporated and its defense fell apart. The Pistons outscored the Cavaliers during that LeBron-less stretch by 26 points per 100 possessions.
This man is incredible, and right now no player alive brings more value to his team.
Honorable mentions go to, in no specific order: Luol Deng, DeMar DeRozan, Dwyane Wade, Kyrie Irving, Goran Dragic, C.J. McCollum, Al Horford, Hassan Whiteside, Kevin Love, Damian Lillard
Kawhi Leonard slicing through the @OKCThunder defense early on!https://t.co/vPsDqz6Dg2

— SLAM Magazine (@SLAMonline) May 1, 2016