LeBron James' Recent Accolades And Achievements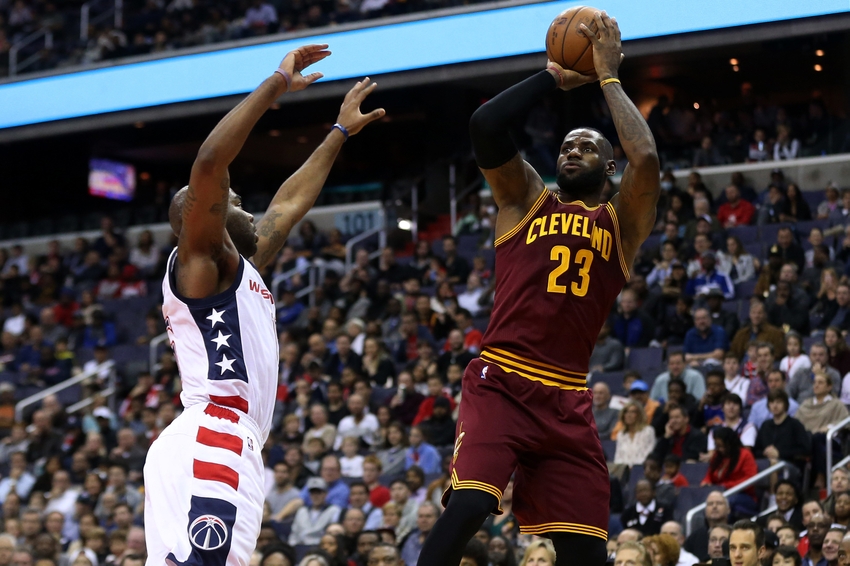 King James Gospel has a one-stop shop or LeBron James' recent accolades and achievements.
LeBron James isn't merely a decorated NBA veteran, he's the most decorated NBA player in the league today. Highly respected both on and off the court, James has earned the monikers he's earned as the greatest player in the world and one of the NBA's most socially conscious athletes.
Think about it.
On the court, he's the player that holds the crown. The "Number One" headband. Everyone else is fighting for the spot of second best player in the NBA. Teams can either try to stop him as a scorer or a facilitator but both are equally powerful weapons. He's the best point forward in the league and, no matter if other teams admit it or not, his role with the Miami Heat created the roles the Draymond Green and Giannis Antekuompo play with their teams. The Houston Rockets have a style of play that mimics the style the Cleveland Cavaliers play after James Harden assumed point guard duties.
The Oklahoma City Thunder give Russell Westbrook a few 3-and-D guys to kick out to as he drives up and down the court. It's at a point where Westbrook learning how to post up would only keep one difference between he and James. James mixes his talent with film study and being a cerebral player. Westbrook is simply ultra-aggressive player. James premeditates. Westbrook commits crimes of passion.
Perhaps that's why both players won the first award that appears on this list of James' recent accolades and achievements.
Eastern Conference Player of the Month (November)
James broke out of the gates in dominant fashion this season, getting the Eastern Conference Player of the Month for the month of November. This was James' 33rd time winning Eastern Conference Player of the Month, a NBA record.
In securing this honor, James won his fourth-straight Eastern Conference Player of the Month award and won Player of the Week three straight times before conceding the honors to Kevin Love's scorching-hot week that included a 34-point first quarter. While leading his team to a 13-2 record, James also had a few historical performances. Not only did James pass Hakeem Olujawon for 10th all-time in career points, Guy Rodgers for 17th all-time in career assists and Patrick Ewing for 15th all-time in career field goals, James also topped Brad Daugherty for first in franchise history in defensive rebounds and was the first Cavs player to make 1,000 threes. James also surpassed Kobe Bryant as the youngest player to reach 27,000 points.
James averaged 23.5 points, 8.1 rebounds and 9.3 assists in 35.9 minutes from the end of October to the end of November. He also shot 49.8 percent from the field and 36.2 percent from there-point range, looking like an ever-efficient walking triple-double.
Sports Illustrated's Sportsperson Of The Year
Is it something to do with their birthdays? Both James and Tiger Woods, born on December 30, won SI's Sportsperson of the Year award, an award that only these two have won twice.
James won this award not only by overcoming historically insurmountable odds as the Cleveland Cavaliers beat the 73-9 Golden State Warriors three straight times to secure their first league championship in franchise history but delivering on his promise to do so after "The Return". Ending Cleveland's 52-year title drought uplifted the city and revived faith in the Cleveland sports bases chances to reach the championship round. Even the Cleveland Browns believed in themselves because of James while the Cleveland Indians made it to the World Series.
In this time, James was also one of the iconic voices standing against police brutality and gun violence as evidenced by his ESPY's speech alongside his best friends Chris Paul, Dwyane Wade and Carmelo Anthony. Not long after this speech was given, Wade's cousin was shot and murdered in Chicago and Anthony began to lead town halls to help bridge the divide between the police and the people they're sworn to protect. James also stood for America at a time when many black athletes kneeled during the National Anthem to voice their displeasure with the recent acts of police brutality and the lack of consequences for those responsible for the deaths of unarmed black men. James response shed a new light on how to handle a tense and divisive issue in an ailing America. His social activism and iconic status even made him a readily made spokesman for Hillary Clinton on her campaign trail.
James, who didn't attend college due to the prep-to-pro rules that allowed him to be drafted straight out of high school, also started a scholarship foundation for the University of Akron while constantly being a ready mentor for student-athletes at Ohio State University. James even went to China to show the young athletes what it takes to make it in the NBA as the league tries to expand globally.
There might not be a bigger activist-athlete than James, which is probably why he won the award in the first place. His first win came after winning his first NBA championship and had the feel of an award bestowed to a man for finally breaking through a barrier he was being heavily criticized for not yet passing. This last award was just a bit more meaningful, perhaps.
5,000 Assists In Cavs Career
Last week, James got his 5,000th assist as a Cav. James has the most assists in franchise history with Mark Price coming in at a distant second with 4,206 career assists. There really can be no doubt James is the best passer in Cleveland Cavaliers history, especially given that he spent four seasons of his career with the Miami Heat. For what it's worth, James is fourth in career assists in Miami Heat franchise history.
An interesting note. On the same night James got his 5,000th assist as a Cav, Wade got his 5,000th assist of his career. That night, as the Cleveland Cavaliers defeated the Toronto Raptors and the Chicago Bulls lost to the Portland Trail Blazers, Wade and James also scored 34 points apiece.
That's "twinning" at it's finest.
First Forward In NBA History With 7,000 Assists
James also became the first forward in NBA history with 7,000 assists. With notable point-forwards such as Larry Bird, Chris Mullin and Scottie Pippen scattered through NBA history, that's big.
Often times, players that are tasked with being the nominal point guard wouldn't be as cerebral and creative as an actual pure-point guard. James, who wants to pass first and then get his own is that type of point guard. That's ultimately what differentiates him from him and other point-forwards. James truly enjoys the art of passing and treats an assist to a teammate like he's adding to his own point total. He's calculating, he's as natural-gifted as they come and he has a photographic memory.
How do you stop a 6-foot-8, 250 pound point-forward with those gifts?
First Player In NBA History With 27,000 points, 7,000 rebounding and 7,000 assists
James also is on another list only he occupies.
With his 7,000th assist, James became the first player in NBA history with 27,000 points, 7,000 rebounds and 7,000 assists. That type of all-around dominance is the hallmark of James' game and he'll do whatever it takes to get a win. That could mean scoring, assisting and rebounding in triple-double fashion. It could also mean stopping just short of a triple-double because he saw the hockey assist opportunity and took that rather than trying to make a direct pass for an assist. Or, he didn't try to outmuscle players in the paint so that Love or Tristan Thompson could get the rebound and eventually find him streaking up the court in transition.
James is a player that believes in doing things the right way and it shows in his statistical output. While Michael Jordan could have reached 7,000 rebounds if he didn't retire, he was 1,367 assists away from reaching 7,000. Bird was 5,309 points away from 27,000 and 1,305 assists away from 7,000. Those two players are the ones James is most often compared to and in a direct comparison, James has amassed career totals they'll never reach. Despite being drafted at a younger age, he's accomplished this feat in a 13-year span. A span that matches the length of Bird's career and is two seasons short of Jordan's.
Moves Into Ninth All-Time In Career Points
Against the Charlotte Hornets, James made history by passing Elvin Hayes for the ninth-most points scored in NBA history.
Hayes, who played in an era where James himself may have been considered a power forward or even a center. In surpassing Hayes, James did it from every area on the court in every perceivable way. He even played center for a stretch and was unguardable even then. Being able to outmuscle, outrun and out-jump your defenders helps. So does the ability to finish around the rim with finesse, to have the touch and footwork to master a drop-step and spin inside or a post fadeaway, and the natural talent to bury a 25-foot three off-the-dribble.
(Bonus) Top 10 Fan Base In Fandom 250
According to FanSided, James has the ninth-best fan base of any fan base in the world. For what it's worth, the Cleveland Cavaliers fan base as a whole finished 55th overall. That's a relatively high ranking and certainly due to the Cleveland faithful showing that they stick with their team through the hard times and when they good times are rolling.
As a James fan myself, his position on the list is more than understandable. For thirteen years, James has been the most magnetic force in the league because of his natural talent, his childhood story, he's as relatable as a super-rich athlete can be, his growth into a role model and his evolution into a global icon. A fan of James doesn't just exist in Akron, or Ohio, or the United States. James' fan base is worldwide and more importantly, James' name is universally renowned. There's even a Greek game show where the contestants had to answer a question about James' highest-scoring NBA game.
That's what you call global notoriety.
Waiting For More
There's no telling how many more awards, accolades and achievements James will rack up this month. He likely has a room in his house for all these awards he's amassed since being a child prodigy.
"The Chosen One" as some call him or "King James" as he's more commonly known by is the greatest player in the league today and is the biggest NBA legend stepping foot on the court.
Fans can't wait to see what he'll do next.
Did you know that LeBron James' has accomplished this in less than two months of NBA action this season? What do you think is up next for "The King"? Let us know in the comments section or Twitter @KJG_NBA.
This article originally appeared on