LeBron James Is The NBA's Floyd Mayweather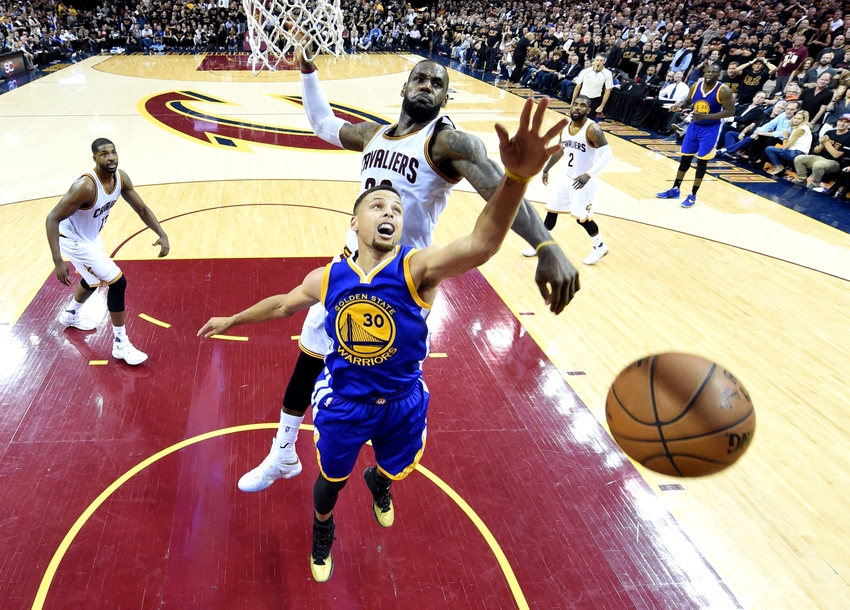 LeBron James, like Floyd Mayweather, has managed to defy Father Time.
Watching LeBron James as he propels his 6-foot-8, 250 pound frame through the air for a jackhammer dunk is simultaneously exhilarating and petrifying.
Given a free run at the rim, he usually begins his gather right below the charity stripe. If there is a forest of limbs impeding his path, James lifts himself up from anywhere but still delivers a jam with the same devastating impact as if it was a breakaway dunk. James' physical attributes make us marvel at whether he's a human or simply a basketball loving demi-god masquerading around as a mere mortal.
At 31, James looks as just as lithe and explosive as he was when he came into the league fresh out of high school.
While professional athletes have come along and made us wonder what limitations the top athletes in the world have.
Minnesota Vikings running back Adrian Peterson came back from an ACL injury in 9 months. That's three months earlier than the earliest he was supposed to be back. After pulling off this medical marvel, Peterson proceeded to dominate the NFL.
NFL wide receiver turned analyst Randy Moss could still run a sub-4.4 forty-yard dash at 35 years old.
Most superstars don't get to age that gracefully. If they do they've at least sustained a major injury in their career.
More from King James Gospel
Even Michael Jordan had a serious injury in his career. In the 1985-1986 season, Jordan's second in the league, he broke his left foot three games into the season.
James' outstanding physical attributes, combined with his focus on training year-round, receiving around-the-clock treatment for his body and eating correctly, don't resemble any athlete professional sports league has seen.
There is, however, Floyd Mayweather. Mayweather, who has defeated some of the boxing world's most prized fighters, retired from professional boxing with a record of 49-0. Shortly after turning 32, Mayweather went on defeat Juan Marquel Marquez and Shane Mosley with brilliant displays of quickness and strength. At 36, while facing Canelo Alvarez, Mayweather showed that same athleticism that led him to an undefeated record and 26 knockouts.
Mayweather retired at 38 and still showed the quickness that made him so dangerous as he made a name for himself in the boxing world. While defending his unified title belts against Manny Pacquio and Andre Berto, who had a combined 87-8-2 record, Mayweather executed masterful gameplans that showed he was as dominant mentally as he was physically.
Mayweather isn't a gigantic human accelerating at warp speed like James. He keeps his unique physical traits (quickness, power, hand-eye coordination) bundled up in  a 5-foot-8 and 146.5 pound body. Similar to James, Mayweather trains his unique body around the clock and is as healthy as anyone.
James, at 31, has helped his Cavs defeat teams like the Golden State Warriors because of his outstanding athleticism (see: "The Block" below).
His ability to fly around the court and dominate above-the-rim is fitting of a man twelve years younger.
Like Mayweather, James' ability to sustain logic-defying athleticism will allow him to defeat any number of the elite teams they could meet on their path to repeating as NBA champions. It will also keep talented superstars like Stephen Curry, Kawhi Leonard and Anthony Davis at bay as they try to take his throne atop the NBA's hierarchy.
Do you think there's a comparison between LeBron James and Floyd Mayweather? What other comparisons would you make? Let us know in the comments section or Twitter @KJG_NBA.
This article originally appeared on