LeBron James Is Now Better As A Power Forward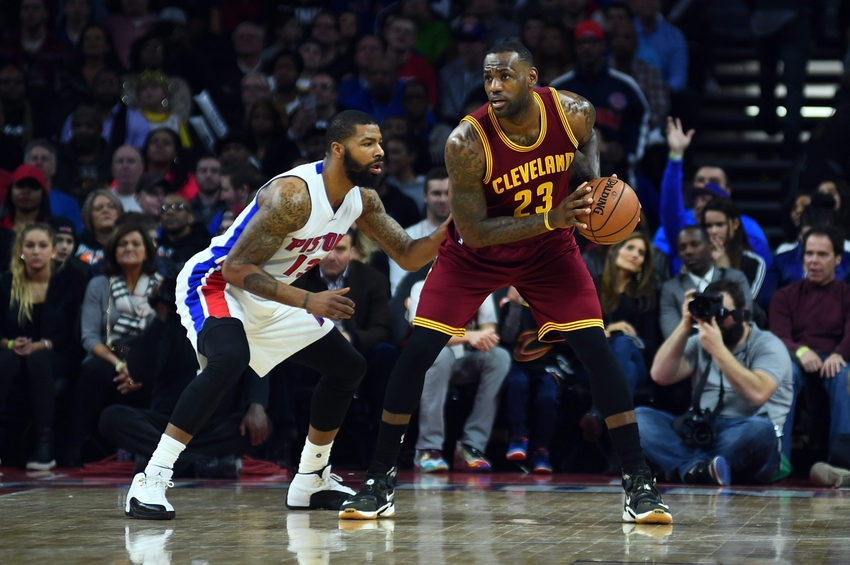 LeBron James has been the NBA's best small forward for nearly a decade, however, it's time for the King to do what's natural and play power forward.
When LeBron James was drafted in the NBA, with an NBA body and style of play similar to Andrew Wiggins or Jaylen Brown, there was no doubt that James was a wing prospect. He not only was deadly when he attacked the rim from the perimeter because of his speed or explosiveness, or one of the best young passers in the league, James simply wasn't as big or versatile as he is now.
The league was also different. The three-point shot, while important, wasn't the primary focus for team's offensively like it is today.
Traditional post players still manned both frontcourt positions rather than "stretch" bigs who are usually the "tweener" prospects the NBA couldn't find a spot for. That's really what made Kevin Love such a special player. He was a traditional post big who just so happened to be a prodigious three-point shooter. Traditional big men who are shooting the three-ball today, like Al Horford, Marc Gasol and Pau Gasol, had to train hard just to be decent from behind-the-line. Love trains hard but he's also just a uniquely gifted big man.
James, in his first few years in the league, played with both traditional big men like Shaquille O'Neal and "stretch" bigs like Drew Gooden and Zydrunas Ilgauskus.
What's more, unlike today, James had no real post moves and thus, no reason to play like a big man himself. Yet, if the NBA had drafted the LeBron James that developed from his Miami days, James would be a "tweener" prospect because while he can still do everything he did when he was younger, his body has matured and bulked up to between 260-270 pounds. In addition to his physical stature, James isn't the best jump shooter but is a dominant scorer when his back is facing the basket.
In fact, it can be argued that James looks more natural trying to score with a post-up than with a jump shot. Of course, James makes a fair share of his jump shots. He's the most naturally gifted basketball player seen thus far.
However, when James is a jump shooter, especially off-the-dribble and from outside 15 feet, there are too many problems with his mechanics that effect his consistency. He simply doesn't shoot with the same form every time. Some players are simply so gifted as scorers that they never had to work hard on their jump shot. The one time James was around a player who followed a strict shooting routine and displayed consistent shooting form was when he played with the NBA's all-time three-point leader, Ray Allen.
James had Allen as a teammate in Miami for two seasons. In those two seasons, James had his career-best performances from three-point range.
Yet, where James has consistently been a threat to score and where he consistently gets better as a scorer, has been in the post. After training with Hakeem Olajuwon in 2011, James returned to the Miami Heat with a whole new post game to match his big brain and natural basketball abilities. While already being a cerebral triple-double threat, James had developed a natural way to score.
James used his post play to his advantage and won two out of three NBA Finals appearances in his last three years in Miami. With Cleveland, James operated from the post and as the ball-handler in the pick-and-roll to score with certainty in the playoffs. To this day, James still uses, and looks to be at his best, when using a post-up to score.
If the theme was simply that James performs well as a post player then the dialogue about James' position could end there.
Just because James can score from the post doesn't mean he has to change his position completely, right?
But that's not the only theme.
Despite working on his shooting form this offseason and looking good shooting from outside during the preseason, James is currently only shooting 28.1 percent on three-pointers this season. James is also only shooting 40.0 percent from 3-9 feet away from the basket. James used to be deadly from this area on short midrange jumpers while he played for the Heat.
Again, that's when he had Allen helping him with his consistency but also Erik Spoelstra, Dwyane Wade and Chris Bosh, who helped him be the model of efficiency.
Meanwhile, James is shooting 75.0 percent from around the rim. Sliding James down to power forward shrinks his average shot distance and thus greatly enhances his chances of making a shot. This isn't just about the percentages, it's also about what can be seen visually. James is a natural scorer in the post.
Part of what helped James succeed from this area was Bosh's role at center. Placing Bosh at center gave James the space he needed to be efficient in the post and from the midrange area.
In Cleveland, if James slides down to power forward, Kevin Love will have to play center. Love would give James the perfect space he needs in the post and midrange area. This season, Love has been shooting 5.0 threes per game. A career 36.2 percent shooter from deep, Love should also experience a boost in his shooting numbers with the increased space afforded to him by the attention James will draw in the post.
Under the basket, Love will have one-on-one matchups if James opts to stay on the outside of the perimeter. In theory, the Cavs offense is even more potent when Love is at center. It's a small sample size, but in 5 minutes and 6 seconds of court action, the 5-man lineup of Irving-Smith-Jefferson-James-Love made 8.3 more threes than their opponents while shooting 41.7 more threes per 100 possessions.
With his improved physique, defensive understanding and timing, Love has become a better defensive player this season. Still, with his lack of natural athleticism and lateral agility, center could be Love's best position anyways. He won't be an explosive shot-blocker in the league of a Hassan Whiteside, DeAndre Jordan or Rudy Gobert. However, Tim Duncan made a living as a defensive anchor because of his fundamentals, timing and length. That's not to say Love will be anything like Duncan as a defender. Still, Love can be a decent rim-protector if he focuses on the things that made Duncan so great.
Plus, James will always be around for weakside shot-blocking.
In his own matchups, James gets to deal with slower players. Though he's still a generational athlete, his first step isn't as quick as it used to be. So a lot of times, with the Cavs man-zone defense, he's not in the best position to recover. In guarding power forwards, James doesn't have to worry about that anymore. In addition, James has been throwing grown men aside on his way to the basket for years now. With that said, the strength of today's "power" forwards shouldn't overwhelm him in the post.
James knows how to front bigger and stronger players. He gets under their knees in order to have the leverage in the post defensively. With his athleticism, even passing to DeAndre Jordan under the basket could be tough.
As James and Love slide down, there are plenty of options to replace Thompson in the starting lineup. Iman Shumpert and Richard Jefferson are the players most likely to get a call-up. However, if the Cavs want to mask Irving's poor defense, Shumpert is the way for the team to go. Or perhaps a player like DeAndre Liggins who has a knack for shot-blocking, rebounding, facilitating and defense.
Regardless of who moves into the starting lineup, LeBron James needs to be the Cleveland Cavaliers power forward immediately.
Do you think LeBron James should move to power forward? Let us know in the comments section or Twitter @KJG_NBA. 
More from King James Gospel
This article originally appeared on