LeBron is not holding back: 'I'll kidnap my momma to win'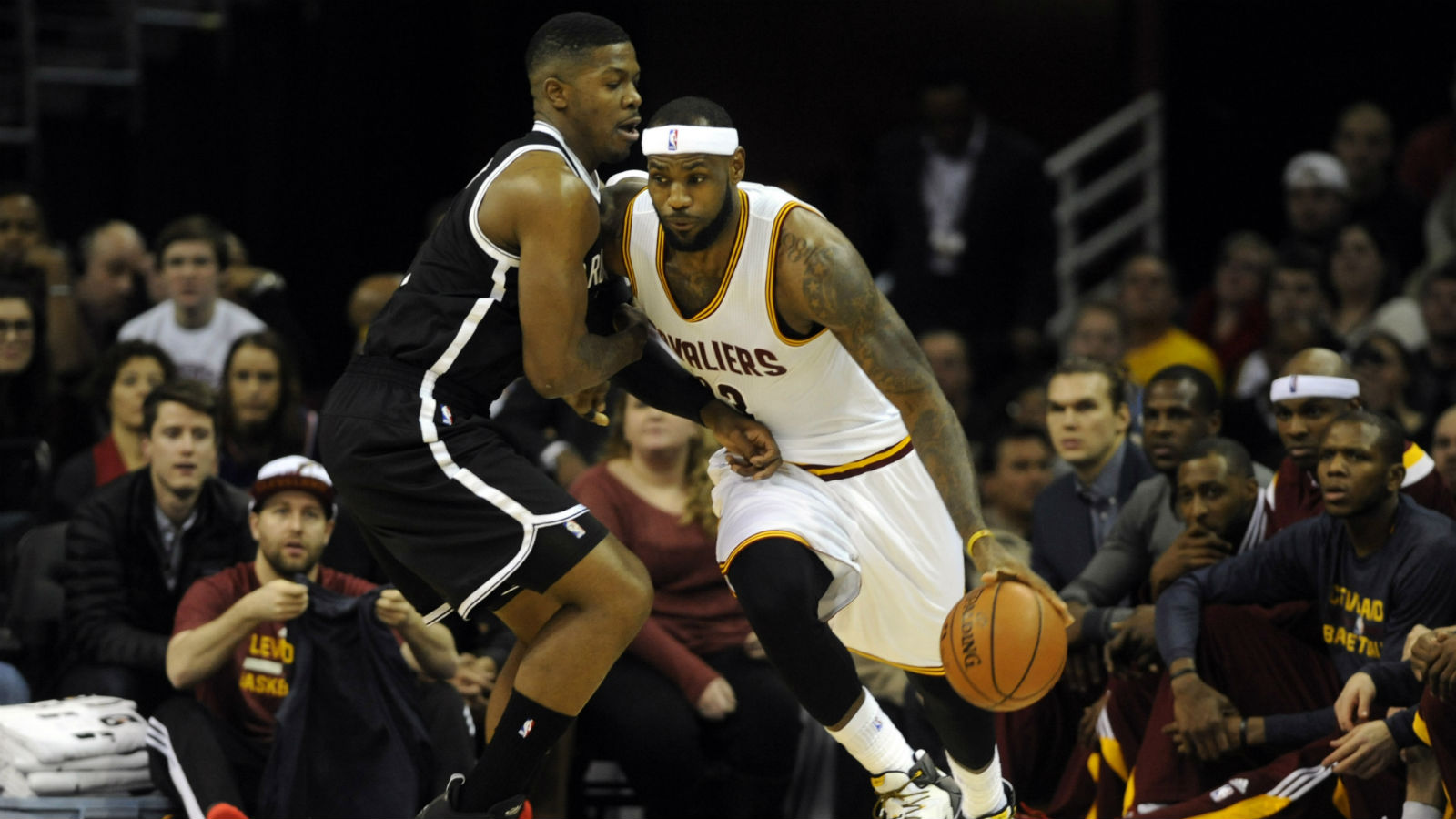 Despite their winning and continued Eastern Conference dominance, things have gone awry in Cleveland lately.
From LeBron James's cryptic tweets, to his secret workouts in Miami, to rumblings that Kyrie Irving is unhappy, to the ever-awkward fit of Kevin Love, the Cavs seems to have a ton of problems for a No. 1 seed poised to make its second straight Finals run.
According to Chris Haynes of Cleveland.com, LeBron saw Joe Johnson — who was bought out from the Brooklyn Nets last month and then promptly signed with the Miami Heat — as a potential key piece for the Cavs, and was willing to make a considerable sacrifice to appease Johnson's desire for playing time and a starting spot: Move over to power forward full-time:
"All I care about is winning. That's all that matters to me," James confirmed to cleveland.com. "A piece like Joe, you know what it does to your team and if he was concerned about playing time or concerned about starting, then I'll sacrifice. I'll sacrifice to get a guy like that to help us try to win a championship." …

"Man listen, I'll do anything to win. I'll kidnap my momma to win," James said to cleveland.com with a deadpan expression on his face.
It's clear that LeBron is now willing to sacrifice anything — including kidnapping his own mother — to win another championship and, more importantly, bring Cleveland its first title in any of the U.S.'s four major professional sports since 1964.
He has been more effective as a power forward since he took his talents to South Beach, yet he's always been reluctant to make the transition on a full-time basis, as he fancies himself a wing and wants to avoid taking a beating inside for as long as he can (LeBron will eventually have to switch to power forward as he ages and loses his athleticism).
Had the Cavs signed Johnson, though, LeBron would've gladly moved up a position, sending Tristan Thompson and Timofey Mozgov to the bench full-time, and sliding Kevin Love up to the 5:
Would James have made such a considerable sacrifice in years prior?

"I don't know. I don't know. I can't answer that, but I know I'll do it now," he said to cleveland.com. "I mean, you're trying to make a push. We're in March. You get a guy like Joe Johnson, you get a guy that can change your team for the better. I wouldn't have a problem with [moving to the four].

"If he wanted to come in and start and we wanted to keep J.R. [Smith] in the starting lineup and if Double-T (Tristan Thompson) or Mozzy (Timofey Mozgov) had to come off the bench in order for Joe to start and slide Kev [Love] to the five, I would have done it."
Love at the 5 would've surely been a disaster on defense, as he can't protect the rim and doesn't have the length or size to battle behemoths in the post. There are few centers who can stick with him on the perimeter and contest his shots, but it's still probably a negative or neutral move.
LeBron moving up to the 4 might have caused Love to actually come off the bench — keeping Thompson or Mozgov in at center — which would've likely caused more problems within the Cavs' locker room, and been a downgrade (Love is undoubtedly better and more valuable than Johnson).
The Cavs could've certainly used some help on the wing, as they currently only have James, Iman Shumpert, J.R. Smith and Richard Jefferson. That's a bit thin, especially in terms of two-way production. They just signed Jordan McRae for the rest of the season, but he's obviously not the answer, and likely won't play much in the postseason.
Johnson could've helped — he's averaging 14.0 points, 3.2 rebounds and 2.4 assists in 30.2 minutes per game in Miami — and he certainly would've gotten minutes — James would've ensured it, one way or another. But perhaps it's better for both sides that this deal never materialized, as signing Johnson might have caused more problems than it would've solved.
Jovan Buha covers the NBA for FOX Sports. Follow him on Twitter: @jovanbuha.