Learning How to Close Out Games Consistently Will See the Denver Nuggets Surge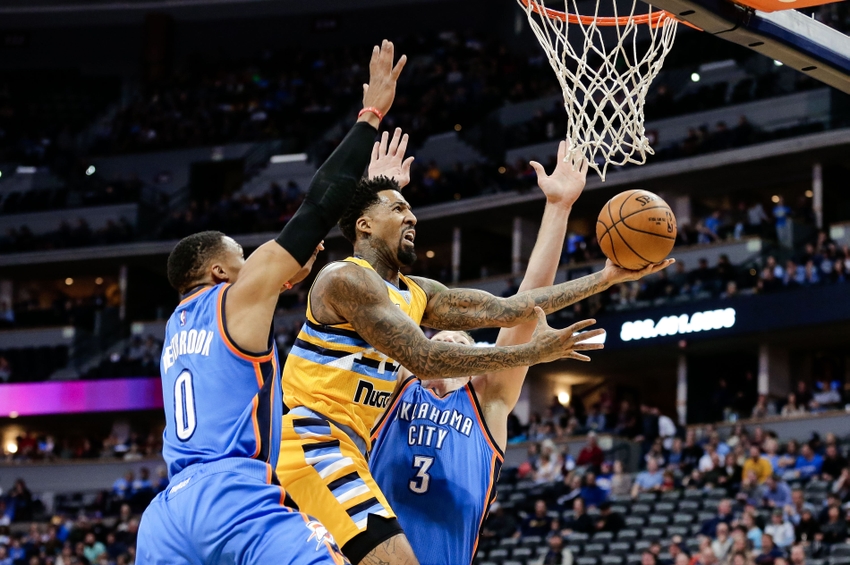 The Denver Nuggets sit at 7-10, but they could be much better if this young squad would just learn to close out tight games.
Last night saw the Denver Nuggets dismantle a struggling Suns side 120-114 in Phoenix thanks to Wilson Chandler's 25 points.
Following a heartbreaking 129-132 overtime loss to the Thunder on Friday, we began to question the teams' ability to close out games within their grasp.
But this Sunday's meeting with Phoenix, proved the team is more than capable. So can we now expect to see this on a more consistent level, and against stronger opponents?
Friday night continued an ongoing theme we had been accustomed before Sunday, as an Oklahoma City Thunder side clawed their way back from a 13 point deficit to defeat the Nuggets in overtime.
The loss arrived as the teams' fifth game dropped that was a one possession game this season, emphasising the Nuggets need for closing out games.
However, the Mile High outfit have battled with the best of them so far this season: missing out narrowly against a formidable Raptors side, beating a boisterous Bulls team, dominating the Thunder for the majority of the game on Friday and last night crushing the Suns in the desert.
We shook our heads in disbelief after the Nuggets dropped another game that was firmly within their hands on Friday, but as they rectified this last night, we now have to ask ourselves what went wrong before?
Inexperience
With a young squad comes excitement and potential, but it also comes with an understandable absence of experience. This is something the players will surely improve on over time, naturally. But, if the Nuggets want to even contemplate a worthy playoff surge, then they'll need to mature a little faster.
The injury-ridden Nuggets applied themselves with a lot of fight on Friday considering the amount of lineup changes the roster had seen. The reality is: changes probably factored into the struggles we witnessed in the final minutes, with Malone unsure who to close out the game with.
But if there is one positive that can be taken from these increasingly frequent, disappointing close losses, it will be that ultimately, they will serve as learning curves for these adolescent Nuggets.
And maybe we saw the instant improvement in Arizona last night, showing that this team can adapt and learn quickly.
Low-percentage shots
Leading by as many as 13 in the fourth on Friday, it's fair to say most Nuggets fans were poised to applaud their side for defeating a strong Western Conference side with our depleted lineup.
It did not happen of course, and the Nuggets eventually fell in the final minutes taking some considerably tough, low percentage shots.
Learning from this defeat, the team needs to work on getting some better looks in the final moments. Whether that be making that extra pass, getting to the line, or finding the hot-hand, this is an aspect Malone will want to see development in.
But when the game is on the line down the stretch, the ball needs to be in the hands of a scorer, a guy who can find high-percentage shots and get to the line with ease.
Whilst Jameer Nelson made a couple of clutch shots in the fourth quarter against OKC, he probably found himself shooting the ball a little too often down the stretch. Nuggets need to look for guys like Wilson Chandler, who had himself a season-high 30 points on Friday, who also proved his worth last night as the teams' leading scorer.
Lack of the 'go-to guy'
Long gone are the days of 'Melo hitting customary buzzer-beaters in front of sell-out Pepsi Center crowds. And whilst the Nuggets do not currently posses a player anywhere near of the calibre of the Knicks forward to consistently close out games, they do have Wilson Chandler and new fan-favourite Jamal Murray.
A couple of guys who can score with ease. Whilst Murray did struggle late on against the Thunder, Malone perhaps will look to these guys for some important buckets in the future after tasting that unsavoury flavour of narrow defeat again this weekend.
Want your voice heard? Join the Nugg Love team!
And, of course, Chandler proved once again last night, that he has the will (pun not intended) and desire to be that guy. In the early start of this season, 'Ill Wil' has made his case for being the Nugget's most important player, and that's off the bench.
Looking ahead
As always, it is going to be a process, but Malone and his team will surely be working close on this issue of closing out hard-thought games that were well within the squads' reach.
Each game is a different story but with nearly the same outcomes. The Nuggets allowing Russell Westbrook on Friday to dictate the matchup way too frequently and in the end, he hurt them.
If it's not Westbrook, it will be someone else. It might have been Booker last night, but the Nuggets handled him commendably in the fourth quarter with some admirable defense.
So, with an optimistic view to the future: here's to hoping this exciting Denver Nuggets ball club will learn from these difficult losses. And strive forward as they did in Phoenix, by finally crediting themselves with wins that they so desperately need and deserve.
This article originally appeared on