Lakers: Where Does Lou Williams Fit With This Roster?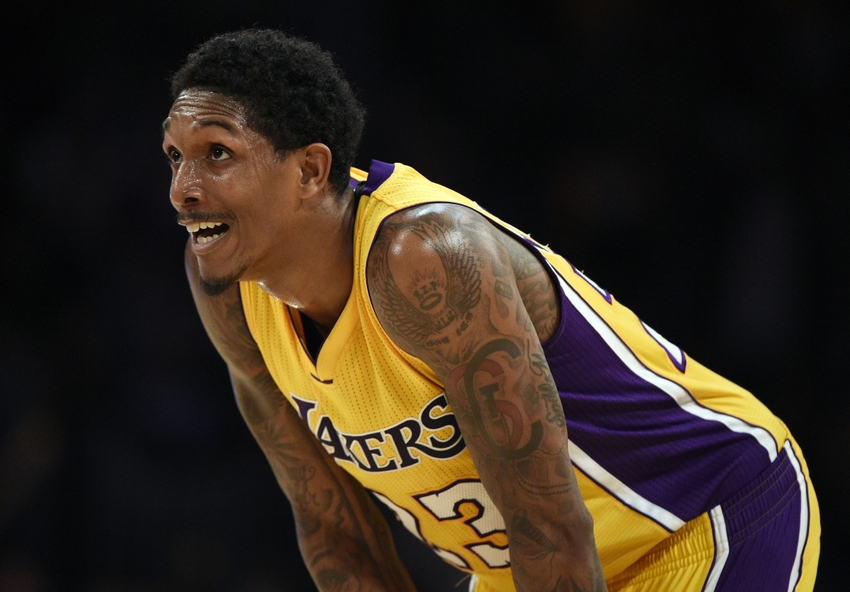 With a number of promising young pieces already on the roster, the Lakers could do without Lou Will in Los Angeles.
With the exception of a handful of players, the Lakers roster going into the 2016-17 season is stacked with promising young talent. From two second overall picks in D'Angelo Russell and Brandon Ingram, to late draft steals in Jordan Clarkson and Larry Nance. Jr.
However, one name that doesn't pop into mind when naming the Lakers young core is former Sixth Man of the Year Lou Williams. That is unless your name is Jim Buss.
Early in the offseason, Lakers co-owner Jim Buss revealed in a phone interview with Basketball Insiders that he believes the Lakers have five core players the team can build on. Those players are Russell, Clarkson, 2014 lottery pick Julius Randle, Nance Jr. and Williams.
Since then, that number has grown with additions of Ingram and Ivica Zubac. Both looked the part of capable NBA players in this year's Summer League and could very well end up starting over the veterans the Lakers brought in this summer by the end of this season.
Walton is on record saying that he has no set starting lineup going into training camp which tips off in October, the same month Williams will turn 30.
I asked Luke Walton if I should pencil in Deng as the starter – he said I can, but he hasn't – everyone has to earn their spot in rotation

— Eric Pincus (@EricPincus) August 31, 2016
Being one of the better players on the team, Williams will surely be part of the rotation, but he is an awkward fit with this young Lakers team.
The Lakers inked Williams to a three-year, $21 million contract last summer and he put up decent numbers in his first year with the Purple and Gold. He averaged a modest 15.3 points per game, similar to the numbers he put up when he won Sixth Man of the Year with the Toronto Raptors in 2015.
As great as that may sound, he averaged 15.5 points per game with Toronto starting zero games and playing about four minutes less. Compare that to the 67 games he started with the Lakers and the 28.5 minutes he averaged per game.
Unless new head coach Luke Walton contacts former head coach Byron Scott for personnel advice, I don't see Williams averaging almost 30 minutes a game this season.
Luckily for Lou, the Lakers depth at shooting guard is almost nonexistent. With the exception of Williams and Clarkson, who is projected to start for Los Angeles this season, there are no true shooting guards on the current roster. Even then, Williams is undersized for a shooting guard standing at only 6'1".
With this in mind, what do the Lakers do with Williams?
For all of his faults, there's a reason Drake wrote a whole song about the guy. Lou Will gets buckets. While he might not be the most efficient scorer, Lakers fans have never seemed to be bothered with shots going up as long as they go in.
For all of his faults, there's a reason Drake wrote a whole song about the guy.
His contract is also favorable in today's NBA. For context, Orlando Magic just signed Evan Fournier to a 5-year, $85 million contract, and he averaged 15.4 pointer per game last season, only 0.1 more than Williams.
The $7 million Williams will make over the next two seasons is a bargain not only for the Lakers, but anyone willing to trade for services.
That's not to say the Lakers are actually planning on moving Williams before February's trade deadline, but if they can get a promising young prospect or a few picks from a team in desperate need of some scoring off the bench, what do they really have to lose?
Even if the Lakers didn't get get someone in return to fill the void that would be left if Williams was traded, they could always slide Anthony Brown to the two. Brown is one of the few people on the roster that can challenge Williams for playing time at shooting guard, but he has to show signs of consistent production first.
Maybe Lou is the final piece to Philadelphia's seven-foot puzzle and they're willing to part ways with Nerlens Noel.
Maybe DeMarcus Cousins pulls a Dwight Howard and forces his way to Los Angeles.
Maybe Paul George doesn't love the idea of spending the next few years in Indiana only to lose to Cleveland in the second round.
Or maybe Williams stays put and makes the Lakers a title contender one drifting baseline jumper at a time.
Whatever the case may be, let's hope for another productive season from the "6 man."
This article originally appeared on