Lakers vs Spurs Preview and Prediction: Can the Kids Make a Statement With a Win?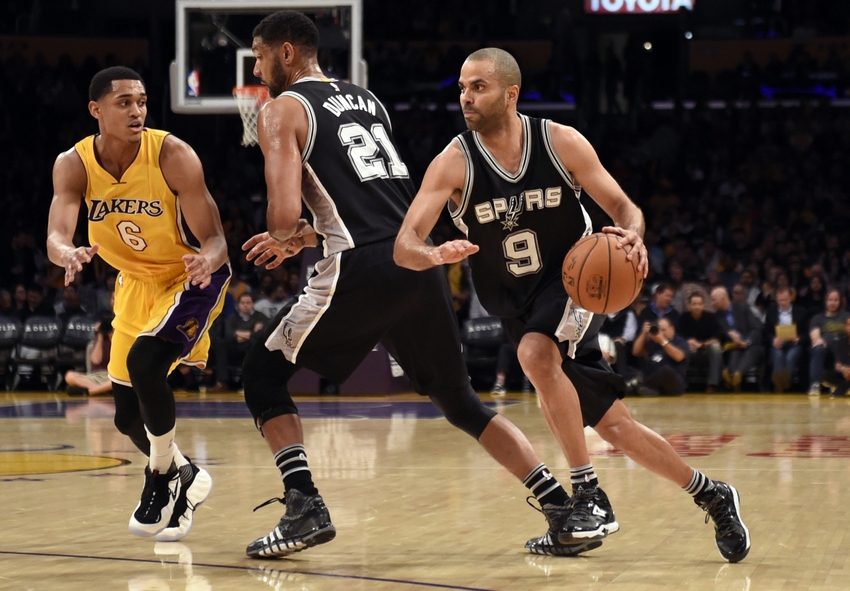 The young Lakers have a chance to make a statement against the tried and tested San Antonio Spurs tonight at STAPLES Center.
The idea of not seeing Tim Duncan and Kobe Bryant on the court together shatters my heart. If you listen closely, you can probably hear yours breaking too.
However, that is the cruel reality NBA fans will have to endure when they watch the Los Angeles Lakers take on the San Antonio Spurs tonight at STAPLES Center.
Since Bryant's departure, the Lakers have done better than they have in past seasons. How much of that actually has to do with Bryant not being there is up for debate, but the fact is he's gone.
The Spurs, on the other hand, are just as scary as they've ever been. They famously caught the biggest fish in free agency last summer with LaMarcus Aldridge, and have continued to sell winning to free agents because they have a proven track record.
This summer, the Spurs signed former Los Angeles Laker Pau Gasol to a two-year deal. Gasol's style of play was tailor made for the Spurs' system, so it was a natural fit for both parties.
Oh, and they have a guy named Kawhi Leonard who's pretty good at basketball.
Leonard seems to have taken yet another step towards super stardom this season, causing problems on both ends of the floor like no one else in the league can. Sorry, Mr. James.
Leonard is averaging 25 points per game, to go along with 2.4 steals and 5.8 rebounds.
Tonight is going to be a real test for the young Lakers, and if they can get a win, it would send a message to rest of the league.
Here's where to catch tonight's action.
San Antonion Spurs at Los Angeles Lakers
Date: Friday, November 18
Start Time: 7:30 p.m. PT
Location:  Los Angeles, CA
Arena: STAPLES Center
TV Info: Spectrum Sportsnet
Live Stream: NBA League Pass
Radio: Here
Injury Report
Los Angeles Lakers: D'Angelo Russell – Knee (Out), Nick Young – Illness (Questionable)
San Antonio Spurs: Dewayne Dedmon – Knee (Out)
Prediction
D'Angelo Russell's absence in tonight's game is going to hurt, especially when you look at the options available at the point guard position beyond him. Compare that to the Spurs, who have two starting-caliber point guards in Patty Mills and Tony Parker.
Head coach Luke Walton is going to have his hands full with rotations tonight with his star point guard out.
Even if Russell were available, the Lakers are facing a very talented team San Antonio Spurs team. They can't afford to get off to their trademark slow starts, or else it is going to be a very long night in Los Angeles.
The key for the Lakers winning this game will, as always be the production of their bench mob. However, as mentioned before. the Spurs have a Kawhi Leonard and the Lakers don't. That alone might be enough for the Spurs to run away with it tonight.
Unless Deng has a breakout game in Russell's absence, it's looking like a loss tonight.

91

112
For the latest updates on the Lake Show and the best live-game coverage in the NBA, make sure to give @TheLakeShowLife a follow on Twitter.
This article originally appeared on