Lakers vs Golden State Warriors Preview and Prediction: BBQ Chicken For Thanksgiving?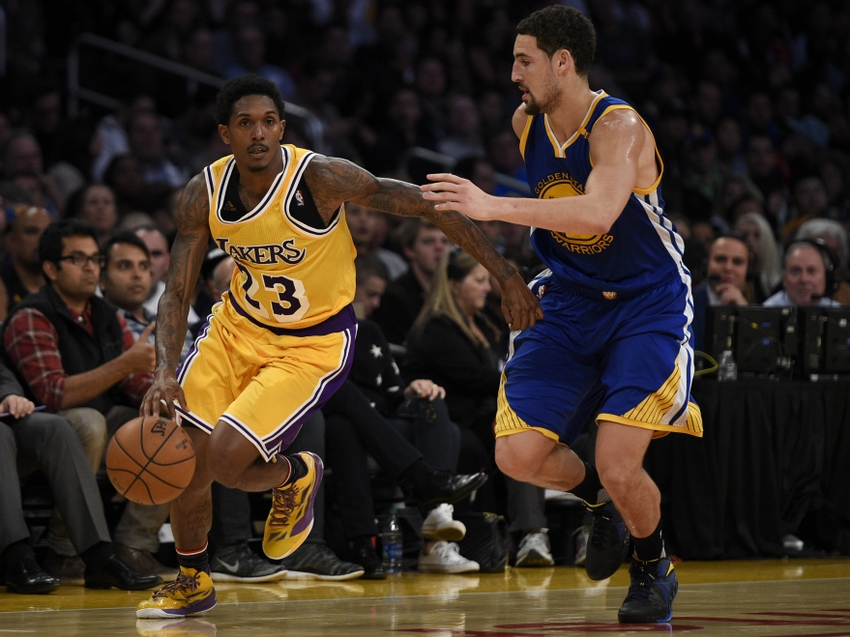 The Los Angeles Lakers will try and beat the Golden State Warriors for the third consecutive time this year with an injury plagued roster.
It seems like just this month the Lakers beat the Warriors by 20 at STAPLES in those beautiful purple and gold showtime jerseys. Oh wait, that was this month.
November 4th marked the second time this year the Lake Show beat the Warriors by double digits. The first time was the historic March 6th game, where the then 13-win Lakers bested the 55-6 Warriors.
However, the teams will be meeting on much different circumstances tonight. Head coach Luke Walton has decided to give a couple of key players the night off to avoid embarrassing his former team. Probably.
Los Angeles will be without D'Angelo Russell and Julius Randle, who combined for 37 points in their mathcup with the Warriors this season. They will also be without the jerseys that gave them super powers that night, unfortunately.
Despite this, the Purple and Gold will try and get the win, and take the lead in the season series.
Here's where to catch all of tonight's action.
Golden State Warriors at Los Angeles Lakers
Date: Wednesday, November 23
Start Time: 7:30 p.m. PT
Location:  Los Angeles, CA
Arena: STAPLES Center
TV Info: Spectrum Sportsnet
Live Stream: NBA League Pass
Radio: Here
Injury Report
Los Angeles Lakers: D'Angelo Russell – Knee (Out indefinitely), Julius Randle – Hip (Out)
Golden State Warriors: No injuries to report
Prediction
This young Lakers have shown time and time again this season that they aren't afraid of anyone, which is great. But if there were ever a time to be terrified, tonight would be that night.
In their first meeting with the Lake Show this season, the Warriors shot an embarrassing 15.6 percent from 3. That was the same night Curry's record-breaking streak of games with a 3-pointer ended.
They are not that team anymore. The Warriors have seemingly gone through the early season growing pains and they look scary.
Any one of their four superstars can go off and run the Lakers out of their own building. The key for winning tonight, as always, will be LA's bench. However, the bench mob might be compromised with the injuries to Julius Randle and D'Angelo Russell.
Will Larry Nance Jr. move to the starting lineup? Will Brandon Ingram try his hand at power forward? Find out tonight at 7:30 p.m.
If you don't already, go on Twitter and follow @TheLakeShowLife for the latest on the Purple and Gold. We'll see you there!
This article originally appeared on