Lakers vs Golden State Warriors Preseason Preview: Part Deux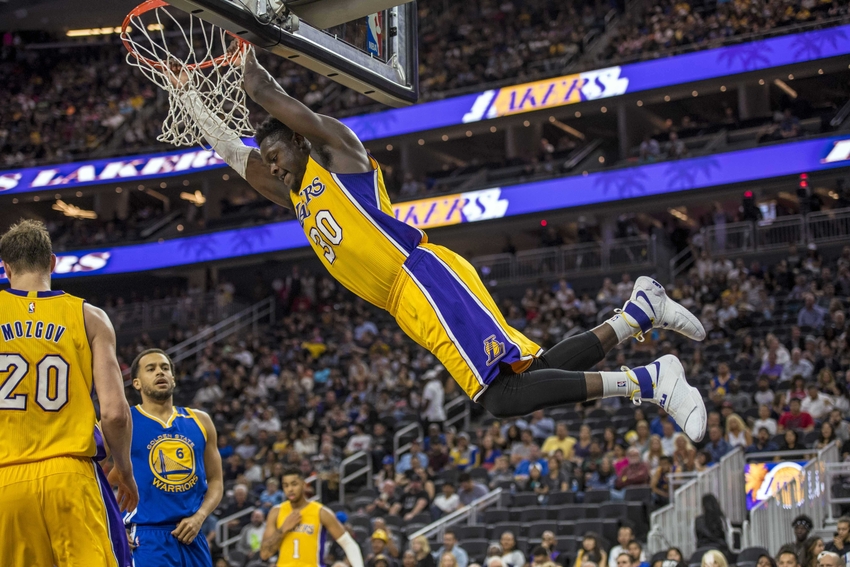 The Los Angeles Lakers fell to the Golden State Warriors in their first preseason meeting in Las Vegas, but the team will get another crack at the champs Wednesday night in San Diego
Despite only losing by five points to the Warriors on Saturday, 107-112, the final score didn't really tell the story for the Lakers.
The new look Dubs jumped out to a quick lead in the first half prompting Steve Kerr to rest his big guns for the majority of the second, though he likely would've done so regardless of the score.
Ironically, having been compared to Kevin Durant incessantly since coming onto the scene, rookie Brandon Ingram had his best game scoring 12 points on 3-of-6 shooting, including 2-of-2 from behind the arc. It's not certain who Kerr plans on resting Wednesday — he gave Draymond Green and Andre Iguodala last game off — but should Ingram get another chance against his muse, he's likely to embrace the challenge.
It is no secret that Luke Walton is attempting to recreate the magic he had up in San Francisco down here in Los Angeles and Draymond Green even recently came out and said that his Lakers' counterpart, Julius Randle has the potential to be better than him.
Of the the team's young core members, Randle is often the lowest on the totem pole, so to hear praise like this is encouraging for him and the fan base alike. In his comments, Green made a good point, Randle already has the "God-given gifts" and more importantly, he's still only 21 years of age.
This often gets forgotten in the hustle and bustle of things, how truly young the Lakers' core is, so it's good to be reminded of that every once in a while.
Golden State Warriors at Los Angeles Lakers
Date: Wednesday, October 19
Start Time: 7:00 p.m. PT
Location: San Diego, California 
Arena: Valley View Casino Center 
TV Info: Spectrum Sportsnet, ESPN
Be sure to tune in Wednesday night as Los Angeles looks to get revenge on the defending champs in San Diego and follow @TheLakeShowLife and @ericdyee on Twitter for live updates as always!
This article originally appeared on