Lakers vs Dallas Mavericks Preview and Prediction: Four In a Row?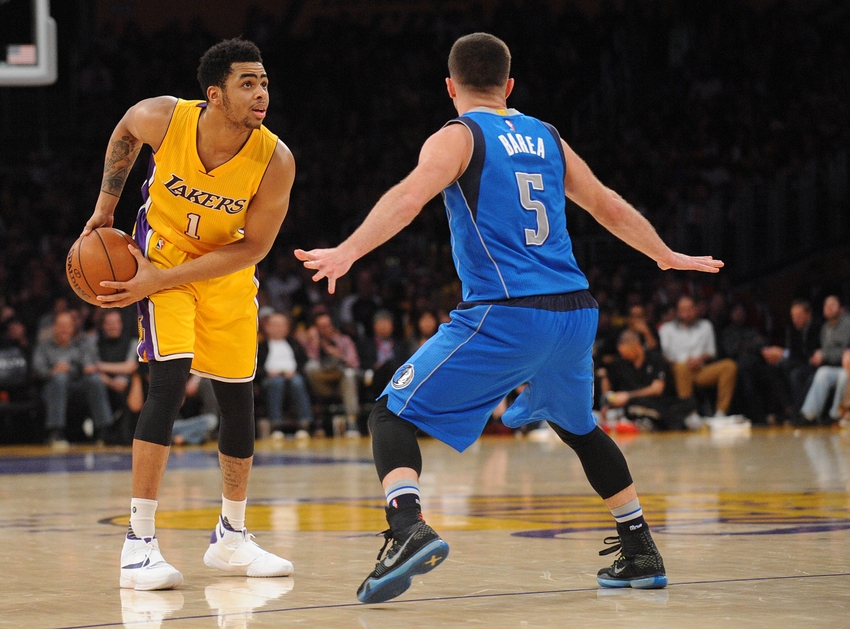 The Lakers continue their home stand tonight against the Dirk-less Dallas Mavericks. Can they make it four wins straight?
We're not even supposed to be here, yet here we are.
Last season, the Lakers didn't reach the five win mark until their 28th game of the season. They now have a chance to get their fifth win of the season tonight against the Dallas Mavericks at STAPLES Center.
The Mavericks are still a touchy subject in Los Angeles, depending on how old you are. As many remember, the Mavs swept the Lakers in the 2011 Western Conference semifinals, robbing the Lakers of a potential three-peat.
However, the Lakers will be facing a much different Dallas team tonight, with the exception of Dirk Nowitzki and head coach Rick Carlisle. After hitting a foul ball with DeAndre Jordan in free agency last summer, the Mavs have tried their best to put together a talented roster around Nowitzki.
This summer, they made a huge four-year, $94 million commitment to former Golden State Warrior Harrison Barnes, despite his ugly play in the NBA Finals. They also traded for Andrew Bogut in a salary dump that allowed Golden State to sign Kevin Durant.
Alas, Mark "I hope the Lakers suck forever" Cuban's team can't seem to get a string of wins together. The Mavs are 1-5 this season, with their lone win coming against the Milwaukee Bucks on Sunday.
Tonight they will be without Nowitzki, who is nursing a sore achilles, along with guards Deron Williams and Devin Harris.
Dallas Mavericks at Los Angeles Lakers
Date: Tuesday, Nov. 8
Start Time: 7:30 p.m. PT
Location:  Los Angeles, CA
Arena: STAPLES Center
TV Info: Spectrum Sportsnet
Live Stream: NBA League Pass
Radio: Here
Injury Report
Los Angeles Lakers: Larry Nance Jr. (concussion)
Dallas Mavericks: Dirk Nowitzki (sore achilles), Deron Williams (calf), Devin Harris (toe)
Prediction
Call me crazy, but something tells me the Lakers might win again tonight. I know, it's insane, but the Lakers are actually fun again. They're not only a team you want to win, but they're now a team you expect to win.
After blowing out the "super team" Golden State Warriors and holding off the Phoenix Suns on Sunday, the Lakers are looking to get their fifth win of the season. They have the advantage of playing at home where they are undefeated this season.
The Lakers will be without Larry Nance Jr., who has been a key part of the "bench mob" this season. Coach Luke Walton will have to find a way to make up for the energy Nance usually brings.
Another thing to watch for tonight is how D'Angelo Russell responds to his ongoing shooting slump. With Williams out, Russell will have the chance to bully 6 foot, 32 year old J.J. Barea tonight. Expect him to have a big night.
Oh, and expect tacos.

106

92
For the best live-game coverage in the NBA, follow @TheLakeShowLife on Twitter and keep up with the Purple and Gold.
This article originally appeared on