Lakers vs Chicago Bulls Preview and Prediction: Can LA Stay Above .500?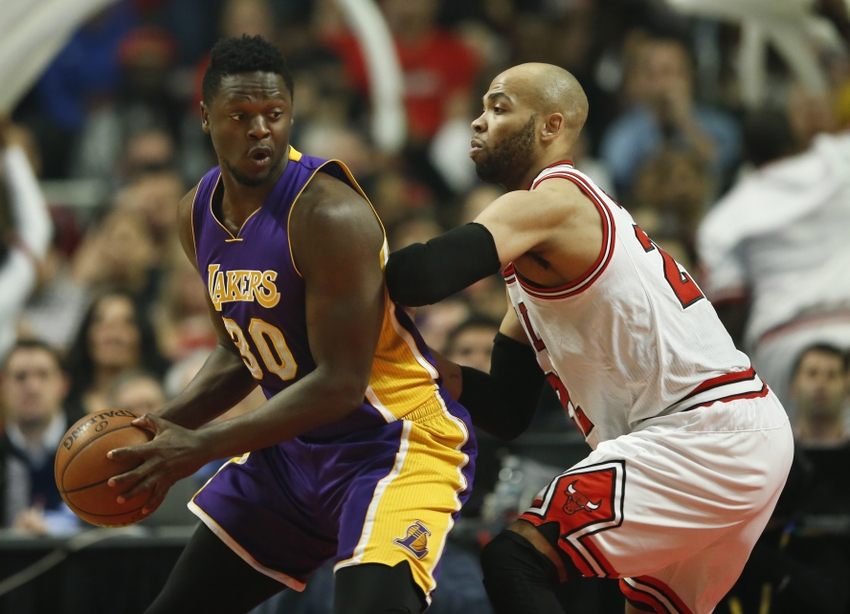 The Los Angeles Lakers will try and keep their record above .500 with the Chicago Bulls coming to town.
All good things must come to an end, right? Wrong.
The Lakers have surprised a ton of people this season with their fun brand of basketball – everyone but themselves that is. They knew coming into training camp what they were capable of, and now fans are getting the chance to see that.
However, the upcoming stretch of games will tell fans a lot about how serious this team is. The Lakers lost a very close game to the eilte San Antonio Spurs Friday night, and they will face another talented team in the Chicago Bulls tonight.
Luckily, the Bulls will be playing their second game of a back-to-back, while the Lakers have the luxury of a day's rest.
One thing the Bulls do have that the Lakers don't is a Jimmy Butler. Butler has established himself as one of the premiere two-way gaurds in the NBA over the past couple of years. After the departure of Chicago's own Derrick Rose, the Bulls are Jimmy Butler's team now.
As much flack as the Bulls get for their aging roster, they have done a decent jobs with keeping just enough young guys around. Jerian Grant, Doug McDermott, Denzel Valentine, Bobby Portis, Nikola Mirotic and Michael Carter-Williams are all 25 and under.
While none of them project to be All-Stars, they have been important to what the Bulls are trying to do – whatever that is.
Here's where to catch tonight's action.
Chicago Bulls at Los Angeles Lakers
Date: Sunday, November 20
Start Time: 6:30 p.m. PT
Location:  Los Angeles, CA
Arena: STAPLES Center
TV Info: Spectrum Sportsnet
Live Stream: NBA League Pass
Radio: Here
Injury Report
Los Angeles Lakers: D'Angelo Russell – Knee (Questionable), Ivica Zubac – Ankle (Day-to-day)
Chicago Bulls: Rajon Rondo – Ankle (Questionable), Dwyane Wade – Rest (Out), Doug McDermott – Concussion (Questionable),  Michael Carter-Williams – Knee (Out indefinitely)
Prediction
The Bulls and the Lakers were in the same boat going into this season. They weren't supposed to be competing for playoff spots, but both teams seem to be headed that direction.
The Lakers might not have the big names the Bulls have, like Rajon Rondo, Dwyane Wade and Jimmy Butler, but they do have homegrown talent. That talent should be enough to get the win over the Bulls tonight.
Chicago is nursing a handful of injuries to key players, so the Lakers have the clear advantage tonight. However, as long as Jimmy Butler is on the floor, the Bulls have a fighting chance.
They can't let him get his shots inside. If they want to win this game and stay comfortably above .500, they need to force Butler to shoot from outside.
And, as always, they need their bench mob to come in with guns blazing. Jordan Clarkson was phenomenal in Friday's game against San Antonio, as were starters Nick Young and Luol Deng.
If the team is firing in all cylinders tonight in their Sunday whites, this should be an easy win for the Lakers.

109

98
For all of the latest Lake Show updates, follow @TheLakeShowLife on Twitter. We'll be live tweeting the game, as always.
This article originally appeared on