Lakers vs Atlanta Hawks Preview: First Back-to-Back For New Look Lakers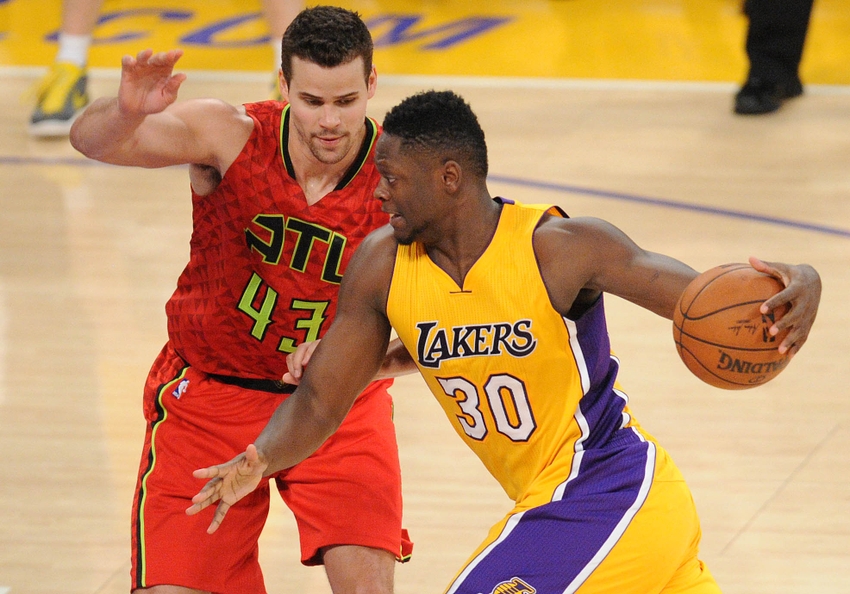 Luke Walton and the Los Angeles Lakers will try and snap their three game losing streak in Atlanta. How will these young Lakers do in their first back-to-back game of the season?
For the first time in a couple of years, there is no Dwight Howard vs Kobe Bryant narrative. Not that will stop the fans from letting Howard have it when the Atlanta Hawks visit Los Angeles later this month, but it's still worth noting.
Bryant is bathing in his millions, probably, while Howard is trying to get his career back on track with his hometown Atlanta Hawks. Howard is off to a decent start, averaging a modest 10.3 points and 12.3 rebounds per game to start the season.
Unlike his predecessor, Al Horford, Howard won't be asked to do much on the offensive end. He is a nice compliment to Paul Milsap, who is dangerous from almost anywhere on the floor.
Milsap is averaging 19.3 points and 8.3 rebounds per game for the Hawks this season.
Like the Lakers' Julius Randle, Milsap is a little undersized for his position, standing at only 6'8. However, his ability to pull up from different spots on the floor makes him an offensive threat, something Lakers fans are waiting for Randle to blossom into.
The Lakers might have a tough time with Atlanta's size in the paint tonight with Timofey Mozgov out with an eye injury, but Larry Nance Jr. and Tarik Black did a fantastic job handling Al Jefferson Sunday against the Indiana Pacers.
Speaking of the Pacers, Atlanta sent their former All-Star point guard Jeff Teague to Indiana this summer and committed to a younger Dennis Schroder. Expect Schroder to go at D'Angelo Russell early in the game with his lightning fast foot speed.
Los Angeles Lakers at Atlanta Hawks
Date: Wednesday, Nov. 2
Start Time: 4:30 p.m. PT
Location:  Atlanta, GA
Arena: Philips Arena
TV Info: Spectrum Sportsnet
Live Stream: NBA League Pass
Radio: Here
Injury Report
Los Angeles Lakers: Timofey Mozgov (right eye contustion), Tarik Black (post traumatic dunk disorder)
Atlanta Hawks: Mike Scott (knee), Tiago Splitter (hamstring)
Prediction
While the Lakers have lost three games in a row, fans have every reason to believe they will get a win tonight. Why? Because they should have won their last three.
With the exception of the Russell Westbrook massacre, the Lakers have competed in every one of their games this season, they just can't find a way to close out games. That is to be expected of a young team with a new head coach.
However, some nights their youth will be an advantage, like I believe it will be tonight. With the exception of a handful of players, the Hawks aren't the most young and spry team in the NBA.
Their starting shooting guard, Kyle Korver, is 35 years old. He can still shoot the ball really, really well, but I have a hard time believing he is going to lock down Jordan Clarkson on defense – or anyone for that matter.
If the Lakers can use their speed and athleticism on the Hawks, there's a good chance they end their four game road trip with a win.
Side note: We might get an Ivica Zubac sighting tonight!

103

98
Follow @TheLakeShowLife on Twitter for the best live game commentary in the NBA.
This article originally appeared on