Lakers: Too Early to Worry About Luol Deng?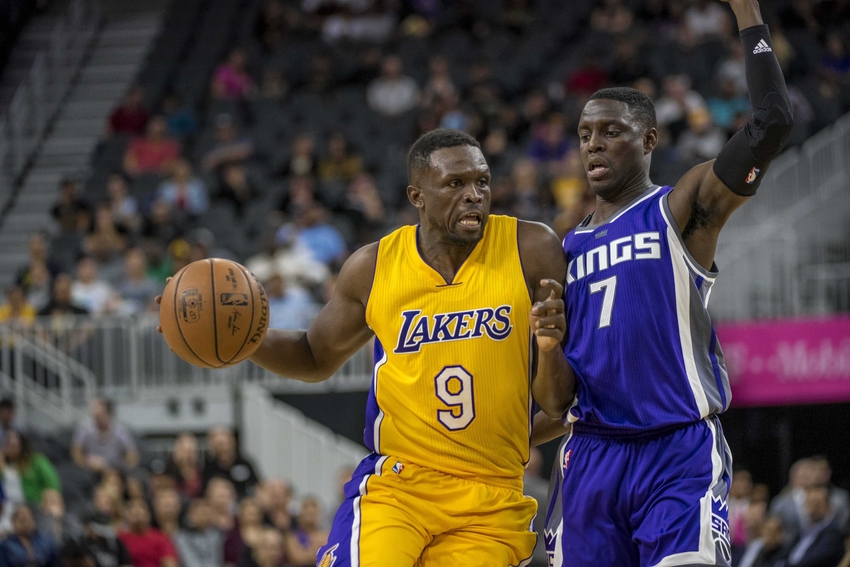 Just ten games into the season, the Lakers might already have buyer's remorse with veteran forward Luol Deng.
The Lakers were supposed to make a big splash in free agency this summer.  They had roughly $65 million to spend and no real superstar on the roster. Like every year, this was supposed to be their year.
However, for the first time in recent memory, the Lakers couldn't even land a meeting with some of the NBA's biggest names. Instead, the Lakers went after second-tier free agents like Timofey Mozgov and Luol Deng.
Mozgov infamously signed a four-year, $64 million contract with the Purple and Gold and Deng signed an even bigger four-year, $72 million contract. Deng was supposed to be the better of the two contracts, due to his reputation on the court and as a locker room guy, but his play recently says otherwise.
In his 11 starts for the Lake Show, Deng has put up 6.3 points on 31.2 percent shooting from the field, and it's not for lack of trying. Deng is averaging 7 field goal attempts per game this season, which is only a few attempts less than his career average (12.9).
"So what seems to the problem for the two-time NBA All-Star?"
Some fans like to blame Deng's former head coach, Tom Thibodeau, for playing him nearly 40 minutes per game for three consecutive seasons. Deng led the league in minutes played in back-to-back seasons (2011-12, 2012-13). It's a miracle he's still walking.
However, Deng's lack of productivity might be best explained by the position he is playing. While Deng is a career small forward, some of Deng's best play for the Miami Heat last season came at the power forward position.
While he might be just a tad undersized for the power forward position, listed at 6'9″, Deng benefits from the NBA's small-ball transition. He shared that same sentiment with Ethan J. Skolnick of the Miami Herald earlier this year.
"Oh definitely," Deng said. "I just think that obviously I played the "3" most of my career. But the way the NBA is going now, I think I'm best at the "4," because of the playmaking and because of the guys shooting. Setting screens and getting teams to mess up the coverage is where we are getting our advantage. And also with the passing and everything, it really screws a lot of things up [for the opponent]."
Deng can also guard multiple positions, which is why it is so easy to put him at either foward spots. The only problem is, the Lakers are set at power forward.
The Lakers' seventh pick in the 2014 NBA Draft, Julius Randle, has really come into his own this season, and their 27th pick in 2015, Larry Nance Jr., has been just as solid.
The numbers speak for themselves.
Rk
Player
Season
Age
G
GS
MP
FGA
FG%
3P%
2PA
2P%
eFG%
FT%
TRB
AST
STL
BLK
PF
PTS
▲
1
Luol Deng
2016-17
31
11
11
24.3
7.0
.312
.310
4.4
.313
.370
.923
5.8
1.5
0.6
0.3
0.9
6.3
2
Larry Nance Jr.
2016-17
24
10
0
20.7
4.8
.625
.143
4.1
.707
.635
.667
5.1
1.0
1.5
0.4
1.9
6.7
3
Julius Randle
2016-17
22
11
11
28.0
10.0
.545
.222
9.2
.574
.555
.795
8.2
3.2
1.0
0.7
3.6
13.9
It looks like Deng might be the odd man out on a talented young roster. Even if Deng is a great locker room guy – and I don't doubt that he is – $72 million is a lot for a leadership role.
Not to mention the fact that they already have a positive locker room guy. I mean, that was the logic behind cutting a young talent in Anthony Brown for Metta World Peace, right?
It's also wouldn't be terrible for Brandon Ingram to get some starters minutes under his belt sooner than later.
"So what should the Lakers do with Deng?"
To be fair, it is only 11 games into the season. Deng could very well turn things around and make this article look like a dumb click bait. After all, he was phenomenal for Miami in the playoffs last season.
But, if his days as a productive basketball are over the Lakers should look to move him, which is much easier said than done.
Deng is owed roughly $18 million every year for the next four years, which is a tough contract to move even with the salary cap explosion. There is a chance, however, that a title contender sees Deng as a perfect fit for their system and works a trade with the Lakers.
For example, even though Jeff Green wasn't playing his best basketball last season, the Clippers still traded Lance Stephenson and a future first rounder to fill their void at small forward.
I'm still laughing. What a terrible trade. You can make a very strong argument the Clippers are a lottery team in 2019.
To be clear, Luol Deng is a much better basketball player than Jeff Green, he just needs a team that needs him. Right now the Lakers are not that team.
Here's to hoping Steve Ballmer is reading this article, salivating at the idea of Deng in their ugly uniforms.
This article originally appeared on