Lakers: Takeaways from LA's Disappointing Loss to the Dallas Mavericks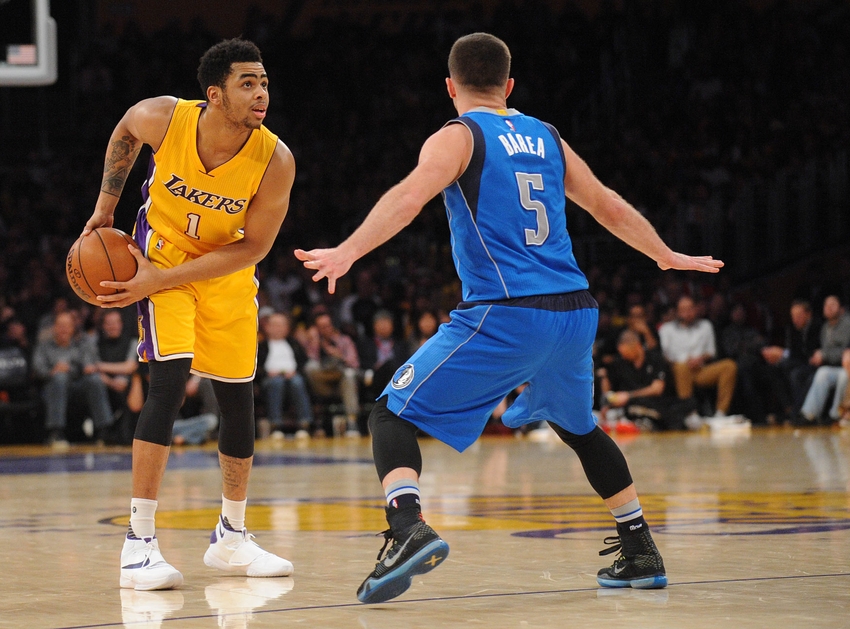 Unable to notch their fourth straight win, the Los Angeles Lakers fell to the Dallas Mavericks on Tuesday night
I was planning on making a glib "Luke Walton: Made the Lakers Entertaining Again" joke tonight, but, well, it isn't appropriate tonight (for more than one reason) after a Dirk-less Mavs squad came into Staples Center and beat the Lakers 109-97 on election night.
Dallas capitalized on another uneven defensive performance from LA, shooting 52 percent from the field and only turning the ball over 11 times despite the absence of Nowitzki and Deron Williams.
Harrison Barnes was the main culprit, torching the Lakers to the tune of 31 points on only 18 shots. The $94 million man has now scored more than 30 in three games so far this season, as everyone expected once he was able to wiggle free of the micromanaging Golden State offensive system (sarcasm).
But Barnes had plenty of help, as JJ Barea pumped in 18 points of his own, while Seth Curry did his best Steph Curry impression and dropped 23 points only 9-15 from the field.
The Lakers' defensive woes were only exacerbated by the team's cold shooting in the final 24 minutes, mustering a mere 43 points in the second half. Dallas stretched a 15-2 run out across the end of the second and beginning of the third quarter to create a 65-56 cushion — one the Lakers would not be able to wrestle back.
Skates ⛸ pic.twitter.com/msQxwCKvlD

— Mutiple Sources (@ericdyee) November 9, 2016
Jordan Clarkson did his part to keep the Lakers close, hitting two 3-pointers early in the fourth quarter and assisting on another triple from Lou Williams to bring the deficit down to two. He'd finish with 22 points on the night to pace LA.
The game started off auspiciously enough for the Lakers, with Nick "Noodles"  Young continuing his Lazarus impression and looking like he was going to overshadow election coverage and score 82, as he netted LA's first 11 points of the night. Young finished the first half with 18 points, but unfortunately for the Lakers only found the hoop once more in the second half.
This probably (read: definitely) had something to do with Dallas employing one of the best coaches in the league and making halftime adjustments. Even without Dirk and Williams, Rick Carlisle could throw me on the court and find a way to get five productive minutes.
To expect a shorthanded Dallas team to simply come out and roll over wasn't plausible, but still, this was a game the Lil Lakers would definitely like to have back.
In a play that poetically encapsulated the night for the Lakers, Lou Williams drove to the hoop for an easy layup with less than three minutes left in the game and the Mavs hanging onto an eight point lead, only to miss the bunny.
It was that kind of night for LA, but it's to be expected from a team that still features several key young players. Don't sweat it too much, just know they'll pull some games out you'll be pleasantly be surprised with (think GSW), while also keeping in mind they'll blow a few "auto wins."
With their three-game win streak snapped, The Lakers will look to get back above .500 when they head to Sacramento on Thursday night. I'm not much of a drinker, but I'll be putting a shot or two down in Santa Monica because of this game — and maybe another reason — in Santa Monica if you care to join.
–Game Notes–
— D'Angelo had another rough start to the game, failing to scratch in the first half (although he did drop five dimes in the first quarter). But he was able to find his groove after the break, scoring 12 points in the third quarter to bring LA back from a double digit deficit. He only logged 26 minutes on the night and is averaging less than 28 on the season — I'd like to see Luke get him back in the action a little sooner, especially when he's found his touch like he had tonight.
Metta needs to be waived so that Luke can't play him anymore. The "energy/toughness" he provides on the floor so ephemeral.

— Ben Rosales (@brosales12) November 9, 2016
— Speaking of minutes, not to sound like a broken record, but these token Metta World Peace minutes are for the birds. I understand Luke likes the idea of MWP coming in and galvanizing the defense, which certainly makes sense on a night like tonight, but he's not capable of doing it at this point of his career. In a tight game, I'd rather see those couple minutes go elsewhere.
What were your takeaways from Tuesday's disappointing loss against the Mavs?
This article originally appeared on