Lakers Silenced by Jazz at Home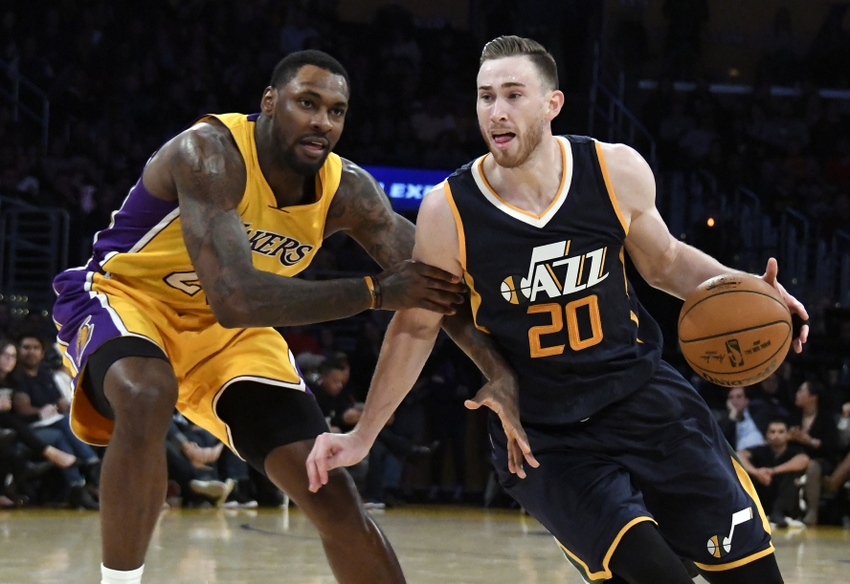 Despite an aggressive late-game comeback and another Mamba-esque performance from Lou Williams, the Lakers dropped their third straight game on Monday night as the Jazz rolled into Staples Center and held off LA 107-101.
With D'Angelo Russell and Nick Young still nursing their injuries, Sweet Lou continued to pick up the slack on offense (something makes me think he doesn't mind taking the extra shots), pouring in 38 points and adding 13 combined assists and rebounds. With the Lakers trailing by 15 entering the final quarter, Lou scored 11 points and helped bring LA within a bucket of tying the score when he slithered into the lane off a high screen and hit a runner in the lane with three minutes left. He had you thinking the Lil Lakers might actually steal this victory.
HIGHLIGHTS: Lou Williams filled up the stat sheet again tonight with 38 points, 7 assists, and 6 rebounds pic.twitter.com/7Uqlm3EiiO

— Los Angeles Lakers (@Lakers) December 6, 2016
They, uh, didn't. Lou went cold in the final three minutes, missing his last five shots. The Jazz were able to use a 6-0 run to push their lead to 106-97 and put LA to sleep.
While the Jazz are the better team than LA right now, it was still a golden opportunity for the Lakers to take a game from a team also dealing with injuries. George Hill has been playing like the second coming of a young Gary Payton since joining Utah, but didn't suit up against LA (which certainly helped Lou shake free).
And hey, I'm nursing a migraine but still playing through the pain, so let's run through the good, the bad, and the ugly for LA tonight.
The Good
Besides the obvious in Lou's fireworks, Thomas Robinson helped spark the late comeback push with his hustle on defense and the glass. LA is essentially playing 4-on-5 on offense when he's in the game, but he was still a +11 for the night thanks to his energy.
Jordan Clarkson also added a much needed punch off the pine, scoring 17 points on better than 50 percent shooting. I would be more concerned with his zero assists if he actually had someone to kick it to in the whole drive-and-kick equation, but LA is missing two vital shooters right now.
The Bad
Outside Shooting. On a night where Rudy Gobert used his 7'1 frame to snatch 17 rebounds and block five shots, you would've thought LA would hang in the game by connecting from outside. But the Lakers scored 58 points in the paint, and instead only mustered five 3-pointers all game. I know I sound like a broken record, but when Lou and Clarkson breakdown the defense and get into the paint, there aren't many options for them to pass it back out to when the defense collapses right now.
The Ugly
Metta World Peace and Luol Deng. I understand Coach Walton wants to keep the bench unit intact as much as possible, and he doesn't have many options with two wings on ice, but starting Ron MWP is like starting a corpse at this point. He only played 12 minutes, but with only one viable 3-point shooter in the starting five, MWP starting allows Utah to compact their defense and shutdown anything in the paint.
Lakers played a competitive game with Metta World Peace on the court.
That is no easy feat, my friends.

— Lake Show Life (@TheLakeShowLife) December 6, 2016
And Deng is supposed to be the one shooter in the starting unit, but he had another rancid night, going 2-7 from the field and only grabbing two boards in 27 minutes of action. So why am I harping on Deng when Brandon Ingram (4 points on 1-6 shooting) was an equally gross option on offense?
Because LA is paying the vet $18 million to be a guide for the rookie and hit open shots from the outside. So far that hasn't been the case, at least from a production standpoint. Lakers fans can still find a silver lining when Ingram has a bad night, since he's averaging more than 33 minutes per game with the Lakers undermanned and getting reps that'll help him down the line.
And oh yea, he's 19-freaking-years-old. Kudos to coach Walton for continuing to be the anti-Byron and letting his rookie learn while playing.
The Lakers will look to snap their three-game slide on Wednesday when they head to Houston and take on one-man offense James Harden.
This article originally appeared on