Lakers: Russell, Randle Blow Past Brooklyn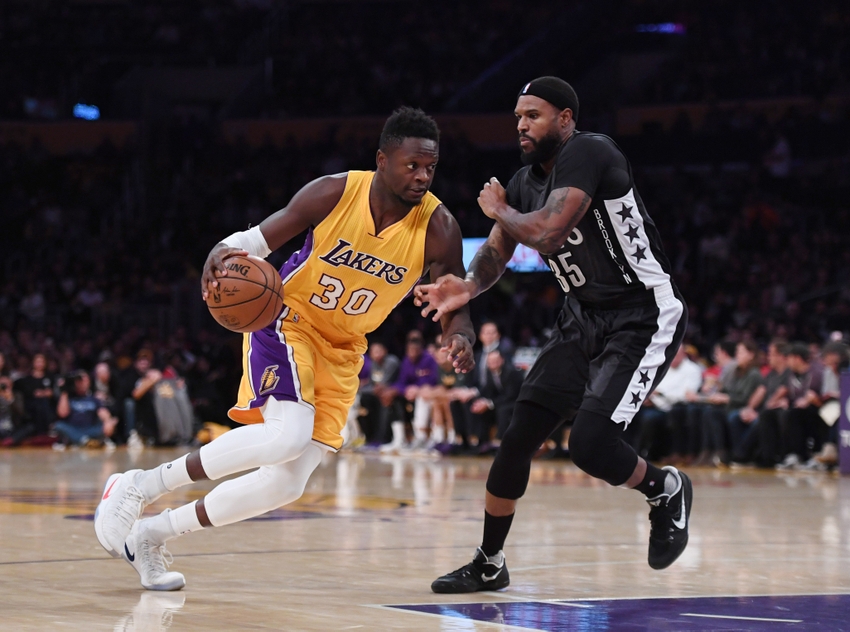 The Lakers, spearheaded by sensational performances from D'Angelo Russell and Julius Randle, beat the Nets 125-118 in a matchup of two young squads playing inspired ball under the guidance of rookie head coaches.
Well damn, that was fun.
It was the D'Angelo Show at Staples Center, as the point guard netted 32 points on 11-20 shooting, to go along with eight rebounds, four assists and three steals. That early season shooting slump? It's firmly in the rearview mirror now, as he's shooting better than 52 percent from the field in the past five games.
And Randle wasn't too shabby as second banana. Big Ju did his best Lamar Odom impression, recording his second career triple-double with 17 points, 14 boards and 10 dimes
D-Lo was feeling it from the opening tip, hitting his first five 3-pointers (he'd finish with seven triples on the night) and combining with Timofey Mozgov to score the Lakers' first 23 points. It ended up being the best performance for the Ruskie since joining LA, as Moz scored 20 points and played tough defense on Brook Lopez.
D'Angelo Russell goes for 17 first quarter points for the #LakeShow! pic.twitter.com/j9jYlRsTxk

— NBA (@NBA) November 16, 2016
But the Nets are feisty, playing an exciting run-n-gun style under Kenny Atkinson, a Mike D'Antoni disciple.
Despite an off-shooting night, Lopez was still a force on offense, combining with swingman Bojan Bogdanovic to pour in 59 points. Also, check the video below. At one point late in the first half, Bogdanovic used ancient Croatian voodoo to summon the ghost of Vince Carter and throw down a lefty jam on Moz.
Bojan Bogdanović puts Timofey Mozgov on a poster! https://t.co/qdYwTfd56v

— SLAM Magazine (@SLAMonline) November 16, 2016
In the words of the great Stu Lantz – that was nice.
Brooklyn kept the game close thanks to their breakneck speed on offense, beating LA down the floor several times after makes to create easy buckets. And even with the 118 points, it's hard to point to where the Lakers were playing poor defense in this track meet — if anything, they did a decent job of holding the Nets to "only" 45.5 percent from the field and sub-30 percent from behind the arc.
The bench star of the night for LA was…wait for it…Tarik Black. Tar was seemingly everywhere in his 13 minutes of action, collecting nine rebounds and putting in 12 points of his own. And it was needed to weather the storm, as the wing trio of Nick Young, Lou Williams and Jordan Clarkson combined to shoot a tepid 8-31 from the field.
Tarik Black keeping LA in this game

— Mutiple Sources (@ericdyee) November 16, 2016
Clarkson would at least help stave off the last gasp from the Nets, hitting two free throws to give LA a six point cushion with 1:30 left in the game, putting the game on ice.
The win bumps the Lil Lakers' record up to 7-5 (!), and they'll host future Hall-of-Famer Pau Gasol and the Spurs when they roll into LA on Friday. Until then, bask in the glory of this non-Byron squad.
Game Notes
Luol Deng Cooked Meter: "Medium." And he was approaching "well done" territory until he tallied all eight of his points in the third quarter. Still, the Duke alum struggled with his shot again (2-6 FG) and continues to be the weak link in the starting five. I'm starting to sound like a broken record, but hopefully he's just off to a really rough start, and not run into the ground by Thibs.
 Lil Wayne was in the house!
.@LilTunechi catching the #LakeShow from courtside. pic.twitter.com/CQ3igU87Ss

— Los Angeles Lakers (@Lakers) November 16, 2016
Coach Walton is getting plenty of love, and rightfully so, but I continue to be amazed at how he's unleashed Randle. Before the season, my expert analysis had me concerned with Ju's long term prospects if he failed to develop his jump shot. Instead, Walton has Randle playing downhill, bullying guys smaller than him and speeding by bigger defenders. He's also a much more willing passer this season compared to last (maybe this has something to do with not having to worry about Kobe shooting 30 times, but I digress). Moral of the story: Walton knows how to coach, Randle knows how to ball, and I'll stick to writing recaps.
Nick Young hit his first shot attempt with two minutes left in the first half, after 11 minutes of action. 11 minutes! I'm willing to bet a Cactus Taqueria carne asada burrito it was the first time in his career he went 11 minutes without putting up a shot.
This article originally appeared on