Lakers Rumors: Is Los Angeles a playoff contender?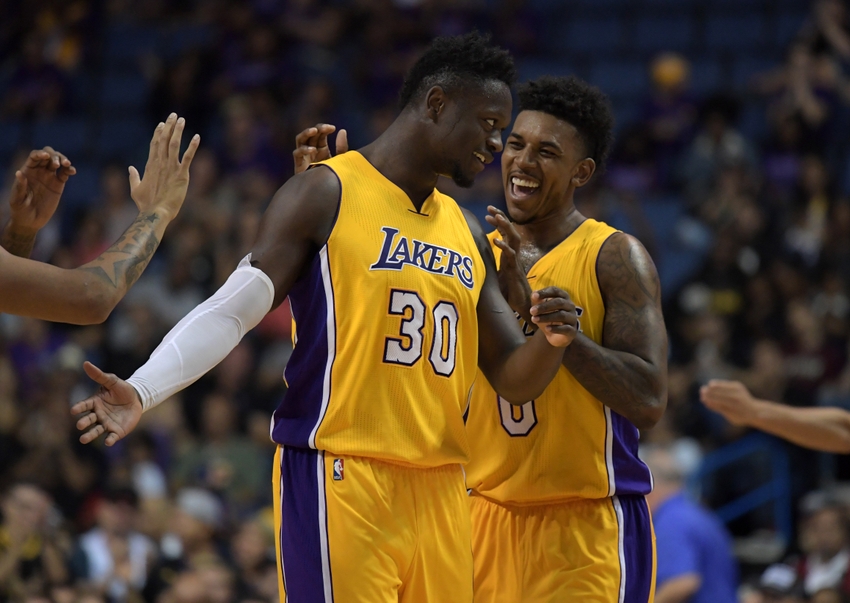 The latest Lakers rumors address the serious potential shown this season from the Lakers' young core.
Before the season started, it's safe to say nobody really expected much from the Lakers.
After eight games, the team's new stars have completely taken over center stage. Los Angeles has gone 4-4 so far, with impressive wins over Houston, Atlanta, Golden State, and Phoenix.
Obviously, the one that sticks out the most from those wins came against the Warriors. Kevin Durant was supposed to make Golden State nearly unbeatable, but the Lakers wouldn't have any of it.
And in the process, blew out the new-look super team.
From the season opener against Houston, we saw right away that D'Angelo Russell is ready to take over the driver's seat. No longer being in Kobe Bryant's shadow has done nothing but good things for this team, and this is just the beginning.
The idea of them making the playoffs may sound far fetched to some. In fact, it's easy to write off as impossible.
While it's still very early in the season, Los Angeles has gotten the attention of Bleacher Report. In a recent video, analysts from the site saw plenty of positives so far.
Additionally, Julius Randle has improved by leaps and bounds alongside Russell. Clarkson is finding a way to put his grit and grind into his game off the bench — and it's working.
Luke Walton's coaching mentality has re-shaped this team, and that should put the rest of the league on notice.
After last night's loss to Dallas, the team is preparing for a three game road stint. The good news is that they're against Sacramento, New Orleans, and Minnesota.
Out of that list, the trip to see the Timberwolves will prove to be exciting.
In the end, yes, it's too early to tell about the playoffs — but if they come out of their second road trip victorious this will be the team to watch in the Western Conference.
This article originally appeared on