Lakers Roster: LA Interested In Having Metta World Peace Coach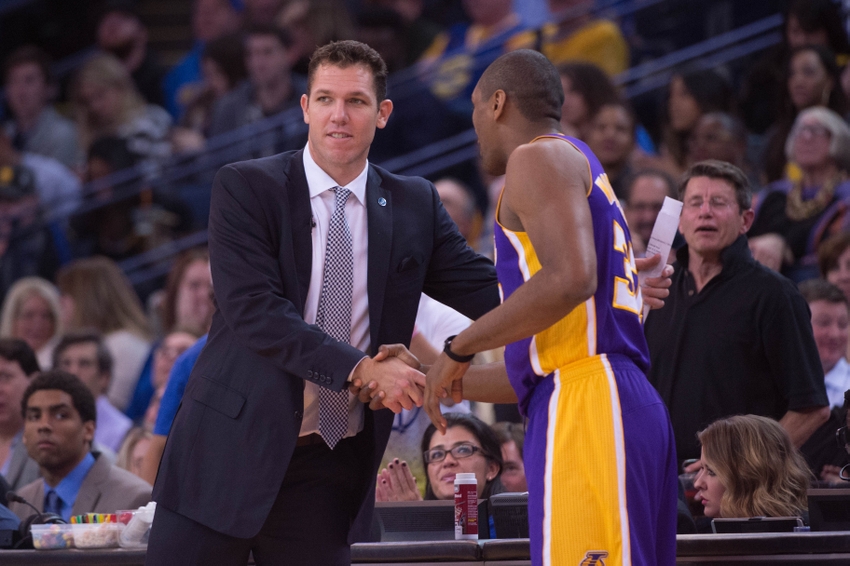 What will the Lakers do with Metta World Peace if they don't put him on the final 15-man Roster?
Competition for the 15th roster spot on the Lakers is tight and the deadline is looming. Thus, it's no surprise that according to league sources, the team is looking into making Metta World Peace an assistant coach per Ramona Shelburne, along with Mark Stein.
The reason it makes sense is that it will be difficult to make space for Peace on the roster. It would also be easier to move younger players up and down from the D-Fenders than the veteran Peace.
The primary competition for the 36-year-old are Yi Jianlian and Thomas Robinson. The decision to cut the roster is looming as the NBA Regular season starts this week, with the deadline at 5:00 pm Monday night.
Age isn't always necessarily the reason why someone should retire. The Timberwolves Kevin Garnett (40), the Spurs Tim Duncan (40) and Elton Brand (37) are the oldest players who announced their retirement after last season. There are also an additional ten players who are 36 years or younger in the same boat including 33-year-old Mo Williams who announced his retirement from the NBA.
Focusing on the Lakers organization, Metta World Peace is four years younger than Steve Nash and two years younger than Kobe Bryant when they retired. He is also six years younger than former Purple and Gold guard Derrick Fisher who at 42 launched a comeback which resulted in being hired by Spectrum Sportsnet to add to the Lakers team analysis throughout this season.
Nonetheless Lakers fans had mixed feelings when the organization announced Metta World Peace had earned a spot on the pre-season roster. Asking, 'why isn't he retiring?'
The truth is, Metta feels he is not done with basketball, the game he loves playing so much. Over the summer he coached his Drew League team, The Panda's, while also playing. One of Metta's Panda Team stars, Kaimyn Pruitt, explained that he learned a lot from the elder Laker forward.
"He's super duper relaxed, he wants the best for you, always telling me he wants me to bring the ball up, be aggressive, it makes you feel good," Pruitt said. "It's a great experience."
He continued, "He's [Metta] for sure a mentor to me and the league, he tells me not to second guess — for the team he's a mentor, so whatever he tells us to do [we do]."
Peace coaches whenever he can including his own children. Whether it's coaching his son at Beverly Hills High or on his Drew League Panda team, or his daughter's high school team last year. He made a case for himself coaching the younger Lakers last season.
His humorous, honest and caring nature mixed with his relenting defensive mind makes for a possible lovable Lakers coach for these millennials.
It's becoming clearer that Yi is the probable roster add with Robinson possibly being asked to play on the D-Fenders in case of injuries, etc. Nick Young, once on the bubble, seems to have found new life as coach Walton confirmed this week saying, "Young is playing as well as anyone our team, if not the best on our team honestly."
Peace is a friend of Luke Walton and was also his former teammate, which would definitely ease fitting into the coaching staff if he decided to do so.
It would be a wonderful opportunity for Metta, but he will have to announce his retirement, and that may be the hardest part if he were to be offered an assistant coaching position.
This article originally appeared on