Lakers: Ranking the Team's Top 5 Worst Decisions Since 2010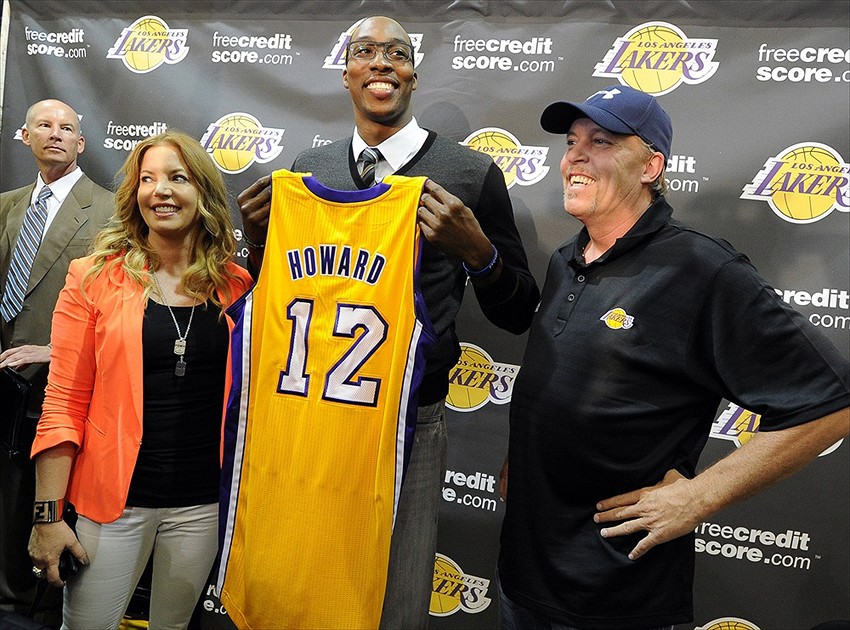 With the Los Angeles Lakers seemingly stuck in mediocrity these days, it's easy to forget that this is one of the most successful franchises in North American sports history.
Although it was only six years ago, the year 2010 seems like a distant memory for the Los Angeles Lakers.
2010 represents the last time the Lakers won an NBA championship, the last time the team was dominant and formidable, and unfortunately, the last time they consistently made good decisions for the benefit of the franchise.
Granted, every franchise makes bad decisions but ever since their last title run and the unfortunate passing of Dr. Jerry Buss, the Lakers' front office decisions have gotten worse and worse. Decisions that are so bad in fact, that in just six years time they have gone from NBA royalty, to perennial bottom feeders.
Despite the fact that things finally seem to be looking up for the Purple and Gold, here is a quick look at the top five bad decisions that helped get the team here in the first place.
5. Signing Dwight Howard and Steve Nash
One thing I will say about the Los Angeles Lakers is they love the idea of a dream team. After failing to win an NBA title in 2004 with Kobe Bryant, Shaquille O'Neal, Gary Payton, and Karl Malone, they tried the super-team idea again in 2012.
That summer, after losing to the Oklahoma City Thunder in the post-season, the Lakers added All-Stars, Dwight Howard and Steve Nash to the fold. While their names were enough to draw plenty of excitement and hope for a 17th title, let's breakdown what that really meant for the Lakers.
Former 2-time NBA MVP Steve Nash was a horrible decision at the guard position.
Just a year prior to this, the Lakers had traded Derek Fisher and replaced him with a younger, faster guard in Ramon Sessions. So to let Sessions walk in favor of an even older, and slower point guard Steve Nash in was ridiculous, even more so in hindsight.
The proof is in the fact that he was injured two games into the season and was never the same afterwards.
Dwight Howard, on the other hand, wasn't as bad a decision for name sake. Of course hindsight is always 20-20. But at that point in 2012, Andrew Bynum, the Lakers current center, was arguably better than Howard.
Bynum possessed a more polished post game. Bynum was a better free throw shooter. And Bynum, despite all his shortcomings, had championship experience that Howard did not possess.
Howard of course was the bigger name, but years later we see that he can't be trusted in any locker room he enters. The Lakers would have been wise to keep Bynum, and maybe just add a few veterans that would've been able to help keep his head on straight.
4. Choosing Mike D'Antoni Over Phil Jackson
This move will forever be a head-scratcher to me. It blows my mind every time I think about the idea that the Lakers willingly chose Mike D'Antoni as a coach over Phil Jackson. Just think about that for a second.
The first head coach of the previously mentioned super team attempt was Mike Brown. However, after producing a preseason record of 0-8, and starting the regular season 1-4, Brown was let go. In need of a new head coach, the Lakers pulled their usual move and made 11-time champion Phil Jackson their first option. After Jackson asked for two days to mull his decision, the Lakers quickly went in a different direction.
Instead of giving Phil his time and later re-hiring him, the team's brass decided that former Phoenix Suns and New York Knicks head coach Mike D'Antoni was a better option. This isn't speculation either, as Jackson later revealed that he would've re-signed had the Lakers respected his request. There are three major problems with the Lakers making this decision.
The first is that the front office didn't consult any of the roster before the decision, not even their franchise player Kobe Bryant. Neither Bryant, Howard, Nash, or any of the players knew about this decision nor were they included in the process.
This created a small sense of distrust between the players and the management. Especially with Howard, who had reportedly, specifically asked for Phil Jackson to return. (Howard later stated that this was a major factor in him leaving the Lakers)
The second issue is with the offensive game plan. Supposedly, one of the major factors behind the D'Antoni hiring was because of his style of play. The front office believed that his fast paced style would be a better match for this team over the Triangle Offense.
This only further proves how out of touch the Buss family and GM Mitch Kupchak can be at times. When your core consists of several players over 30 years old, you don't play a fast style. The Triangle was a slower, more structured offense that would've fit perfectly with the Lakers roster.
The last problem boils down to a simple resume check between the two candidates. Phil Jackson has coached some of the greatest players in NBA history and won 11 championships. D'Antoni, has never even led a team to the NBA Finals. Jackson has made a living out of team building and reaching common goals. D'Antoni thinks that 30 minutes is more than enough time to practice defense, and gets offended when you suggest otherwise. Need I say more…?
3. Letting Pau Gasol Leave
We all know that Kobe Bryant is one of the greatest players in Los Angeles Lakers history. However, Pau Gasol should be remembered as the Lakers franchise saver. Without Gasol, Kobe most likely would still be a 3-time NBA champion searching for his legacy.
When the Lakers traded for Gasol in the spring of 2008, he transformed them into instant title contenders. LA made that NBA Finals for the next three straight years, and managed to win two NBA titles in the process. Gasol's post and mid range ability made him a perfect compliment to Bryant and the duo would become arguably one of the best in the NBA.
Unfortunately, Pau's soft spoken and humble demeanor made him a constant whipping boy whenever problems arose in Los Angeles. Gasol frequently took the blame for bad games, losses, and his all around passive nature. Although he was a fan favorite, Pau never quite received the credit he was due for helping to revitalize the franchise.
After realizing he had had enough after the D'Antoni saga, Pau walked away during free agency and hasn't looked back. This situation is similar to not missing a recent ex until you see them dating someone else.
Gasol has since played a key role for the Chicago Bulls and recently signed with the San Antonio Spurs. Pau is still a more than capable NBA big man, and LA has desperately missed his production since his departure.
2. Breaking Up The Team In 2011
By now it's been talked about so much that we should all know the story. LA trades for All Star point guard Chris Paul. David Stern vetoes trade for "basketball reasons." Lakers are livid. Chris Paul is livid. Los Angeles Clippers get Chris Paul.
That said, the issue with this scenario is that it shouldn't have ever gotten to this point in the first place. After winning two straight championships in 2009 and 2010, the Lakers were swept by the Dallas Mavericks in the 2011 Playoffs. No big deal right?
The right move would've been to just add a few new pieces to refresh the team, and try again next year. Instead, the Lakers attempted to practically gut their core in hopes of trying to land Chris Paul. The original trade offer had Paul coming to L.A., with Gasol landing in Houston, and Lamar Odom landing in New Orleans.
Basically, the Lakers were going to send two supremely talented 7-footers away for a skilled, but unproven 6-foot guard. Not to mention the fact that Odom was coming off a year in which he won the Sixth Man of The Year award.
Although the trade didn't go through, Odom was so deeply hurt that he demanded a trade anyway and was later dealt to the Dallas Mavericks. Essentially, they still lost Odom, but gained nothing in return and Gasol was also offended, but chose to remain on the team for as long as he was allowed to.
Obviously, Paul would have been a great addition at the point guard spot but not at the risk of cutting up the core that had been to three straight NBA Finals.
For example, Magic Johnson won five NBA Championships with the Lakers during the 1980's. Although the Purple and Gold lost three times in the Finals during that decade, there was never a point in which they tore up the team after a loss.
Instead, they retooled, assessed their weaknesses, and let their continuity be the guide for their success. That's how they managed to be a dominant force for ten years, rather than just three.
1. Not Firing Jim Buss
There's no rule in life that states that a successful father always breeds a successful son. Undoubtedly, that is the case in this situation.
Dr. Jerry Buss proved to be one of the greatest franchise owners in NBA history before his passing. He also proved that he didn't pass any of those traits onto his son Jim Buss.
Jim's reign as Lakers' Executive Vice President has been filled with foolish mistakes and ego-driven errors. Buss has been the mastermind behind many of the Lakers biggest stories over the past few years including:
Choosing Mike Brown over Brian Shaw, although Kobe Bryant had endorsed the latter
Hiring Mike D'Antoni over Phil Jackson, although Phil was ready to come out of retirement specifically for this job
Not trading Dwight Howard when it was clear that he was unhappy
Thinking that he alone could convince Dwight Howard to stay during free agency
 Consistently promising with no basis to land top-tier free agents such as Carmelo Anthony, LeBron James and most recently Kevin Durant
Essentially, Jim Buss appears to be no more prepared  for this job than a child at "bring your son to work day". The Lakers biggest blunder over the past few years is continuing to let this man make basketball decisions as if he really knows what's going on.
Hopefully, the Lakers are able to retain this momentum they currently have and make strides in their development without being derailed by the Buss train.
This article originally appeared on